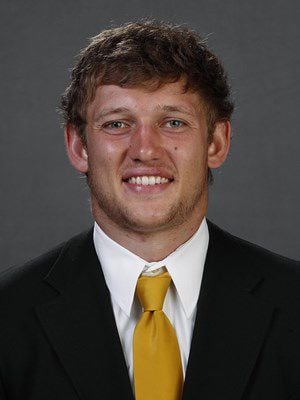 IOWA CITY — The only place T.J. Hockenson, Nate Stanley and Tim Polasek are going right now is to work on the practice field as the Iowa football team prepares for the Outback Bowl.
The trio addressed their futures in similar, yet different, ways Monday shortly after the Hawkeyes put finals week in the rearview mirror and began turning their attention to their New Year's Day bowl match-up with Mississippi State.
Hockenson said he remains undecided if he will make himself eligible for the 2019 NFL Draft, but the All-American sophomore tight end has shelved any thoughts of whether he will leave early or return to Iowa until after the bowl game.
Stanley said he has scrapped the idea of submitting paperwork to the NFL Draft Advisory Board, receiving feedback collected by Iowa coach Kirk Ferentz and quarterbacks coach Ken O'Keefe that has convinced the junior quarterback that he has work to do at the college level.
And Polasek, completing his second year as Iowa's offensive line coach, said talk of him leaving the program to become the head football coach at North Dakota State never extended beyond the rumor stage.
"There's a lot of people out there with opinions. I hear them all the time, everywhere I go, but the best thing I can do right now is get ready for the bowl,'' Hockenson said. "Everything else, it's on the back burner until after the game.''
Iowa's offense has plenty to deal with as it prepares for Mississippi State, which leads the nation in scoring defense.
"There's a lot to look at when you look at them on tape,'' Hockenson said.
The John Mackey Award winner as college football's top tight end welcomes that kind of challenge, among the reasons he became emotional while discussing why it is important to him to be part of the Hawkeyes' bowl plans.
"Whether I stay or whether I go, it's all about one more game with this team, it's one more game with these guys and that means a lot to me,'' Hockenson said.
"People say bowl games don't mean anything. They're wrong. When you work all year as a part of a team, put in the hours, it means plenty. I love this team, love this university and love these coaches. Running onto the field in 'the swarm,' that means a lot to me.''
Hockenson said he has talked to plenty of people and will continue to do so, once the bowl game is over.
"It was probably a few days ago when I stopped thinking about it. Now, I'm into this phase, trying to hone in on this next game,'' Hockenson said. "I don't feel rushed, not right now.''
Once the bowl is over, Hockenson will return to the task of figuring out his future, relying on notes he has taken over the past few weeks.
"I'm going to weigh and research and make sure I'm 100 percent sure on what decision I'm going to make,'' Hockenson said. "I think writing something down is helpful because you don't forget it and you have it to look back on.''
Stanley has said all along he plans to return for his senior season at Iowa and saw filing with the draft advisory board as a way to gain feedback to help his development.
He said Monday that Ferentz and O'Keefe were able to collect similar information from their contacts in the NFL, providing him what he needed to know without having to fill out the paperwork.
Stanley said improvement in his mobility in the pocket, growth in the consistency of ball placement and working through reads quicker remain at the top of his list of needed improvement as he works toward the start of his senior season.
"In my mind, there's still a lot to accomplish here,'' Stanley said. "I'm excited about our future and that starts with getting ready for the bowl game.''
Polasek, whose resume includes 10 years as an assistant at North Dakota State, was mentioned as a potential replacement for newly-hired Kansas State coach Chris Klieman and has been mentioned as a possible offensive coordinator candidate for the Wildcats.
Before joining the Iowa staff in 2017 as the offensive line coach, Polasek worked as the offensive coordinator on Klieman's North Dakota State staff from 2014-16.
Polasek said he has had no contact with anyone about either job.
"This time of year is a stressful time for the wife and for a lot of people when speculation comes up,'' Polasek said. "I was fortunate to spend some time there and there's where it kind of stopped. I really wasn't part of anything past the rumors and speculation.''
Polasek said Klieman, who will continue to coach the Bison in the FCS national title game next month, has not talked with him about anything since being named at Kansas State last week.
"We're real close friends but I don't think he's gotten very far with any of that,'' Polasek said. "I have not heard from them. I think he's focused on recruiting and trying to win another national championship.''
And Polasek has his own focus.
"We're getting ready to play a really good football team with a really good defense,'' he said.
For now, that's the only that matters to Polasek, Stanley and Hockenson.