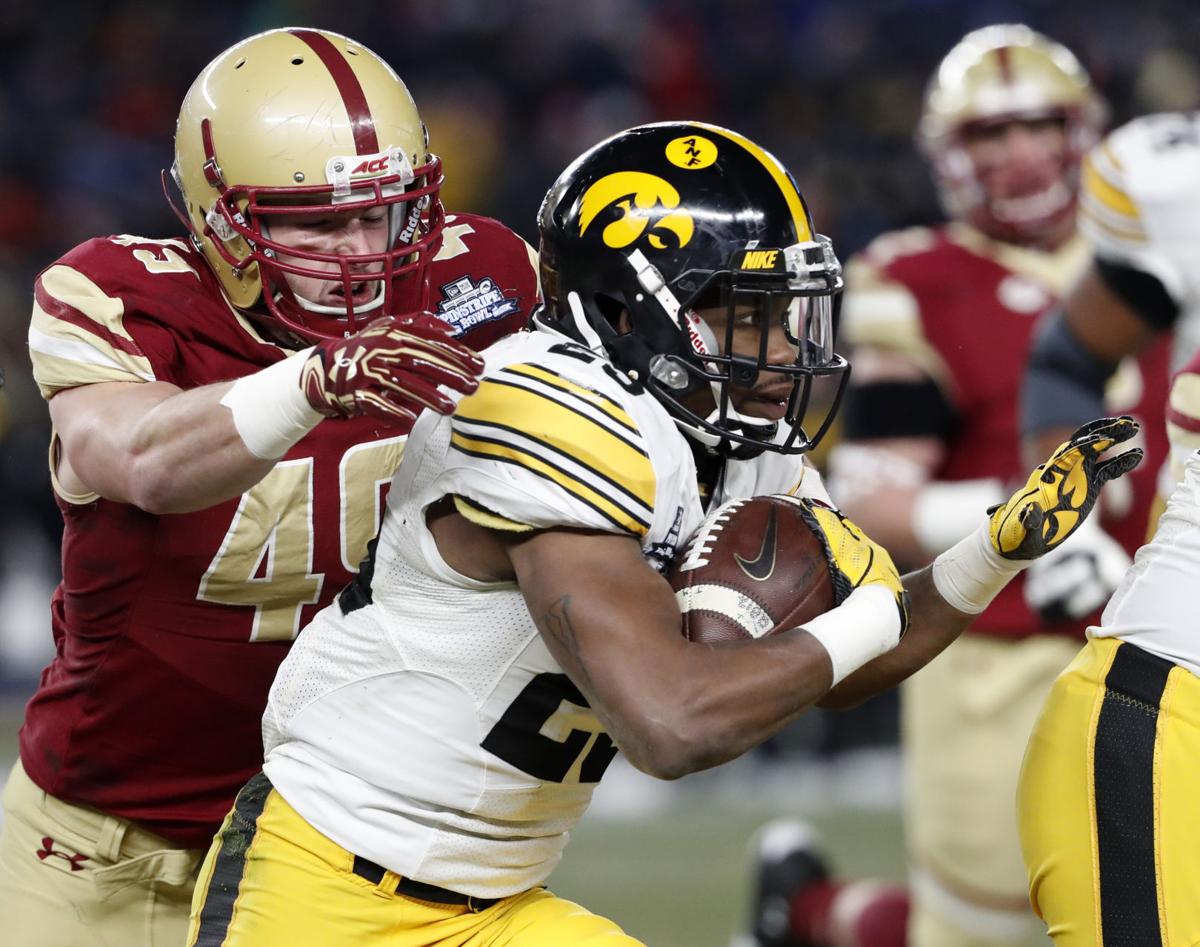 IOWA CITY – Accusations of racial inequities within the football program he leads and candid conversations with former players have prompted Iowa coach Kirk Ferentz to study the past, present and future.
His studies discovered truth in some of the accusations including many detailed in the results of an independent review of the program by Husch Blackwell, a Kansas City-based law firm which released its report on the matter Thursday.
Throughout the review process, Ferentz avoided commenting on individual allegations made by former Hawkeyes on social media.
He said from the beginning that would be the case, preferring to respect the work of the attorneys conducting the review.
With the findings released, Ferentz made one thing crystal clear Thursday.
In response to a question about accusations raised by former Hawkeye running back Akrum Wadley, who referred to his time at Iowa as "a living nightmare,'' Ferentz said the criticism caught him by surprise.
Ferentz said allegations that Iowa staff members withheld a meal card from Wadley or that he had berated Wadley during a press conference prior to playing in the Pinstripe Bowl near Wadley's New Jersey home time were false.
He went as far as to say he even worked to help Wadley land an opportunity with an XFL team as recently as January.
"Some of the things (suggested by Wadley) were just flat-out not true. Not true. We have never held back a (meal) card. I'm not a great record keeper, but (Iowa assistant director of football operations) Ben Hansen is meticulous. It never happened,'' Ferentz said.
"It was stated that I said derogatory things in a press conference. Those are a matter of record. … I'll stand behind what I said in those press conferences. As recently as May 26, his mom and I were having good conversations. I had no sense it was that bad, quite frankly.''
Wadley claimed in June that Ferentz suggested that playing a game near where Wadley grew up and would have a chance show his teammates around the city was "the worst thing about'' going to the 2017 bowl in New York City.
In reality, when asked about Wadley and Ihmir Smith-Marsette getting a chance to play in the game at Yankee Stadium, Ferentz said Wadley needed to be ready to deal with many ticket requests from family and friends.
"That's the next thing he's going to be challenged with,'' Ferentz said. "… It's got to be exciting and I'm sure their families are very, very excited. It's always neat to have that kind of opportunity to play in Yankee Stadium. I'm sure those guys will hopefully be at their best.''
Ferentz said he discussed helping Wadley land a professional playing opportunity with his mother, Sheronda Phelps, earlier this year.
"When we got back from California (and the Holiday Bowl), I had conversations with his mom about trying to get him placed in the XFL, work that probably his agent should have been doing, but trying to help,'' Ferentz said.
"I knew some people in the XFL and I think he went to Atlanta as a result of that conversation. So yeah, I was surprised (by the criticism).''
Wadley asserted in a statement he released in June that Iowa staff members impacted his draft status in 2018 by comments they made to scouts.
In the report released Thursday, Husch Blackwell wrote that multiple players interviewed suggested that Ferentz and staff members with NFL experience used that influence with scouts to "blackball players'' during the draft process.
As part of its interview with the Iowa coach during its review, Husch Blackwell wrote that Ferentz said it would be "counter-intuitive for a coach to say negative things about players to NFL scouts.''
Be the first to know
Get local news delivered to your inbox!