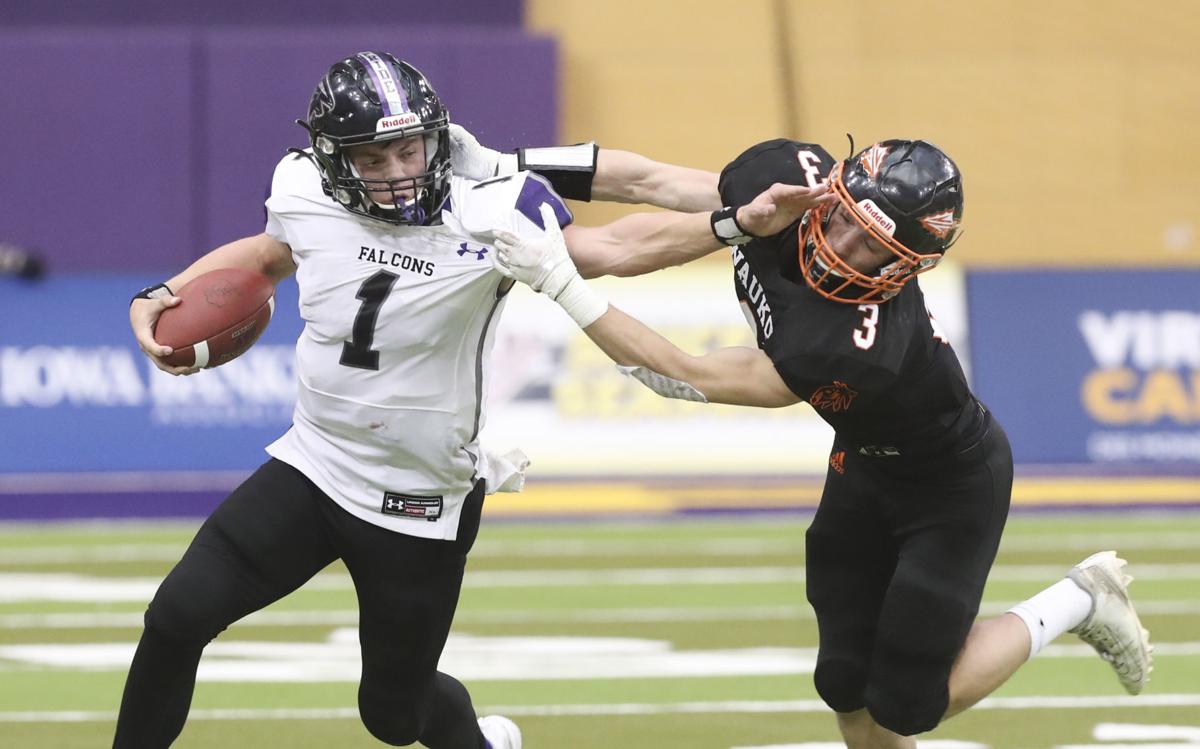 IOWA CITY -- Cooper Dejean went to bed Monday night not knowing he was going to make a big decision the following day.
Dejean, a junior at OABCIG High School, announced his commitment to the University of Iowa football team on social media Tuesday afternoon.
"I decided it was time," Dejean said in a telephone interview.
Dejean accepted a full-ride scholarship offer from coach Kirk Ferentz, and Dejean is expected to become a defensive back for the Hawkeyes when he moves to Iowa City in 2021.
Other schools who offered Dejean were South Dakota, Virginia, North Dakota State, South Dakota State and Northern Iowa.
According to Falcons coach Larry Allen, Nebraska and Kansas State also expressed interest in Dejean.
Dejean talked with his friends and family in the last couple of weeks, and he felt that Tuesday was the right time to make the decision to play for the Hawkeyes.
"I've been thinking about it for awhile," Dejean said. "We went through all of my options and ultimately Iowa was the best fit for me I thought. I feel like they presented the best opportunity for me to develop into a great football player and have a chance to play at the next level."
Once Dejean made his decision on Tuesday, he told those closest to him of his decision, then he texted a couple of the Iowa football coaches to spread the news.
Shortly thereafter, Dejean received a call from Ferentz congratulating Dejean on the decision.
"They're all excited about it," Dejean said. "We talked about where he sees me as a player. He thinks I fit in just right with them and what I bring to the table."
The Hawkeyes started looking at Dejean following a visit to a summer camp following his sophomore year.
"I didn't think it was going to happen as quickly as it did," Dejean said. "When I went out there for the camp, I didn't sit down with the coaches, but I went back in August, and listened to what they had planned for me. I was shocked, and it's a dream come true. I've always grown up a Hawkeye fan."
Dejean was a big factor in helping the Falcons win the Class 2A title in November at the UNI-Dome in Cedar Falls.
As a free safety, Dejean had five interceptions for 155 yards. He returned two of those five picks for TDs.
Allen believes the best skill Dejean has as a defensive back is his instinct. He can read a play and he likes to study his opponents by watching game film.
"I think you can give him all the tools in the world, but that's natural," Allen said. "If they wait to see what happens, it's too late. Some kids have that natural anticipation of where the play will be."
Allen recalled a couple of times last season where Dejean and Falcons senior Jake Nieman called out where the opposing play was going to go before the football was even snapped.
"That gave the rest of the kids confidence," Allen said. "When they can tell where the ball is going to go based on alignment and personnel, and they don't have to think so much."
The Falcons also limited the opposition to run the ball, especially in the second half of the season.
That allowed Dejean to get more pass knockdowns and allow the secondary get more involved in the defensive execution.
"The linemen could pin their ears back more and let the secondary be a bunch of ball hawks," Allen said.
Dejean also had a successful season as the Falcons' quarterback. He had the second most passing yards in the state with 3,546. That was second to West Sioux senior Hunter Dekkers, who had 3,640 yards.
The Falcons junior led all 11-player quarterbacks with 42 touchdowns.
Be the first to know
Get local news delivered to your inbox!