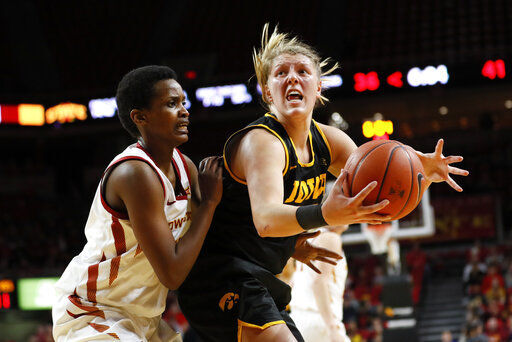 Lisa Bluder usually likes to position a couple of confidence-building "gimmies" on the front end of the Iowa women's basketball schedule.
That isn't the case this year.
The Hawkeyes begin a shortened nonconference schedule on Wednesday, hosting a veteran Northern Iowa team which beat Iowa 88-66 a year ago in a 6:30 p.m. season opener for both teams at Carver-Hawkeye Arena.
"UNI gave us everything they could handle and more at their place last year and they have all five starters back, while we graduated three," Bluder said Monday. "… It may be the opener, but we have to be ready to go."
Building around returning lineup regulars Monika Czinano and Alexis Sevillian, Bluder likes what she sees developing on her team through its first 29 practices of the season.
"I like our depth. Last year, we didn't have a true back-up at the (post) and this year we do in Sharon Goodman," Bluder said. "I like how well we can shoot the ball, inside and out. We have so many weapons we can go to. We'll be able to keep defenses honest."
With no exhibition games prior to the season and an altered routine because of the COVID-19 pandemic, Bluder expects to experiment a bit with lineup combinations at the onset of the season.
In addition to Czinano, Bluder anticipates freshman Caitlin Clark and three sophomores, forward McKenna Warnock and wings Gabbie Marshall and Kate Martin, starting for the Hawkeyes against UNI.
There is a level of familiarity between Iowa and Northern Iowa, something Bluder doesn't necessarily mind for an opening game in a unique season.
"There won't be any film to go watch, but we know each other pretty well. Tanya (Warren, the Panthers' coach) has been there for a while and while she may add a wrinkle or two, there is some familiarity there," Bluder said.
That familiarity extends to the roster, where all but two of the 15 players in the UNI program are products of Iowa high school programs.
"This is a game that means a lot to them, and it's something our players from outside the state have to understand," Bluder said. "We're going to get their best."
What Iowa won't have is the type of crowd support it is used to at Carver-Hawkeye Arena, where the Hawkeyes have won their last 36 games.
Because of the ongoing coronavirus situation, the crowd will be limited to four guests of each player.
There will be crowd noise piped in over the public-address system, but Bluder said it won't be the same.