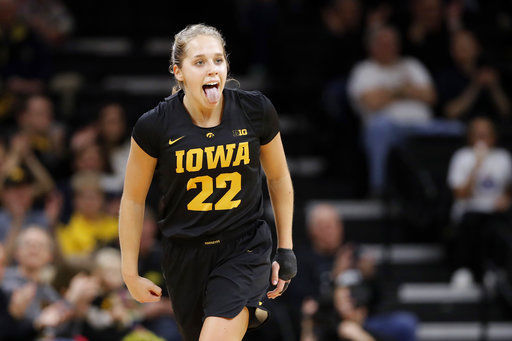 AMES — As the women's basketball teams from Iowa and Iowa State prepare to renew acquaintances, this year's Cy-Hawk match-up comes with a bit of a twist.
"I feel like we're both trying to figure out all of the pieces to the puzzle at this point,'' Iowa coach Lisa Bluder said.
The Hawkeyes are off to a 6-2 start to the season but are continuing to adjust to the loss of All-American Megan Gustafson and seniors Tania Davis and Hannah Stewart from an Elite Eight team.
The Cyclones are 6-1 but still working to replace what All-American Bridget Carleton brought to the court.
"Both of us lost big pieces of what we were about a year ago,'' Bluder said, adding that she knows some things will stay the same in today's 7 p.m. game at Hilton Coliseum.
"It will always be a hard-fought game, a tough game. That part of it never changes.''
Iowa State coach Bill Fennelly sees several constants, as well, in the series.
"Someone unexpected always seems to step up and do big things in this series. It will always be a 40-minute game, but the memories from this game, they last a lifetime,'' Fennelly said. "It's something the players will remember and talk about forever.''
The Hawkeyes have won the last three games in the series, Iowa's longest string of success against ISU since winning 10 in a row between 1982-96.
Iowa held off the Cyclones 73-70 a year ago, avoiding overtime when freshman and Iowa City native Ashley Joens missed a 3-point attempt at the buzzer.
Joens went on to rank as one of the elite freshmen in the Big 12 last season and has found success at a small forward position this season, averaging 21.9 points and 10.1 rebounds.
"This year, they are running everything through her,'' Bluder said. "She's such a good player, a great 3-point shooter and a great rebounder, and she's averaging eight free throws a game.''
Joens' growth hasn't surprised Fennelly.
"She's old school, the type of player coaches love, a real baller who enjoys getting in the gym and working on her game,'' Fennelly said. "She's off to a really good start and we hope that continues.''
Balance has been the name of Iowa's game so far.
Sophomore post player Monika Czinano leads the Hawkeyes in scoring, averaging 14.4 points per game.
Makenzie Meyer and Kathleen Doyle on the wings aren't far behind with scoring averages of 14.3 and 14 points, respectively.
"I think every year they are hard to guard, an extremely efficient team,'' Fennelly said. "… They lose the player of the year in Megan Gustafson and Czinano steps in and shoots 75 percent from the field. It's another good challenge.''
Before the start of conference play, that is something both coaches look forward to in the annual match-up.
"I think both teams make each other better,'' Bluder said. "I think the competitiveness, the way we go hard at each other, I think it helps us both.''
Fennelly said the game, which will be nationally televised by FS1, is also an opportunity to celebrate the strength of the women's game in the state of Iowa.
"We have four really good Division I programs in our state and this is a chance for us to share that with the nation,'' Fennelly said.
Bluder views that strength as a credit to the work of high school and AAU coaches around the state.
"They help put us in a good position,'' she said. "Their work is a part of this game.''
Be the first to know
Get local news delivered to your inbox!