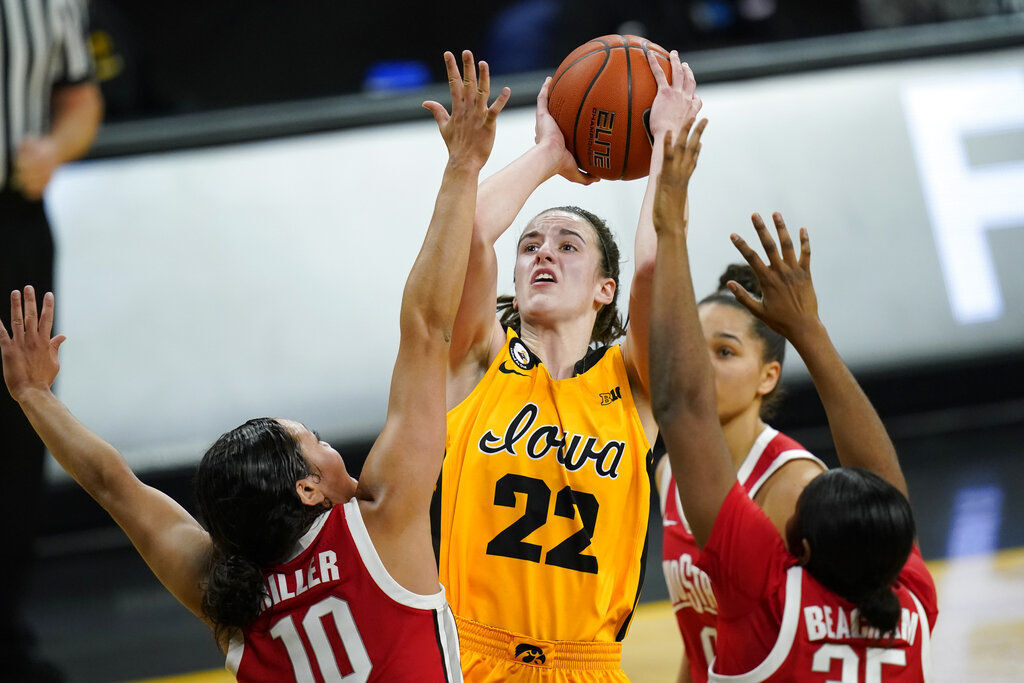 IOWA CITY – Even Caitlin Clark couldn't rescue the Iowa women's basketball team Wednesday.
The freshman scored 27 points but her step-back 3-point attempt missed the mark at the buzzer in overtime and for the first time in 43 games at Carver-Hawkeye Arena, the Hawkeyes stomached a loss.
No. 15 Ohio State overcame a 12-point halftime deficit to remain undefeated with an 84-82 overtime win over Iowa that ended the nation's second-longest home winning streak in college women's basketball.
"I just couldn't get it to drop,'' Clark said.
The loss was the first for Iowa at Carver-Hawkeye Arena since dropping a 92-74 decision to Nebraska on Jan. 28, 2018.
The 42 victories that followed left the Hawkeyes trailing only an ongoing streak of 61 consecutive home wins by Baylor.
"It really wasn't something we talked about much. Most of the kids on the floor, they weren't a part of many of those wins,'' Iowa coach Lisa Bluder said.
"Still, it had been almost three years. I feel like we let a lot of people down. The fans, the players who have been a part of the program over the past three seasons. All we can do now is try to start a new streak on Monday.''
But before Purdue shows up for a 3:30 p.m. game at Carver-Hawkeye Arena, Bluder said the Hawkeyes have some work to do.
The Buckeyes turned 18 Iowa turnovers into 26 points, the second straight game where takeaways turned into headaches for the Hawkeyes.
"We have to get that figured out,'' Bluder said. "Northwestern, it was more about their quarter-court defense and today, it was pressure that bothered us, which surprised me a bit.''
Ohio State played its way back into the game in the second half with defensive pressure, chipping away at a 44-32 halftime deficit.
The Buckeyes pulled to within 59-54 after three quarters and then benefited from a 5-of-10 effort at the free throw line by Iowa in the final quarter.
Ohio State took its first lead since the midpoint of the first quarter at 72-71 on a 3-pointer by Gabby Hutcherson with 1 minute, 29 seconds remaining in regulation.
Neither team scored a point in the final 54 seconds of regulation, carrying the 72-72 tie Kate Martin forged when she hit the second of two free throws into overtime.
Clark had the last look for Iowa in regulation but took the shot off of a turnover with :20 to play, forcing the Hawkeyes to defend for the final seconds as the Buckeyes' Jacy Sheldon missed a running jumper at the buzzer.
"I was probably more frustrated with that (than the shot attempt at the end of overtime) because we took that shot way too early and had to play defense for 14 more seconds than we needed to,'' Bluder said. "We have to learn from that.''
McKenna Warnock, who finished with 14 point and 12 rebounds, said the Hawkeyes rushed too much at times.
"We just need to relax and let the game come to us,'' Warnock said. "We had a lot of opportunities, but we got in too much of a hurry.''
Bluder believed the Hawkeyes (8-3, 4-3 Big Ten) tried to do too much at times.
"Instead of safe passes, we were trying to make home run plays,'' Bluder said. "Other than at the end of a shot clock, there wasn't any need for that.''
Iowa had its chances in overtime, pounding the ball down low to Monika Czinano early for a pair of baskets and a 78-74 lead with 3:20 left.
She fouled out on a charge call with 2:39 remaining and the Buckeyes' Braxtin Miller tied the game on a lay-in on the ensuing possession.
Ohio State took a short-lived 80-78 lead on a Madison Greene basket before Clark tied the game with a pair of free throws with 1:44 to play.
Sheldon moved the Buckeyes (7-0, 3-0) ahead 19 seconds later, knocking down a floating jumper.
Greene led four Ohio State players in double figures with a 20-point effort that Sheldon and Miller complemented with 18 points apiece.
"It's frustrating to be right there with the number 15 team in the country and then not to be able to finish it off,'' Clark said. "Sometimes you make those shots, sometimes you miss. When they don't fall, you just have to go back to work.''
OHIO ST. (7-0)—Beacham 1-1 0-0 2, Patty 5-11 1-1 12, Greene 9-20 1-5 20, Miller 7-15 2-4 18, Sheldon 7-15 3-3 18, Mikulasikova 2-6 0-0 4, Harris 1-4 1-3 3, Hutcherson 2-6 0-0 5, Poole 0-1 2-4 2, Team 0-0 0-0 0, Totals 34-79 10-20 84.
IOWA (8-3)—Warnock 6-9 0-0 14, Czinano 4-8 1-4 9, Clark 9-20 6-8 27, Marshall 3-8 4-5 10, Martin 3-7 3-4 9, Cook 2-3 1-3 5, Meyer 2-8 0-0 5, Taiwo 1-4 0-0 3, Goodman 0-0 0-0 0, Team 0-0 0-0 0, Totals 30-67 15-24 82.
Ohio St. 17 15 22 18 12 — 84
3-Point Goals—Ohio St. 6-25 (Patty 1-4, Greene 1-1, Miller 2-5, Sheldon 1-5, Mikulasikova 0-3, Harris 0-3, Hutcherson 1-3, Poole 0-1), Iowa 7-22 (Warnock 2-3, Clark 3-9, Marshall 0-2, Meyer 1-5, Taiwo 1-3). Assists—Ohio St. 10 (Sheldon 4), Iowa 17 (Warnock 5). Fouled Out—Iowa Czinano. Rebounds—Ohio St. 42 (Patty 4-9), Iowa 50 (Cook 4-5). Total Fouls—Ohio St. 21, Iowa 17. Technical Fouls—None. A—326.