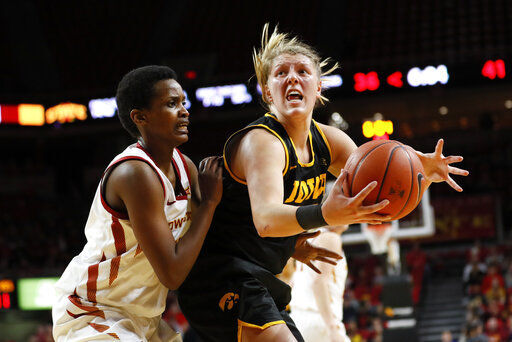 Another year, another role.
That's just the way things seem to work for Iowa post player Monika Czinano.
"Understanding that I'm a veteran now is something I've kind of had to wrap my head around,'' Czinano said. "It was like, 'Whoa, when I did get here?' But, it has been an eye-opening experience. I've never had to do it vice-versa like Megan (Gustafson) did for me.''
The junior who two seasons ago accumulated a few minutes but soaked up every second she had to watch and learn from the Hawkeyes' two-time Big Ten player of the year and consensus all-American now finds herself mentoring the next young post prospect to arrive at Iowa.
Sharon Goodman, a 6-foot-3 freshman from Lime Springs, Iowa, has had plenty of questions for Czinano, who traded the reserve role she filled behind Gustafson as a freshman for a strong sophomore season.
Czinano emerged as one of the top shooters in college basketball, her 67.9-percent shooting touch ranking as the second-best effort in the country at the NCAA Division I level.
With just two more field goals, she would have led the nation in shooting.
The 6-3 native of Watertown, Minn., earned all-Big Ten recognition last season while averaging 16 points and five rebounds per game for a 23-7 Iowa team which finished third in the Big Ten.
"It would be a little silly to say that I wasn't a little surprised with Monika last season,'' Iowa coach Lisa Bluder said. "She goes from being really a very role player her freshman year to being the second-best field goal shooter In America. Who wouldn't be surprised by that? That was remarkable.''
As the Hawkeyes work toward Wednesday's 6:30 p.m. season opener against Northern Iowa at Carver-Hawkeye Arena, Czinano expects more.
"I'm trying to improve on (last season's shooting percentage), honestly,'' she said. "I feel like I can make it better than what it was last year.''
Bluder expects Czinano's presence down low to continue to help open things up on the perimeter for a deep group of Hawkeye shooters.
Czinano also expects to work to improve her overall game, from inching her shooting percentage upward to collecting more rebounds and defending more effectively in part by reducing her foul totals.
She also plans to continue to help Goodman settle in at the collegiate level.
Goodman averaged 27 points per game last season at Crestwood High School in northern Iowa, and she finds herself learning every day from Czinano.
"There's such a legacy here for post players. Her accepting me into that has been very nice and very encouraging,'' Goodman said. "I think we have a great relationship already and I'm here to push her and compete with her, too.''
Goodman said competing against other players her own size has been a new experience for her in practice.
"I'm finding new ways to compete and learning how I have to adjust if I want to be able to go up against players my size,'' Goodman said. "I'm understanding why I need to work on my strength and make gains there. I'm learning every day.''
Czinano said the two spent a lot of hours in the gym together since Goodman arrived on campus earlier this summer.
"She's been picking up everything so beautifully,'' Czinano said. "I never really understood this when Megan was doing it for me. It was nice when you got a little 'Oh my gosh, she's doing it so well' and I find myself now in practice being like, 'Oh my gosh, great job Sharon.'"
Bluder said there have been moments when Goodman has held her own against Czinano, a welcomed environment as the Hawkeyes work to grow depth on this year's roster.
She also likes the way Czinano has helped Goodmarn progress as the start of a unique season approaches.
"I think Monika is doing a great job leading. I think as a sophomore, we needed her to work on so many other things and concentrate on so many other things that I didn't want that to be on her plate,'' Bluder said.
"But, she has become a leader because that's just the type of person she is. I'm excited to have Monika here for a few more years and I think people will see how she has continued her growth over the past year.''
Czinano is ready to share that as well
"I think we're all excited to finally get the season started and see where it all can lead,'' Czinano said. "We surprised some people a year ago. We feel like we can do the same thing again.''