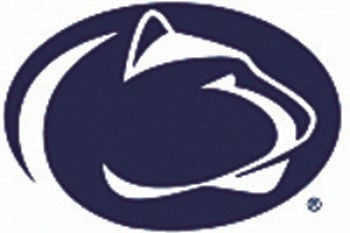 Spencer Petras isn't buying it.
The Iowa quarterback understands the Penn State team the Hawkeyes face Saturday is off to a rare 0-4 start, but he doesn't see an 0-4 team when he watches the Nittany Lions on tape.
"The worst thing we could do would be to take these guys lightly because they're a really talented team and have some really good players," Petras said. "They're going to bring a good fight, so we need to be ready."
Petras expects to see plenty of blitzing from a Penn State defense that has found itself working in tough conditions created by an offense which has turned the ball over nine times through four games.
Many of those turnovers have come in the first half and have created short-field situations that would test any defense.
The Nittany Lions have responded with a traditional aggressive approach.
Penn State's defense is third in the Big Ten with 10 sacks and matches Iowa at seventh in the conference with 24 tackles for a loss.
Linebacker Brandon Smith and defensive end Shaka Toney share the team lead with a pair of sacks apiece, but eight players have contributed sacks and 14 Nittany Lions have recorded tackles behind the line of scrimmage.
"A lot of pressure, they will bring a lot of pressure," Petras said. "They like to blitz and they'll bring anything. I have to make sure I'm familiar with all the looks and knowing what plays we want to run and what plays we don't according to the look we get."
Petras has been given time to work by Iowa's offensive line.
The Hawkeyes' first-year starting quarterback has been sacked just three times through four games.
"The line, the receivers, the tight ends, they've all done a good job with their blocking and doing their part to give us a chance to make plays," Petras said.
That will need to continue.
Iowa coach Kirk Ferentz has spent the week trying to get his team to look beyond Penn State's first 0-4 start in two decades as it prepares for the 2:30 p.m. game at Beaver Stadium in University Park, Pa.
"I can't remember ever being on the field where their guys don't look good and play well and play hard and are good at every position," Ferentz said.
The Iowa coach said there probably was a time when Penn State didn't field a quality football team, joking that probably was a time "before electricity."
Ferentz sees some electric potential in this year's Nittany Lions that hasn't translated into bottom-line success, largely because of the team's turnover troubles.
"All you have to do is look at the film. When our guys look at the film, unless they are just delusional they are seeing what we are seeing, guys that are good football players and things that are not quite just clicking yet," Ferentz said.
"My guess is that it is going to click for them at some point. I just hope it isn't this Saturday. We haven't beaten these guys in a long time, nearly a decade, and there is a reason for that. They are a good football team and we will have to be at our best to have a chance to win."
Although the last three games between the teams have been decided by one possession, the Hawkeyes have lost six straight to the Nittany Lions since winning a 24-3 game at Kinnick Stadium in 2010.
Iowa's last win at Beaver Stadium came one year earlier by a 21-10 score.
"Any game in the Big Ten is a hard game to win," Hawkeye linebacker Seth Benson said. "We can't even look at their record. We just have to know that every game, we're going to have to go out there and earn it."
Even with only a handful of fans in the stands at cavernous 106,572-seat Beaver Stadium, Petras said the challenge is magnified being on the road.
"You need to have a special road focus and make sure that you are locked in," Petras said. "Their record is almost irrelevant. They're a really talented team that has been close in a lot of these games."
Receiver Tyrone Tracy Jr. said the Hawkeyes get that.
"They're still Penn State," Tracy said. "… We have to treat this as if they're 4-0 and seventh ranked in the nation. We're taking this as if they're not 0-4, that it's the same Penn State team that has beaten us the last few years. We have to look at it that way."
Be the first to know
Get local news delivered to your inbox!