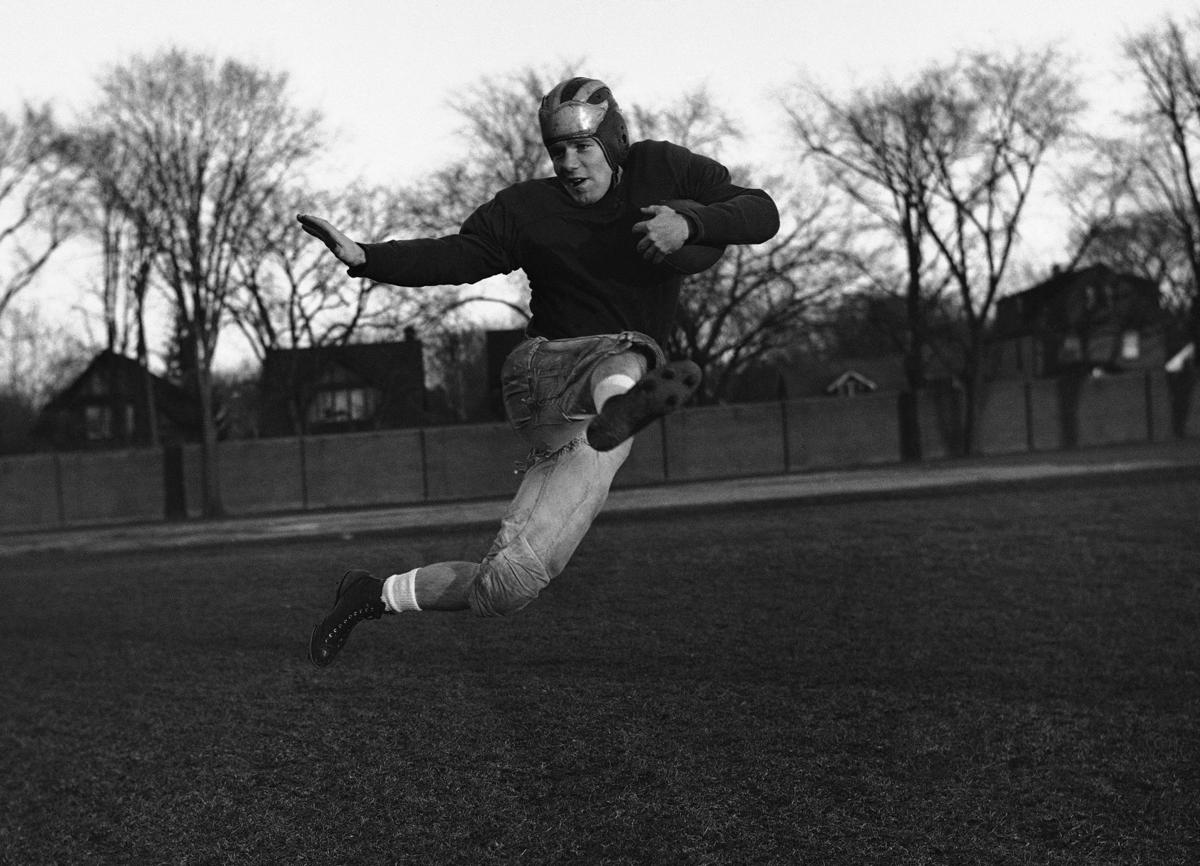 IOWA CITY — Bump Elliott was more than an All-American athlete, a Rose Bowl-winning football coach and an administrator who brought stability and success to the University of Iowa athletics department.
On the day following his death late Saturday at the age of 94, Elliott is being remembered as a family man and a respectful gentleman who impacted many during his nearly 75-year involvement with intercollegiate athletics at three Big Ten institutions.
"Bump's footprint will forever shine on Iowa athletics. His leadership for over two decades continues to be evident in any success enjoyed by our teams, coaches and programs,'' current Iowa director of athletics Gary Barta said in a statement.
"Bump was far ahead of his time as a student-athlete, football coach, as the leader of Iowa athletics and as a mentor and friend to all who knew him.''
An All-American halfback for Michigan in 1947, Elliott was the director of athletics at Iowa from 1970-91, returning to a place where he had worked as an assistant football coach on Forest Evashevski's staff in the 1950s.
Overseeing operations of the men's athletics department at Iowa, Elliott's hires included some of the most successful coaches in Hawkeye history.
He hired Hayden Fry to lead a football program that had struggled for two decades, he gave Olympic champion Dan Gable an opportunity to build a wrestling dynasty and he brought in basketball coaches in Lute Olson and Tom Davis, who guided that program to unprecedented levels of extended success.
"As a coach who worked for Bump, you had a sense that he was there with you all the way, in understanding the demands of coaching in the Big Ten Conference,'' Davis said in a statement. "He was a coach's athletic director and he was always in the room with you. He was a pleasure to work with.''
Davis added that he believed Elliott's experience as a student-athlete and a coach put him in a position where he "understood what it took for success.''
Gable simply called Elliott "a difference maker'' in his life.
"At first, he didn't make any promises, but he said, 'You do well, and I will do well for you,' and he honored that,'' Gable said. "Even though it could have, it never got old for him to see Iowa wrestling win and that is one of the reasons for our success, because the guy at the top of the department continued to be excited.''
Iowa football coach Kirk Ferentz recalled meeting Elliott for the first time when Ferentz was working as an assistant on Fry's staff in the 1980s.
"His leadership and vision helped shape the culture and competitiveness of athletics at the University of Iowa,'' Ferentz said. "It's safe to say that Hawkeye athletics would not be where they are today without Bump Elliott.''
It was during Elliott's tenure that Carver-Hawkeye Arena was built, bringing separately-operated men's and women's athletic departments under the same roof for the first time.
Kinnick Stadium saw its first significant expansion and the football program benefited from the construction of its first indoor practice facility.
Elliott's death was announced in a statement from his family, saying he passed peacefully surrounded by family members.
Born Chalmers W. Elliott in Detroit in 1925, Elliott grew up in Bloomington, Ill., and attended Purdue from 1943-44 before spending time in the United States Marine Corps.
Returning from active duty, he transferred to Michigan, where he competed in 1946 and 1947, earning Big Ten MVP honors as a senior after helping the Wolverines win a conference title and a Rose Bowl.
His coaching career included working as an assistant at Oregon State, Iowa and Michigan before becoming the Wolverines' head coach from 1959-68. He guided Michigan to a 51-42-2 record and a Rose Bowl win after winning the Big Ten title in 1964.
After ending his coaching career, Elliott worked as an associate athletics director at Michigan starting in 1968 before returning to Iowa where he replaced Evashevski at a time when the Iowa athletics department was dealing with a great deal of internal turmoil.
Elliott brought stability and civility to the situation, laying the foundation for the department's long-term success.
Funeral services for Elliott are pending.
Be the first to know
Get local news delivered to your inbox!