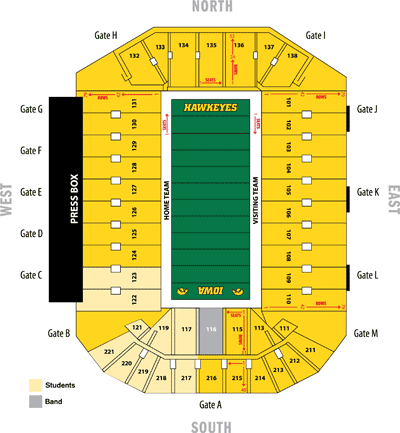 Home football weekends for the University of Iowa are more than just a Saturday afternoon football game.
Hawkeye fans from all parts of the state of Iowa and from the entire Midwest converge on Iowa City for an entire weekend of activities on the Iowa campus. Tailgating activities around the stadium begin as the sun comes up and continue all day as Iowa fans support their Hawkeyes, come rain or shine.
Iowa home games are played in historic Kinnick Stadium, named after 1939 Heisman Trophy winner Nile Kinnick. With a capacity of 70,585, Kinnick Stadium ranks as one of the 20 largest college-owned stadiums in the nation.
A $89 million renovation of Kinnick was completed in August 2006. That two-year project resulted in a long-list of amendments that improved the game-day experience for everyone from the student-athletes and coaches on the playing field to the fans in the stands. New scoreboards featuring state-of-the-art audio and video, new team locker rooms, increased concessions stands and restroom, a new press box with indoor and outdoor club seating, and private suites, and the creation of a main entrance and the construction of the Krause Family Plaza at the stadium's south were just some of the additions fans of the Hawkeyes now enjoy.
Iowa always ranks among the top 25 schools in the nation in home attendance and the 2006 seasoon was no different. The Hawkeyes sold out all seven home games and set a new single-season attendance record. Iowa will enter the 2007 season with 24 straight sellouts of Kinnick.
Be the first to know
Get local news delivered to your inbox!