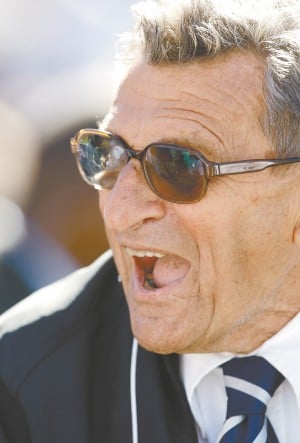 IOWA CITY --- You probably thought you knew everything there was to know about the man who will lead Penn State against Iowa on Saturday. After all, he has been a college head coach for more than 40 years and has won more games than anyone in history. But here are a few things you may not know about Joe Paterno:
-- He met his wife, Sue, in 1959 when he was an assistant coach at Penn State and she was a freshman majoring in English literature. They met in the school's old library.
-- Joe and Sue have donated more than $4 million of their own money to Penn State and raised another $13.5 million in private contributions for the construction of a new library on campus to replace the one in which they met.
-- His father, Angelo, was such a devoted liberal Democrat that he named one of Joe's brothers after Franklin Roosevelt. However, Joe's youngest son, Scott (who outweighs many of his linemen), is a staunch conservative who lost a bid for a seat in the U.S. House of Representatives in 2004. "If (my dad) knew he had a grandson running in the Republican Party for Congress, he would jump out of that grave, call me up and give me every dirty Italian word you could ever think of," Paterno said in 2004.
-- He has a scar on his lower lip from when he ran face-first into a tree during a boyhood pickup football game on the streets of Brooklyn.
-- He was offered and seriously considered the head coaching job at Michigan in 1969. After he turned it down, the Wolverines hired Bo Schembechler. He also was vigorously courted by the Pittsburgh Steelers in 1969, the New England Patriots in 1972 and Yale University in 1965 (before he became head coach at Penn State).
-- He was paid $1.03 million in salary and bonuses in 2008, according to Penn State, although his annual income has widely been reported to be closer to $1.5 million. Even at that, he would be only the fifth-highest paid head coach in the Big Ten with a salary half that of Kirk Ferentz. If the $1.03 million figure is accurate, he's No. 8 in the Big Ten.
-- He gave the commencement address at Penn State in 1973, telling the gathered graduates "Money alone will not make you happy. Success without honor is an unseasoned dish."
-- All five of his children - Diana, Jay (Joseph Vincent Jr.), Mary Kay, David and Scott - are graduates of Penn State. Only one of them - Jay, a Penn State assistant coach - played football.
-- For more than 20 years, the University Creamery of State College, Pa., has sold a flavor of ice cream called Peachy Paterno.
-- His head-to-head record against Florida State's Bobby Bowden, with whom he is vying to become the winningest coach ever, is 7-1. The only loss was in the 1990 Blockbuster Bowl.
-- According to ESPN, 46 of his players were arrested for various offenses between 2002 and 2008, including 17 in 2007 alone.
Joe Paterno had his tuition at Brown University paid for by a wealthy alumnus, comic book magnate Everett "Busy" Arnold. He shares the school record for interceptions in a career at 14. ... He disdains any type of music other than classical, listening mostly to Verdi, Puccini and Beethoven while sitting in his den. ... He is the only coach to win all four BCS bowls. ... His middle name is Vincent. ... He is listed in the State College, Pa., phone book. ... He began wearing his pants with the bottoms rolled up at the suggestion of his wife to avoid getting mud on the cuffs of his wool slacks. He now wears khakis all the time, but still rolls them up out of superstition. "I don't care if he rolls them up or not," Sue said. "I can just throw them in the washer." ... Sue and a friend vandalized the university's Nittany Lion statue in 1966, splashing it with water-soluble orange paint as a ploy to incite more enthusiasm among Penn State fans for the annual matchup with Syracuse. Fans of the Orangemen went a step further, throwing oil-based paint on the statue. ... His favorite food, according to Sue, is "anything with red sauce." ... He once suggested that "someone ought to shoot" the inventors of e-mail and the fax machine.
Be the first to know
Get local news delivered to your inbox!