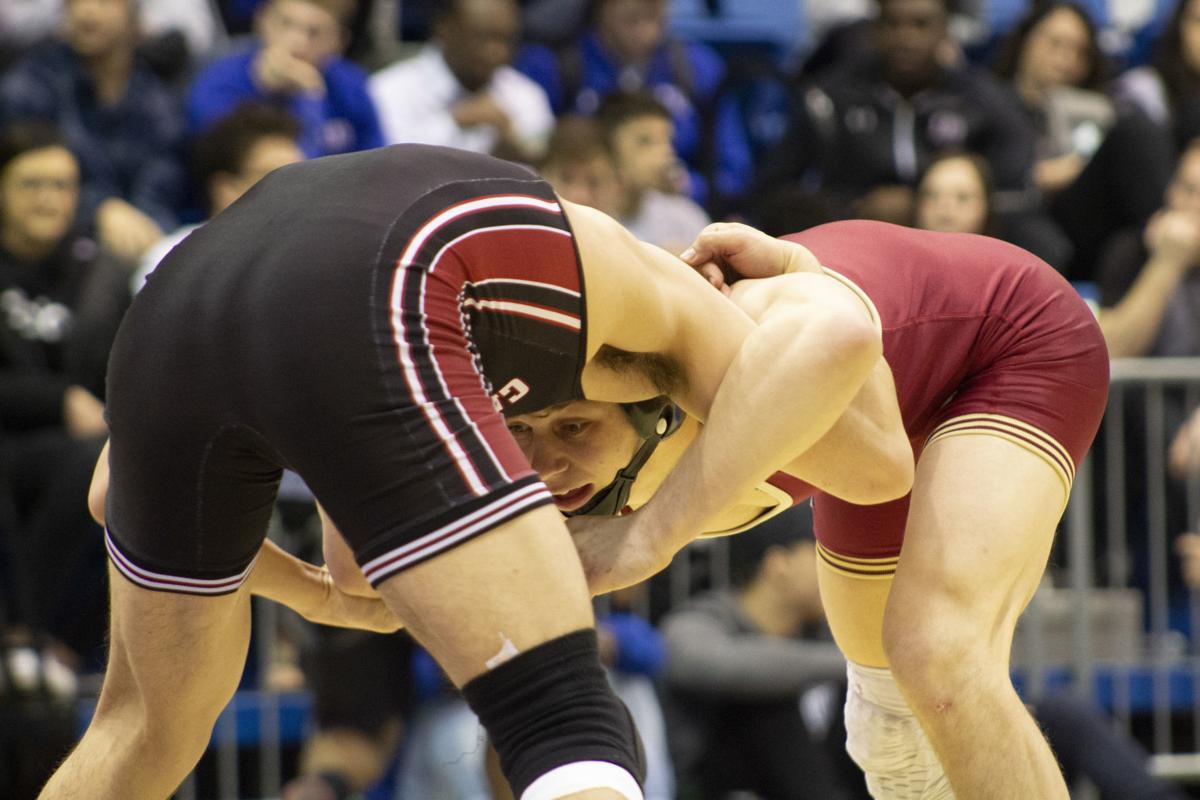 CEDAR RAPIDS – At one point this season, former Denver high school standout wrestler Riley Wright was 2-6 as Coe College's starting 141-pound wrestler.
But Wright's confidence never wavered. He also kept reminding himself of a text he sent all summer long to Kohawk head coach John Oostendorp.
"Every day I'd text coach O, '2020 141-pound national champion'," Wright said.
As the NWCA National Duals rolled around in early January, Wright, who won more than 150 matches at Denver and was a four-time state placewinner, still had a losing record.
But something clicked in Louisville, Ky., as Wright went 3-1 which included a 10-3 victory over 2018 141-pound national champion and two-time all-American Ben Brisman of Ithaca College.
"Losing my first few matches, I wasn't used to that," Wright said. "I was dealing with adversity for the first time, some illness. I just wasn't used to it.
"Then in Kentucky, I started to find my groove."
Still despite producing some of his best wrestling of the season, Wright was just 9-8 when the NCAA Division III Lower Midwest championship was set to begin in Dubuque two weeks ago and not considered a potential national championship qualifier at 141.
But Wright still believed and then he made believers out of the rest of the field. Wright upset returning all-American Brady Fritz of Wartburg in the quarterfinals, and then avenged a loss to Central College's Dan Radcliffe in the semifinals, by major decision (12-4), to guarantee himself a spot the NCAA Division III championships.
Wright capped off an incredible regional by beating North Central College's Marc Fleenor, 7-5, to win the 141-pound title.
"My coaches told me I could win that tournament," Wright said. "I was relaxed. Coach Ball (Ethan) and coach Gotto (Jimmy) were messing around with me before the finals, telling me jokes and making me laugh before the finals. It's going to be the same thing this week ... just stay relaxed and keep attacking."
Wright believes there is no reason he can't put together another great performance this week beginning on Friday where he will have to prove himself all over again.
Wright drew a pig-tail match against top-seeded Troy Stanich of Stevens Institute of Technology.
"I got the same mindset going into the championships as I did the regionals," Wright said. "Seeding doesn't matter. I'm going to go out and get it done. Effort. Attitude. A mindset that I can score on anybody. I feel with my attitude and effort that there is nobody in the country that can stop that. It is just go wrestle.
"I'm excited, pretty pumped to be go put on a show."
UPPER IOWA HEADS TO SIOUX FALLS: The Peacocks will have five wrestlers competing at the NCAA Division II championships at the Denny Sanford Premier Center Friday and Saturday.
Leading head coach Heath Grimm's contingent into the championships are a pair of returning all-Americans – Justin Folley at 133 and West Union native Nick Baumler at 197. True freshman Chase Luensman at 149, Dalton Hahn at 184 and Triston Westerlund at 285 also qualified.
Baumler is a two-time all-American, finishing seventh in 2018 and third last year in Cleveland. Folley was seventh at 133 in 2019. Hahn qualified at 184 as a freshman in 2018.
Both Baumler and Westerlund enter as Super Regional champions.
"They look great. They look fresh and as strong as they have all year," Grimm said. "Their body and minds are in the right spot and they are peaking. We are excited to get there and get after it. They are all going to go out there expecting to win no matter whom they face."
Be the first to know
Get local news delivered to your inbox!