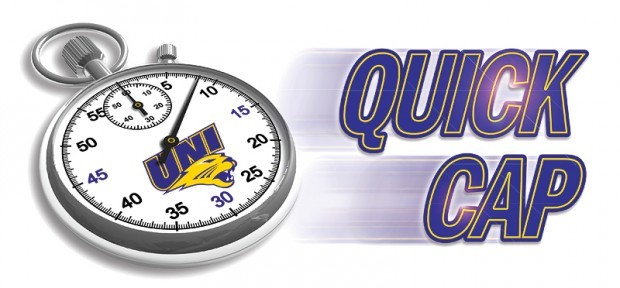 It was over when - Seth Tuttle took out some frustration with a nice baseline move and reverse one-handed jam to make the score 60-44 with 6:46 to play. Not too long before that, Evansville had clawed back to within 45-40, but the Panthers responded and Tuttle provided an exclamation point.
Game ball - Deon Mitchell. Evansville really plays sound defense and UNI had to work for just about everything it got. The Aces frustrated Tuttle. But Mitchell made things go, got into the lane when few others could and drew some fouls at key times. He also opened the game with a 3-pointer and the rest of the team heated up with him early. Mitchell finished with 17 points on 5-for-5 shooting with four assists.
What it all means - Here we go. The Panthers now set off to see what kind of history they can make. There are no more games at the McLeod Center, but think of it as a good thing -- UNI can't accomplish what it wants to by playing games in Cedar Falls.
Of note - DJ Balentine hit a 3-pointer right at the start of the second half, but didn't make another field goal the rest of the way. Containing the MVC's top scorer is an excellent way to beat Evansville, which relies heavily on him to score points.
Sights and sounds - I wonder what conclusions about modern society a philosopher could glean from the Kiss Cam. Age seems to have no bearing on enthusiasm. Nor does attractiveness of the couple. Perhaps economic background can shed some light, but I'm guessing that would be complicated data to mine. And is there any reason people refuse other than "that's my sister?"
Up next - UNI will travel to No. 11 Wichita State Saturday.