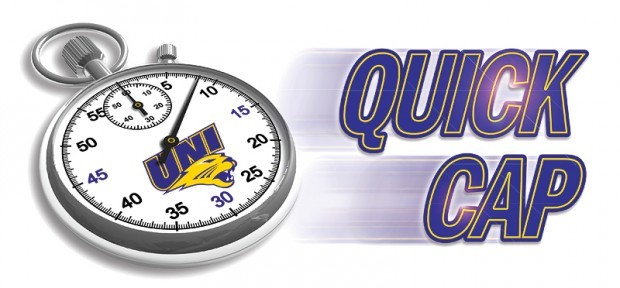 It was over when - Deon Mitchell's steal and lay-up made the score 59-39 with 8:10 to play. Bradley hung around for a while, perhaps too long considering the directions these two teams are heading, but it escalated into a blowout quickly.
Game ball - Mitchell. The senior can be a leg to stand on if the moment is right and it was exactly that tonight. Mitchell created some things in the half-court and also came up with some steals that led into fastbreaks. He finished with 14 points on 5 of 7 shooting with five assists and three steals. Honorable mention to Nate Buss for going 8 of 11 from the field, 3 of 4 from deep for 23 points.
What it all means - There were maybe a few tense moments in the second half when Bradley was still within two, but the monkey is officially off UNI's back. The Panthers have their first win in St. Louis since 2010 and are onto the semifinals.
Of note - Nate Buss subbed in for Marvin Singleton with 14:55 to play. The next UNI sub didn't come until 3:44, when Paul Jesperson entered for Seth Tuttle. That, above all else, should tell you how well things were going when the Panthers stretched a two-point lead to 27.
Sights and sounds - The Interlude was back again. I was told after the Drake game it was going to go away for a while. It did. It returned to the McLeod Center for the final home game against Evansville. Then, because they always pull it out at the MVC Tournament, it was back again today. Interlude Watch is a thing.
Up next - UNI will play the MVC Tournament semifinals against either Indiana State or Loyola. Those two teams are going to play, like, really soon.