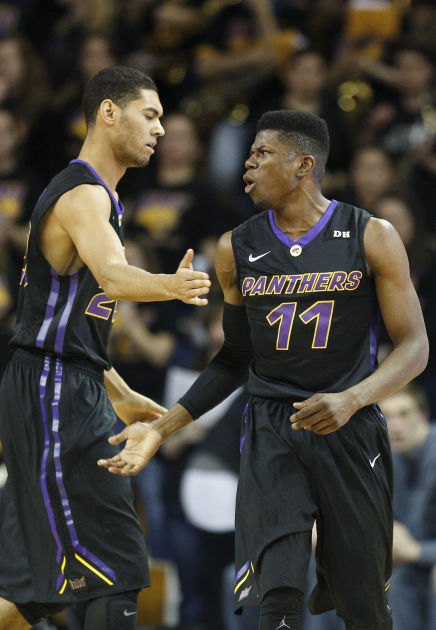 CEDAR FALLS | Drake's Reed Timmer made back-to-back jump shots and scored five points in the span of 35 seconds.
It trimmed the University of Northern Iowa men's basketball team's lead from 16 to 11 near the end of the first half.
So what? The Panthers were rolling. An 11-point cushion is plenty.
It wasn't a "so what?" moment for head coach Ben Jacobson. That's how spoiled these Panthers are. That's how spoiled fans of defense are.
The sour moments are that much harder to handle when you're so used to the sweet.
"Drake hit back-to-back jumpers, scored a quick five points and I told the guys it felt like the roof was going to cave in. After two baskets," Jacobson said. "That's good. When they score, when it feels like something is wrong, that's good. Guys need to feel that way."
By and large, Saturday's 69-53 victory was a runaway. But Jacobson and Matt Bohannon spent plenty of time after the game talking about all the mistakes that were going to come up in the next film session.
Because when it feels like the roof is caving in and you're not on your way to Home Depot for more support beams, well, you might just end up getting rained on.
It happened again in the second half. Drake took less than 10 minutes to score 20 points after putting up 20 in the entirety of the first half. The Bulldogs cut the deficit to nine points before the Panthers needed a timeout.
UNI snapped out of it and responded with a 9-0 run by holding Drake scoreless for over three minutes. But here's how Jacobson remembered much of the second half.
"Jeremy (Morgan) jumped out of position and they drove right down the middle. Paul (Jesperson) fouled a jump shooter. We had another guard kind of move out of the way, and they drove it down the middle," he said. "Things we didn't do in the first half and none of those things we do in practice."
Jacobson also said some good things about his team, but those specific mistakes stuck out to him.
Bohannon and his teammates could also feel that something was off. They know when they can do better. Demanding perfection is unrealistic, but there's nothing wrong with striving for it.
"You're not going to play a perfect 40 minutes of basketball, we understand that," Bohannon said. "The lulls aren't fun, but you're going to go through them, so our goal is to end them as quick as we can."
From the standpoint of how many points were scored, it was one of the worst extended stretches of the season for the UNI defense.
Through it all, the Panthers still only gave up 53 points for the game and held onto the 16-point lead they enjoyed at halftime. The result of the game was never in doubt.
Those spoiled little brats.