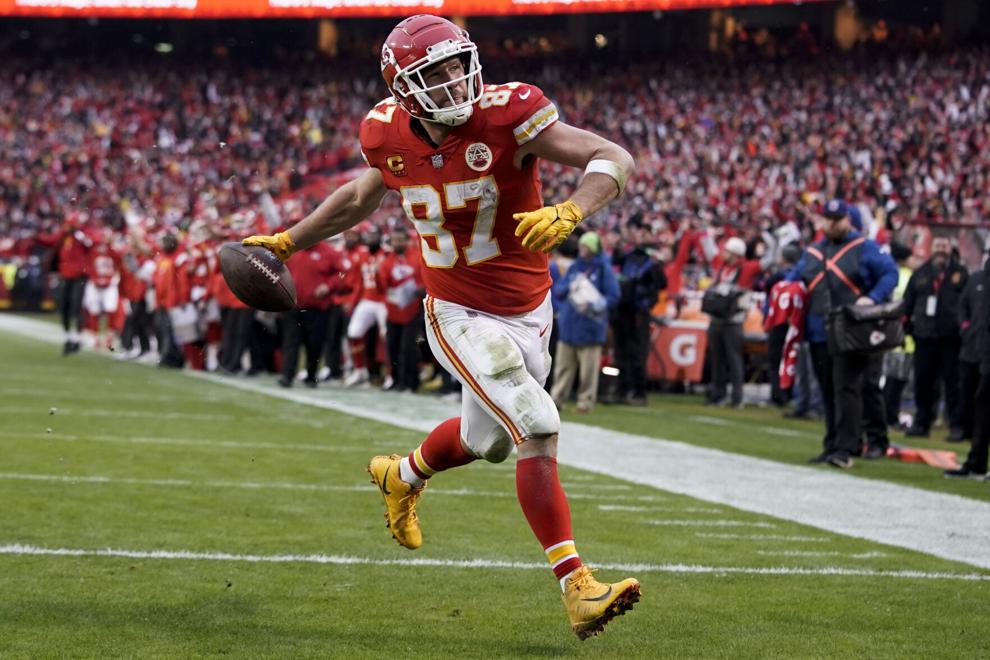 The top-seeded Chiefs are currently 1.5-point favorites over the third-seeded Bengals in a rematch of last year's AFC title game. Kansas City is playing in its fifth consecutive conference championship.
(Odds courtesy of DraftKings and subject to change)
Chiefs TE Travis Kelce first touchdown scorer (+700)
Kansas City tight end Travis Kelce broke his six-game scoreless streak in a big way last week, catching two touchdown passes in a win over the Jacksonville Jaguars.
Kelce finished with 14 receptions on 17 targets for 98 yards and those two scores, setting an NFL record for most catches by a tight end in a playoff game.
Kelce finished the regular season second in the NFL with 12 touchdown catches and third in total receptions with 110.
Including the playoffs, Kelce has scored in seven different games. He's scored the game's first touchdown in four of those contests, while scoring the first Chiefs touchdown in six of them.
The odds of Kelce scoring a touchdown anytime during the AFC title game are -115.
FrontPageBets editor Mike Szvetitz picks his winners for Sunday's conference championship games.
Bengals QB Joe Burrow over 17.5 rushing yards (-130)
The stories of the much-maligned Bengals' offensive line have been well documented. Still, even with three new starters in last week's Divisional Round win over the Buffalo Bills, Cincinnati quarterback Joe Burrow and his offense still find a way to win.
Burrow's savviness in the pocket makes him dangerous no matter how much pressure he's facing. And the Chiefs will bring a lot of it as the KC defense was second during the regular season in sacks with 55.
Burrow also has the escapability to get out of the pocket and turn a negative into a positive gain.
Including the playoffs, the Bengals quarterback has rushed for 297 yards this season. And while that might not seem like much, his 16.5-yards-per-game average shouldn't be ignored. Those scrambles are often the difference between punting and a first down.
In last week's win over the Bills, Burrow rushed for 31 yards on six carries. His season-high was 47 in the season opener against the Pittsburgh Steelers.
Oh, and his second-highest rushing game? Well, that came against the Chiefs in a Week 13 win, where Burrow rushed for 46 yards and a touchdown on 11 carries.
FrontPageBets takes a look at three wagers to watch in the NFC title game between Cincinnati and Kansas City.
Chiefs RB Isiah Pacheco longest rush over 12.5 yards (-125)
Kansas City running back Isiah Pacheco has been a great fit for the Chiefs this season, leading the team in rushing with 830 yards and five touchdowns.
In last week's win over Jacksonville, the rookie out of Rutgers rushed for 95 yards on 12 carries, including a 39-yarder.
Counting the playoffs, Pacheco is averaging 51.4 rushing yards per game. He's averaging 4.9 yards per carry and has nine games with at least one 10-plus-yard carry.
---
Mike Szvetitz is the General Manager and Content Director for FrontPageBets.com. Szvetitz is a 22-year veteran reporter and editor, including serving 17 years as a sports editor in Florida, Alabama and Virginia, covering everything from preps to pros. His "View From The Lazy Boy" column won multiple state and national awards. He can be reached at mszvetitz@timesdispatch.com.