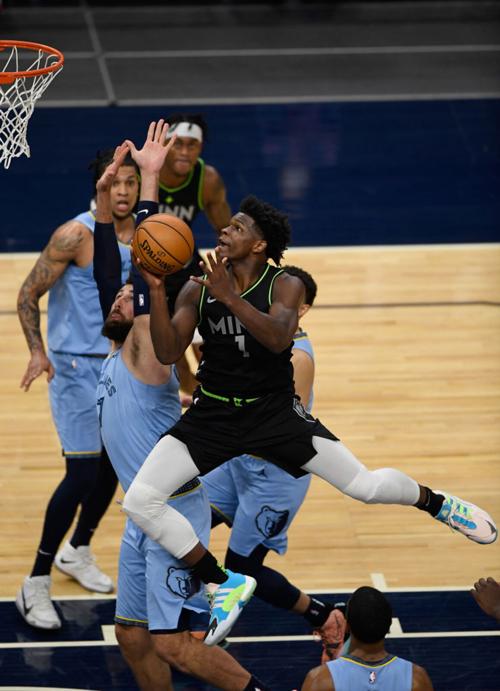 MINNEAPOLIS — After the best game of his first NBA season, Wolves rookie Anthony Edwards was asked if games like he had Wednesday — 42 points on 17-for-22 shooting, six rebounds, seven assists in a 139-135 loss to Memphis at Target Center — were the types of performances that could earn him respect around the league.
"I don't really care about earning anybody's respect,'' Edwards said. "I just want to go out and win and have fun and play basketball.''
With the league's rookie of the year race presumably narrowed to Edwards and Charlotte's LaMelo Ball, Edwards has already earned a bunch of the respect he claims not to care about.
Certainly among his teammates.
"It's only his rookie year,'' D'Angelo Russell said. "There's something special there.''
His performance Wednesday was especially impressive considering the physical nature of the Grizzlies team he did it against. Yes, he hit eight of nine 3-pointers. But he also attacked the rim, hard. Proving he can handle the league's physical side, and not even having reached the age of 20, bodes well for the future.
Edwards' 42 points matched his own franchise rookie scoring record set earlier this season. His 3-pointers and assists were career highs.
And it put him in some rare company:
— He became the second player aged 19 or younger with multiple 40-plus point games in a season. LeBron James had three in the 2003-04 season.
— He became the first 19-year-old with 40 or more points and hit five or more 3s in a game.
— Edwards is now just the third player (after James and Kevin Durant) as the only NBA teenagers to have 40 points, five rebounds and five assists in a game.
"Obviously he's a freak,'' Russell said. "His body, his type, he's a physical guy, can get to the rim. He obviously can make a shot, too. So when he's got both of those things going, I think the league is going to have to be ready for him. They're going to have to prepare for him a little bit more, because he's definitely capable.''
And Edwards is getting better as the season goes on. He averaged 16.1 points in February, over 20 in both March (24.2) and April (21.6). In his past six games Edwards — who is averaging 18.9 points and about 41% shooting for the season — is averaging 23.1 points, shooting 47.2% overall and 38.4% on three pointers as the Wolves have gone 6-4.
Wolves coach Chris Finch praised Edwards after Wednesday's game. And not just for his scoring, but for his decision making.
"It was excellent,'' Finch said. "He played a really great game. He played with a lot of composure out there. I mean, it was 42 points. And he made some tough ones in there once he got it going, but most of them were really good looks in a quality offense. He imposed himself on what we were trying to do out there, got downhill, and got them in foul trouble. He did a great job of staying with the flow, but staying aggressive.''
After practice Thursday Finch was clear that he wants more. "Now he's got to show similar growth on the defensive end of the floor,'' he said. "He has the ability to be a high-level, two-way player. He has to continue to accept that challenge. His on-the-ball defense was good [Wednesday]. His rebounding was not so good.''