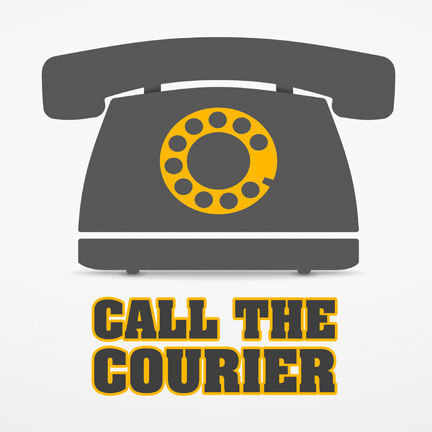 Q:Why hasn't Call The Courier been online lately?
A: We were having technical difficulties with Call the Courier but got it fixed this week and all should be on our website now.
Q: Where can I find a pattern to sew a mask?
A: There are lots available right now, but given the state of retail stores, you're going to need internet access. Start with joann.com or SewCanShe.com for good free patterns. If you don't have a computer, consider asking a relative, friend or neighbor for help printing out a pattern.
Q: What did Bernie Sanders and Joe Biden earn in 2019 off book deals, investments and so forth?
A: According to Forbes, Bernie Sanders earned about $380,000 last year from his side gig as an author. Sanders and his wife made $4.8 million between 2009 and 2018, his three book deals accounting for $2 million. Joe Biden and wife Jill have a net worth of $9 million, according to a Forbes estimate from July 2019, mostly from public speaking engagements and book royalties.
Q: Will the new Cedar Falls School be delayed because of loss of tax money? If you raise property tax to make the difference, it will cause people to lose their homes.
A: There are no plans for delaying the project. Cedar Falls Schools spokesperson Janelle Darst said the district has been continuing all related meetings during the closure.
Q: Is there a mailing address for nursing home art box project so I can send a donation?
A: Yes. Send donations to: Elaine Eshbaugh, 2203 Green Creek Road, Cedar Falls, IA 50613. Donations may also be sent with the Target online registry code: tgt.gifts/nursinghomeart.
Q: Where was Ask Amy in the Wednesday, April 22 paper?
A: We left it out that day to make room for more COVID-19 related stories.
Q: Is there anywhere open to take toy or clothing donations?
A: Right now we don't think there is. Both Goodwill and Trinkets and Togs have posted Facebook messages asking people to please hold their donations until the quarantine is lifted and they will very gratefully receive them then.
Q: How old is George Soros and what is his net worth?
A: Soros is 89; Forbes magazine estimates his net worth at about $8.3 billion.
Q: Farmers State Bank is no longer cashing checks; what are their reasons?
A: The bank website says you can deposit checks via a mobile app. According to the bank: "We understand online banking is not everyone's first choice, but these challenging times call for us all to do our part. Reducing bank visits, and cash and currency usage, can help reduce the spread of viruses. In an effort to enhance social distancing and the exchange of checks and currency, please try to use online channels, an ATM, or call our customer service team. Our team is eager to assist you over the phone or via web chat with online banking, downloading the mobile app, general questions, and walking through all of the services that may assist you during this time." The customer service line is (877) 372-1879.
Q: How old is Gloria Estefan?
Calls are taken on a special Courier phone line at 234-3566. Questions are answered by Courier staff and staff at the Waterloo Public Library.
Concerned about COVID-19?
Sign up now to get the most recent coronavirus headlines and other important local and national news sent to your email inbox daily.