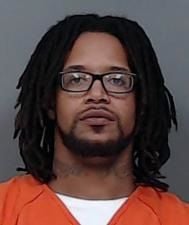 WATERLOO — A man caught with a gun Wednesday night told police that the arresting officer saved a life, according to court records.
Records state Marquis Brumfield told officers that he grabbed a red .22-caliber pocket pistol from his Russell Road home and took it outside to intimidate Diamond Johnson in the parking lot. When police arrived, Brumfield allegedly handed the weapon to someone else, who took it back inside, records state.
"The defendant stated that by me driving by, I saved the victim's life," the officer wrote in a report about the incident.
Brumsfield was arrested for felon on possession of a firearm and going armed with intent. He was being held without bond as of Thursday morning.
Police also arrested Charles Daniel Allen III, 20, for obstructing prosecution and felon in possession of a firearm and Jalila Mashay Pendleton, 27, for obstruction of prosecution and carrying weapons for allegedly handling the weapon. Pendleton was released from jail pending trial.
1 arrested after high-speed chaseWATERLOO — A Waterloo man was arrested following a high-speed pursuit with police early Thursday.
Mikal Dequavious Davis, 25, of 739 Sherman Ave., was arrested for felony eluding, fourth-degree criminal mischief and possession of marijuana with intent to deliver. He was also arrested for driving while suspended and violation of a no-contact order.
Officers were called to a disturbance in the 100 block of Randolph Street around 1:35 a.m. A chase followed, heading down Locust Street to West Fourth and south on Sergeant Road with speeds reaching more than 100 mph before Davis was detained in Hudson.
Police found a bag of marijuana, two marijuana suckers and marijuana cigarettes during the investigation, according to court records.
Authorities allege Davis also pulled wiring from the engine compartment of a vehicle belonging to another person.
Waterloo man returns to prisonCEDAR RAPIDS — A Waterloo man who escaped from a Waterloo halfway house and spent over two weeks on the lam was sentenced to a year in federal prison this week.
Lonnel Porter, 36, received the prison term after a bench trial and a Jan. 16 verdict finding him guilty of escape from custody.
The evidence at trial and prior court proceedings showed that, in 2009, Porter was convicted in federal court of possessing a firearm as a felon after an incident where he displayed an assault rifle during a neighborhood dispute.
At that time, Porter had prior convictions for burglary, domestic assault causing injury, and false imprisonment. Porter was sentenced to nearly nine years in prison and three years of supervised release. In 2012, while an inmate in federal prison, Porter was sentenced to an additional two years of prison after assaulting a correctional officer and causing injury to the officer.
When Porter was released from prison in 2019, he was required to spend time at a local halfway house, the Waterloo Residential Reentry Center, with work-release privileges. On Sept. 16, 2019, about six weeks after he arrived at the WRRC, Porter signed out for his job, left the WRRC, and never returned.
When Porter's probation officer called Porter and instructed him to return to the WRRC, Porter refused to do so and would not reveal his location. On Oct. 2, 2019, the U.S. Marshal's Service arrested Porter, and Porter was returned to prison for 14 months for violating the terms of his supervised release.
Porter was sentenced in Cedar Rapids by U.S. District Court Judge C.J. Williams to 12 months and one day of imprisonment. This sentence is in addition to his prior 14-month term. He must also serve a three-year term of supervised release after the prison term. There is no parole in the federal system. Porter is being held in the U.S. Marshal's custody until he can be transported to a federal prison.
Police investigate Lansing river crashLANSING – Lansing first responders were dispatched to collision between two watercrafts in the main channel on the Mississippi River, just north of Lansing.
Tyler Wild, 17, of New Albin, and Clayton Little, 17, of Lansing, were operating separate personal watercrafts, when Wild was coming out of a turn and Little was heading toward Wild down the channel. At that time, both vessels collided head on.
When Little's vessel hit Wild's, it went up over the top of Wild's, hitting Wild in the head and knocking him unconscious.
Wild was lying face down in the water until Little was able to assist him into a nearby boat. Wild was taken to shore where he was provided immediate medical attention. He was transported to Gundersen Lutheran Medical Center in La Crosse, Wis., where he is recovering from his injuries. Little was treated on the scene and released.
Both were wearing life jackets.
The DNR Law Enforcement Bureau continues to investigate. The Lansing Police Department, Lansing Fire Department and Lansing EMS responded to the collision.
Be the first to know
Get local news delivered to your inbox!