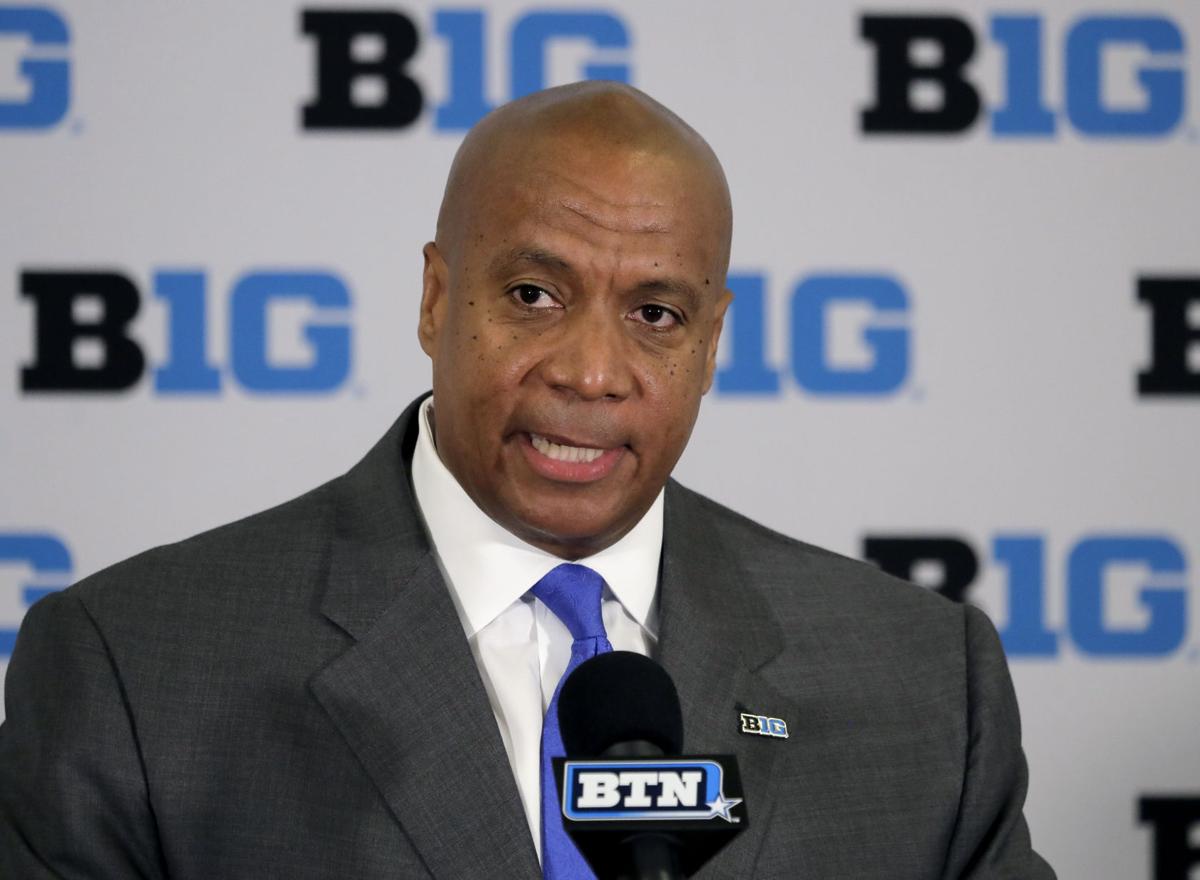 Five weeks ago new Big Ten Commissioner Kevin Warren wrote that the conference's postponed football season wouldn't be "revisited." Now Iowa will kick off its eight-game regular season Oct. 24 at Purdue.
The Big Ten reversal came on a 14-0 vote after the season was put on hold Aug. 11 — possibly relegated to spring — with Iowa, Ohio State and Nebraska then the only outliers.
The Big Ten kept mum on its rationale, but the Pac-12 made a simultaneous decision citing concerns about myocarditis, a heart complication resulting from viral infections related to the coronavirus. Myocarditis causes 9% of fatal heart attacks among college athletes.
Ten players in Big Ten preseason football camps were diagnosed with myocarditis, including Indiana offensive lineman Brady Feeney, who was hospitalized with breathing problems.
The new Big Ten protocol requires anyone testing positive wait at least 21 days before competing. All players will undergo cardiac tests and must be cleared by a cardiologist.
The three other "Power 5" conferences in the Football Bowl Subdivision — the Big 12, Southeastern and Atlantic Coast (temporarily including Notre Dame) — decided to forge ahead. The Big 12 suffered an immediate power outage as Iowa State, Kansas State and Kansas were upset by upstart Sun Belt schools.
The Mid-America Conference, Mountain West and the Football Championship Subdivision, which includes the University of Northern Iowa, opted for spring seasons.
Games involving North Carolina State, Virginia Tech, Brigham Young and Memphis were postponed because of outbreaks. The SEC season starts Saturday.
The Big Ten's change of heart came after Nebraska threatened to leave the conference (without takers); coaches Scott Frost of Nebraska, Ryan Day of Ohio State and James Franklin criticized the conference; eight Nebraska players sued it; players gathered 300,000 online signatures urging immediate games and their parents protested.
Politicians got into the act, given the Midwestern battleground states. President Donald Trump called the delay "tragic" and called Warren to change the outcome. Democrat Joe Biden ran ads featuring empty stadiums, blaming Trump's mishandling of the pandemic.
"It is my great honor to have helped!!!" Trump tweeted after the reversal, although Big Ten officials cited the availability of procedures enabling it to quickly process 150,000 tests between Sept. 30 and Dec. 19.
Ironically, Trump had urged "slow the testing down, please," while the Centers for Disease Control initially downplayed contract tracing, before walking that back last week.
"Medical advice I relied on when I voted five weeks ago said virtually no chance we could do it safely," said Northwestern University President Morton Schapiro. "For me, it was, okay, we're going to postpone the season and let's hope we have that in place the first weekend of January. And then the medical opinion changed."
Athletes will have immediate and frequent tests. Other students will not. The University of Iowa, which was irresponsible in not testing students, had 1,900 COVID cases by Sept. 16. Wisconsin had 2,160, while Michigan State quarantined 23 fraternities and sororities and seven large rentals.
Money is a driving force. Big Ten football sustains non-revenue sports, although football's spending largesse also puts them at risk. No Big Ten fans (besides families) will be in the stands — unlike most schools already in play — but the Big Ten has a six-year TV deal with ESPN and Fox worth $2.64 billion, according to the Sports Business Journal.
Iowa stood to lose $70 million — and dropped four sports (men's and women's swimming and diving, men's tennis and gymnastics) — while Michigan State estimated $100 million in losses.
The Big Ten's eight-game schedule concludes Dec. 20 with a championship game (other teams will play comparable finishers in the opposing division). That brings the conference in under the wire for the Dec. 21 selection of four teams for the College Football Playoff — and whatever other bowl games the networks subsidize.
The Pac-12, which also now has access to quick COVID-19 test results, got clearance from California and Oregon governors to resume football practices. It will vote Thursday on a schedule beginning Halloween, while seeking CFP consideration.
Meanwhile, the NCAA announced basketball will tip off Nov. 25 with a reduced schedule. The Battle 4 Atlantis tourney over Thanksgiving will move inland from the Bahamas to Sioux Falls; the Maui Invitational to North Carolina.
Mid-major teams, such as UNI, must scramble to find non-league games to boost strength-of-schedule resumes for the NCAA tournament.
We have been wary about collegiate sports competition resuming, particularly given COVID-19 campus outbreaks and concerns about myocarditis. We take at face value that precautions will significantly reduce risks of coronaries.
If so, with everyday life having pretty much been brought to a standstill — and mind-numbing political campaigns taking a toll on the nation's sanity — we welcome the diversion college sports will provide.
Catch the latest in Opinion
Get opinion pieces, letters and editorials sent directly to your inbox weekly!