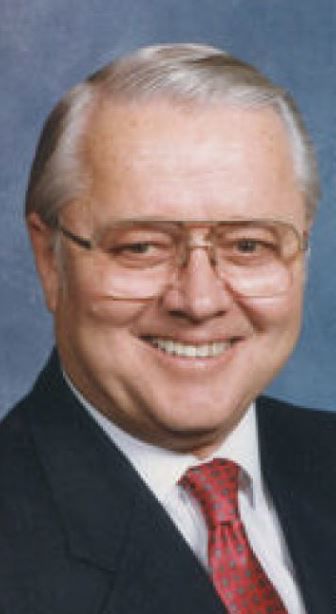 Those who remember the late State Rep. Marv Diemer of Cedar Falls know he'd be smiling from ear to ear right now.
The ebullient 14-year state legislator was known for championing several causes, popular and otherwise, with the same enthusiasm he showed for his favorite baseball team, the New York Yankees and his unflagging support of the University of Northern Iowa.
He was known for his trademark salutation, "How ya doin', buddy?" and a handshake so powerful you'd need muscle ointment for your shoulder a day afterward.
Serving in the Iowa House from 1978 through 1992, he promoted and obtained 50 co-sponsors of a bill to force the Iowa Hawkeyes to pay the University of Northern Iowa Panthers in athletic contests. He also successfully lobbied the U.S. Postal Service for a stamp honoring his baseball idol, Yankees slugger Mickey Mantle, soliciting support from many of Mantle's teammates, including his best friend and Hall of Fame pitcher Whitey Ford.
Diemer was a force of nature — which probably explains why one of the causes closed to his heart was conservation of natural resources, the environment and outdoor recreation.
In the 1980s, Diemer was one of the first and leading proponents of what became the Cedar Valley Trails system. He promoted the metro area's very first trail — the Riverside Bikeway, connecting George Wyth State Park with downtown Cedar Falls along the northeast side of the Cedar River.
Enlisting volunteer help from local service clubs, he also promoted construction of the El Dorado Trail along South Main Street. In later years, he also played a big role in the development of the trails around Big Woods Lake in northern Cedar Falls.
He wasn't simply an advocate of local trail projects. He supported conservation measures on a state level. During his tenure at the Statehouse, then-House Speaker Don Avenson, a Democrat, enlisted Republican Diemer to line up bipartisan support for the landmark Resource Enhancement and Protection program or REAP, a grant program for recreation and environmental preservation projects. Locals also recall Diemer worked with adjacent property owners on the creation of the Cedar Valley Nature Trail between Evansdale and Hiawatha.
Diemer earned bipartisan respect for his conservation work. Upon his retirement from the Legislature, then-State Rep. Darrell Hanson, R-Manchester, said, of Diemer, "On any bill that made a difference on environmental quality ... he was always there when we needed him." While he may have been to the left of some of his other Republican leadership colleagues on this particular issue, they respected Diemer's perspective and gave him key committee assignments on environmental leglislation.
Diemer was so passionate on the subject that he threw his shoes and his tie into the middle of the House floor when forced to compromise with the powerful Iowa Farm Buerau on some rails-to-trails legislation.
You have free articles remaining.
His point was: You've won everything else, why not take my shoes? Here, take my tie," Hanson said. "It was relatively quiet in there when he did that."
In the '80s, Diemer told a Courier reporter one of his main goals as a lawmaker was to see some regular state funding of conservation and environmental measures. He did not live to see that happen. He passed away in 2013 of a sudden illness at age 88.
However, like a conservation Moses, while he didn't cross over into the promised land, he got close enough to see it.
In 2010, three years before Diemer's passing, 63% of Iowans who voted approved a constitutional amendment to create the Natural Resources and Outdoor Recreation Trust Fund — a permanent funding source dedicated to protecting the state's water quality and other natural resources.
Under the Iowa Outdoor Recreation Trust Fund Amendment voters approved in 2010, the next time the Legislature approves a sales tax increase, three-eighths of 1 cent would go to the Natural Resources and Outdoor Recreation Trust Fund. The trust would commit 23% of revenues to natural resources, 20% to soil conservation and water protection, 14% to watershed protection, 13% to the resource enhancement and protection program known as REAP, 13% for local conservation partnerships, 10% for outdoor recreational trails and 7% for lake restoration.
As lawmakers prepare to convene Jan. 13, there are rumblings that the funding may actually happen this session.
"We're working on it," Gov. Kim Reynolds said recently. "We're bringing all of the stakeholders to the table and we're trying to have that conversation and trying to find out where we can find common ground and if there's the appetite to move this forward."
It will take bipartisan support. Republican legislative leaders say there would have to be a net reduction in Iowans' overall tax burden. However, former Iowa Department of Natural Resources director Rich Leopold, an original proponent of the 2010 measure, said he's "more optimistic than he's been in a few years" that something can be worked out.
Though Diemer passed from the scene several years ago, as present-day state lawmakers discuss this issue, his presence is still strongly felt. His work on this issue should not be forgotten.
If lawmakers feel the rush of a fair wind flowing through the Statehouse chambers as the measure is debated, it may be Marv Diemer's spirit rushing over them to make it finally happen.
They'll know it for sure if their shoulders start aching.