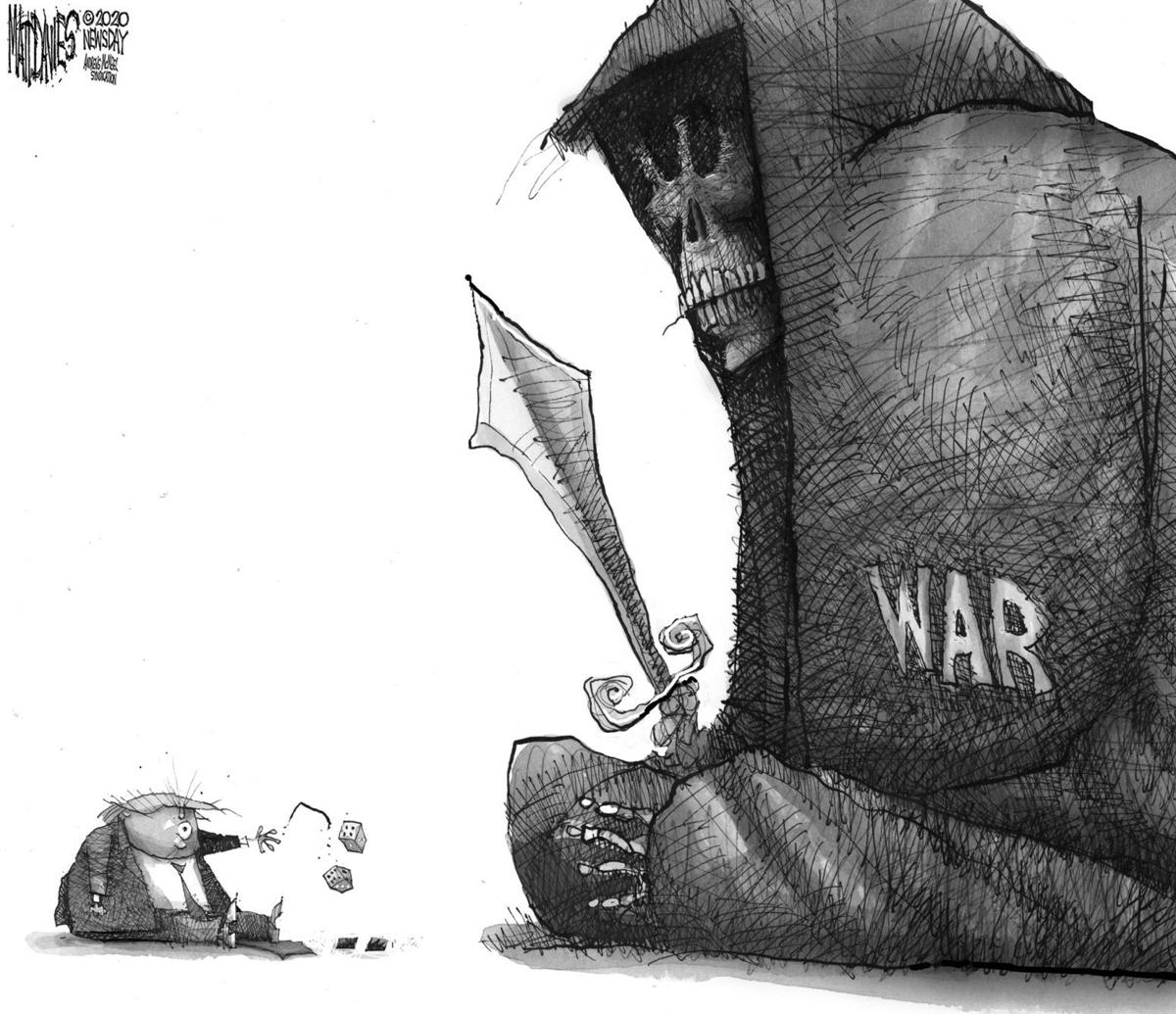 The U.S. attack that killed Iranian military leader Qassem Soleimani was yet another reminder that Congress has ceded the ability to declare war to the executive branch.
Article I of the U.S. Constitution gives Congress that power, yet the last time it issued such a declaration was June 1942. Since then it has handed presidents an Authorization for Use of Military Force giving them wide latitude to engage in wars masquerading as "conflicts."
The Democratic-controlled House passed a resolution, 224-194, last week for President Donald Trump "to terminate the use of United States Armed Forces to engage in hostilities in or against Iran or any part of its government or military" unless Congress declares war or there is "an imminent armed attack upon the United States."
Three Republicans backed it; eight Democrats opposed it.
The resolution now goes to the Republican-controlled Senate where, if approved, the necessary votes don't exist to override a Trump veto.
Unfortunately, these matters tend to be partisan. For their part, Democrats didn't object when President Barack Obama engaged in military action against Libya, Syria, Yemen, Somalia and Pakistan.
Because U.S. law precludes the assassination of state leaders, the Trump administration declared Soleimani's death a "targeted killing" allowed on foreign battlegrounds.
It was an action President George W. Bush and Obama rejected, fearing a wider war, not just with Iran, but with other Shiite militias Soleimani controlled throughout the region.
The "targeted killing" was a response to a missile barrage on a U.S. military compound in western Iraq that killed an American interpreter, followed by protestors storming the U.S. embassy in Tehran. Soleimani supposedly masterminded both incidents.
The immediate Iranian reaction was to fire a dozen missiles at a U.S. military compound in western Iraq, causing considerable damage but no fatalities, thanks to an early warning system.
In fact, the Iranian regime provoked more unrest at home by accidentally downing a Ukrainian commercial airliner, killing 176, with a surface-to-air missile.
Trump justified Soleimani's murder, contending he was plotting to "blow up our embassy," later saying four embassies were threatened.
Some lawmakers also found an intelligence briefing by Gen. Mark Milley, the chairman of the Joint Chiefs of Staff, to be vague.
"Did it exactly say who, what, when, where? No," Milley said. "But he was planning, coordinating and synchronizing significant combat operations against U.S. military forces in the region, and it was imminent."
Republicans Mike Lee of Utah and Rand Paul of Kentucky were unimpressed. Lee called it "probably the worst briefing, at least on a military issue, I've seen in nine years I've been here."
He added lawmakers were expected to be "good little boys and girls and run along and not debate this in public," which he said was "absolutely insane" and "unacceptable."
Trump believes Iran is cowed and his "maximum pressure" has been working — albeit provoking attacks on oil tankers and a U.S. drone.
Recent history would indicate that assessment is premature.
President George W. Bush boasted about "Mission Accomplished" regarding the Iraq war May 1, 2003, while a concurrent statement in Kabul, Afghanistan, by Secretary of Defense Donald Rumsfeld declared victory there.
In February 2011, after Libyan dictator Moammar Gadhafi launched a vicious military response against rebels, threatening civilians in the port city of Benghazi, the Obama administration procured a U.N. Security Council resolution sanctioning NATO air strikes against his forces.
Gadhafi was overthrown and later executed by rebels that October.
Obama declared, "Without putting a single U.S. service member on the ground, we achieved our objectives."
On Sept. 11, 2012, U.S. Ambassador Christopher Stevens and three other Americans were killed when Islamic terrorists attacked the U.S. Embassy in Benghazi, which became a rallying point with Republicans.
Trump tweeted on the eve of the 2012 presidential election, "Don't let Obama get away with allowing Americans to die. Kick him out of office tomorrow."
We suspect Trump wanted to avoid another Benghazi on his watch, although the Wall Street Journal reported it was a possible impeachment diversion: "Mr. Trump, after the strike, told associates he was under pressure to deal with Gen. Soleimani from GOP senators he views as important supporters in his coming impeachment trial in the Senate, associates said."
Soleimani may have inadvertently sacrificed himself with the attacks on the military compound and embassy, laying a trap for Trump to react while giving the Shiite-dominated Iraqi parliament a pretext to order U.S. troops out, giving Iran greater influence.
Trump can be applauded for taking out a terrorist, but in this bloody Mideast chess match it is the long term that matters — a lesson Bush and Obama learned. At some point, Congress must be more than a meek observer and reclaim its constitutionally mandated obligations to oversee any entrance into war.