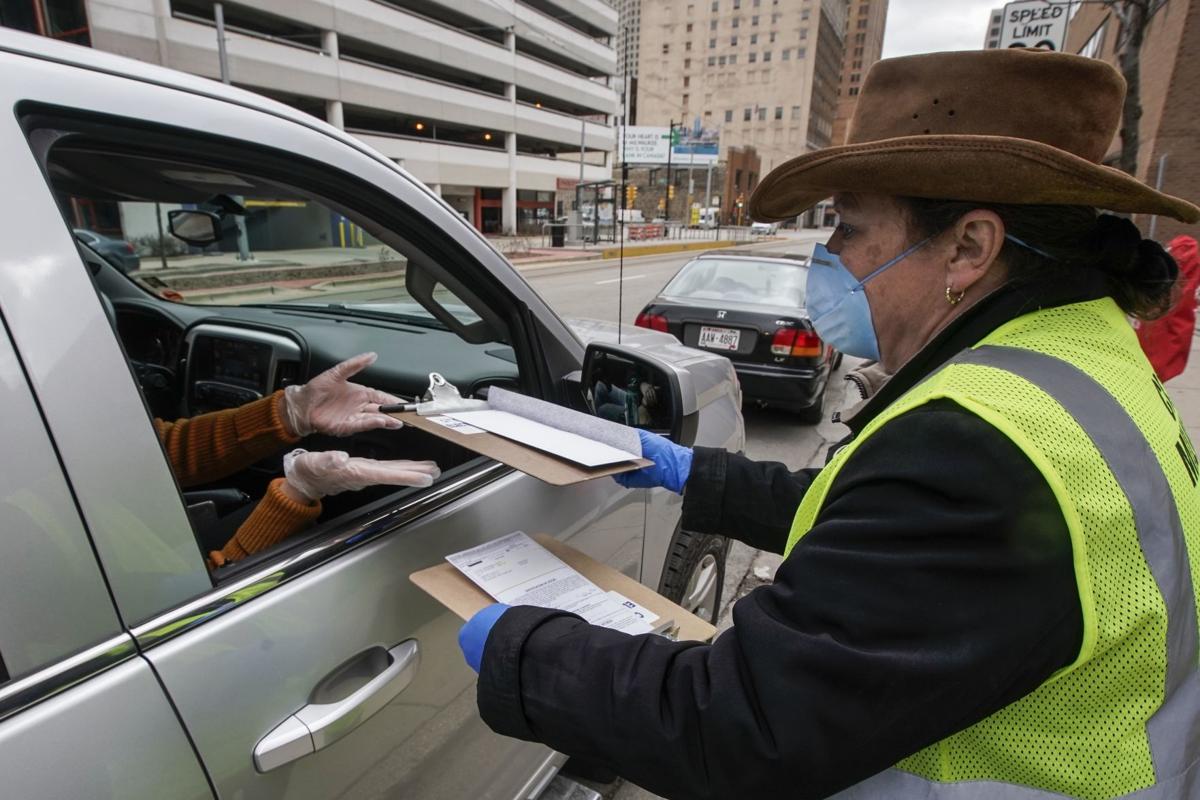 The coronavirus epidemic has disrupted the use of polling places, making mailed-in ballots an increasingly popular election alternative.
The twice-delayed Cedar Falls City Council special election to fill the at-large seat formerly held by Mayor Rob Green was designed to be primarily a mailed-in ballot affair with a single polling place.
Because of the coronavirus, Gov. Kim Reynolds waived special election deadlines. Secretary of State Paul Pate set the latest date, July 7, with absentee ballots already returned still valid.
The emphasis on voting by mail comes after Ohio Gov. Mike DeWine postponed primary election voting there until June 2. In Florida, poll workers called in sick en masse. In Illinois, some polling places lacking judges closed early.
In Arizona, the Maricopa County board of supervisors closed 78 Phoenix area polling places because churches, nursing homes and other sites were wary of incoming voters, disinfecting supplies were unavailable and some poll workers wouldn't come in.
Many New Jersey municipalities, where voting was postponed until May 12, will vote exclusively by mail. Maryland Gov. Larry Hogan, a Republican, approved voting by mail (a first) in the special congressional race to succeed the late Rep. Elijah Cummings. Democratic leaders in Rhode Island and New York also weighed making voting in their April 28 primaries predominantly by mail-in ballots.
Washington, Colorado, Oregon and Hawaii have elections primarily held by mail —as does Utah in all but two counties. California is next in line. Virginia plans to expand voting by mail without eliminating in-person voting.
Another 33 states and the District of Columbia allow absentee balloting for any reason. Others require an illness or travel "excuse."
A quarter of all votes were cast by mail in 2016, including 40% in Iowa. Pate anticipates that could reach 65% this year.
For the November presidential election, Sens. Amy Klobuchar, D-Minn., and Ron Wyden, D-Ore., have sponsored a bill that would require all states to offer a mail-in or drop-off paper ballot option if 25% of the states declared a state of emergency related to COVID-19, any infectious disease or a natural disaster. Ballot requests could be made online.
All states would provide prepaid, self-sealing envelopes (no licking to spread COVID-19) with ballot-tracking markers.
A House bill would provide the states with $2 billion — the cost estimated by the Brennan Center for Justice at New York University School of Law, which promotes universal voting by mail (UVBM).
Democrats have made voting by mail something of a holy grail, while it's been resisted by Republicans, at least in Washington.
Yet the Republican resistance is less pronounced in many states, including Utah, as recent actions indicate. The Washington Post recently reported the Indiana chairs of both parties advocated expanded access to absentee voting as did mayors of Green Bay, Appleton and Neenah, Wis., two of whom are Republicans.
Pate, a Republican who is president of the National Association of Secretaries of State, told the Post congressional efforts to expand voting by mail are "a recipe for disaster" with insufficient machinery, inadequately trained poll workers and an ill-informed public.
"You have 50 states with different levels of resources and history of how they do voting," he said. "I want to caution Congress that there is no one-size plan that fits all of us."
Pate estimated an all voting-by-mail election would increase his annual budget from $1.5 million to $8 million.
"The best (Congress) can do is give us the financial resources to implement what we can in our states to be successful," Pate said. "I'm pleading with the feds, yes, we need funding, but allow states to develop plans that best fit their states."
Higher costs are inevitable. The 31 states with fewer than 15% of ballots cast by mail in 2018 would have to print at least 70 million more ballots.
Mail-in balloting is not without potential problems. Even Colorado, which is supposedly "the safest state for election security," had 238 ballots with bad bar codes that couldn't be returned through the mail to the election center. (Those voters were notified they could cast votes online or resubmit paper ballots.)
But the presidential election must go on in November as is constitutionally mandated. It has never been delayed — not by the Civil War, World War I, the Spanish Flu epidemic of 1918-20, the Great Depression or World War II.
If the primary season has taught us anything, it's that election procedures (or a certain caucus) should not be taken for granted. It is imperative that mail-in voting, perhaps with limited polling places or drive-up drop-off windows, be given greater consideration.
We can't be certain when this plague finally will be banished.
Concerned about COVID-19?
Sign up now to get the most recent coronavirus headlines and other important local and national news sent to your email inbox daily.