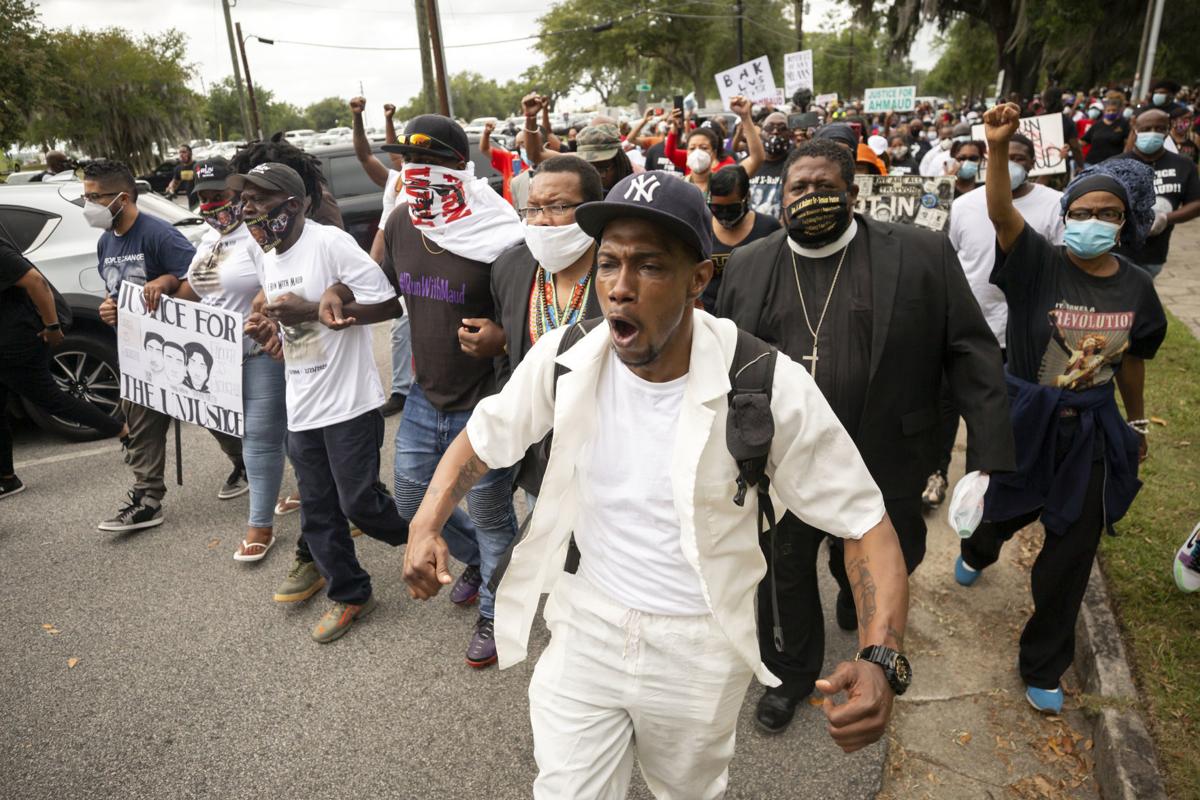 A male was reportedly jogging down the road in a residential neighborhood in Satilla Shores in southwestern Ga. Curious about a home construction project, he ducked in, took a look, and left.
He hadn't taken anything. But that didn't deter two men in a pickup truck from following him — self-styled vigilantes, father and son, supposedly searching for a suspect in a string of burglaries.
Yet the last reported burglary in the neighborhood was 53 days earlier when a 9mm pistol was taken from an unlocked truck outside their home.
The father later told Glynn County police they yelled, "Stop, stop, we want to talk to you," pulled up next to the jogger, and then the son exited with a shotgun.
He said, "The (jogger) began to violently attack (his son) and the two men then started fighting over the shotgun at which point (the son) fired a shot and then … a second shot," killing the jogger.
Their weapons were drawn "in case" the jogger was armed. He wasn't.
The father told police they'd seen the jogger on surveillance videos committing break-ins. The police didn't ask for details.
District Attorney Jackie Johnson blocked arrests. The father was a former police detective and an investigator in her office (1995-2019) whose performance evaluations never surpassed "good." He flunked a required training course in 2006, so he couldn't make arrests. He didn't pass firearms courses. Johnson wrote that was "a great embarrassment to me" and him.
Justice in that jurisdiction was appalling.
The 122-member police department has faced at least 17 lawsuits. The police chief and three members of the department were arrested for interfering in an investigation into a disbanded narcotics task force. The chief was charged with violating his oath, criminal attempt to commit a felony and influencing a witness.
Then there was the low-speed chase of a recently divorced and depressed young mother in 2010. Her tires were blown out and her vehicle pinned between two squad cars and a utility pole. Two police officers fired eight shots through her windshield killing her.
A grand jury didn't pursue charges. In a federal civil rights lawsuit, the judge deemed the shooting "unnecessary," but didn't violate her civil rights.
One of those officers later killed his estranged wife, her boyfriend and himself.
The case involving the jogger was sent to George Barnhill, a prosecutor in neighboring Waycross. He found insufficient probable cause for an arrest because the father and son were legally carrying firearms under Georgia's open carry law and within their rights to pursue "a burglary suspect."
"A private person may arrest an offender if the offense is committed in his presence or within his immediate knowledge," he wrote, although the jogger hadn't been engaged in a crime.
If the jogger was perceived to have attacked the son, he added, the son was "allowed to use deadly force to protect himself" under state law.
Facts in his convoluted reasoning were irrelevant, as underscored by his letter to Georgia Attorney General Chris Carr: "The jogger's family are not strangers to the local criminal justice system. From best we can tell, his older brother has gone to prison in the past and is currently in the county jail, without bond, awaiting new felony prosecution. It also appears a cousin has been prosecuted by DA Johnson's office."
The jogger, a former high school football star, once was convicted of shoplifting and bringing a gun to campus. Family attorney Lee Merritt responded, "The reference to ... alleged conduct from high school or shoplifting is absurd and has nothing to do with his murder."
The jogger, Ahmaud Arbery, 25, was black, the victim of the same type of vigilante justice that claimed the life in 2012 of Trayvon Martin, 17, also black. He was shot and killed by neighborhood watchdog George Zimmerman, who deemed Martin "suspicious" after leaving the home of his father's fiancée in a Sanford, Fla., gated community. He had done nothing wrong.
Zimmerman was found not guilty. He later tried to sell his gun to the Smithsonian as "a piece of American history."
The Arbery killing was cavalierly dismissed in Georgia until the New York Times reported on it 10 weeks later and a video of the incident subsequently emerged.
State officials belatedly took over the case and quickly charged Gregory, 64, and Travis McMichael, 34, with murder and aggravated assault.
The shooting and its handling reek of racial injustice. The only caveat is that Caroline Small, the young mother killed while in her car, was white. About that incident, a Georgia Bureau of Investigation agent said, "This is the worst (shooting) I've ever investigated."
So it may very well be that injustice in Glynn County, Georgia, is blind.
Catch the latest in Opinion
Get opinion pieces, letters and editorials sent directly to your inbox weekly!