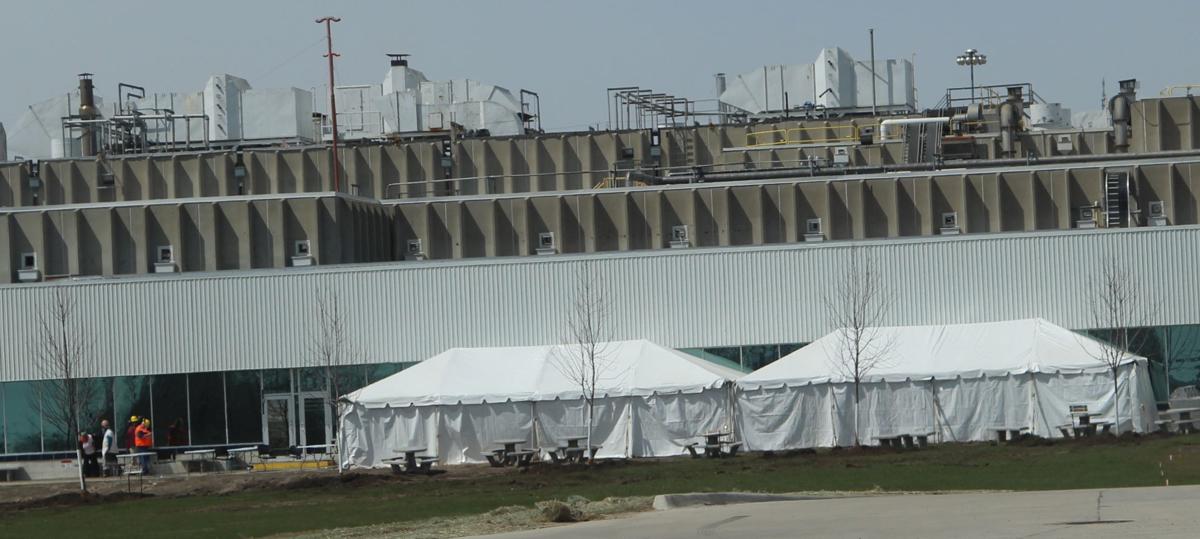 After an ever-growing chorus of complaints from area leaders and a wave of absenteeism, the Tyson Fresh Meats plant was temporarily closed by the company this week, an action Gov. Kim Reynolds steadfastly refused to order.
"Despite our continued efforts to keep our people safe while fulfilling our critical role of feeding American families, the combination of worker absenteeism, COVID-19 cases and community concerns has resulted in our decision to stop production," stated Steve Stouffer, group president of Tyson Fresh Meats.
During the halt in production to deep clean, Tyson invited the 2,800 employees at its largest pork producing plant to be tested for COVID-19. The plant will reopen pending test outcomes. Stouffer stated workers will continue to be compensated.
Tyson is the area's second-leading employer after John Deere. It has a disproportionate number of minority workers, who are disproportionately at risk.
From April 9-18, county COVID-19 cases rose from 20 to 192. By Monday, Tyson employees accounted for 151 of the 356 cases, helping to push the state's northeast quadrant over Reynolds' all-consuming matrix, meaning residents were ordered to limit activities.
Reynolds deferred to Tyson management to keep open an "essential business," rejecting the wishes of 20 elected Black Hawk County officials — legislators, mayors, supervisors and sheriff — as well as the county health board and religious leaders. Instead, she sent 2,700 COVID-19 tests to the plant.
Stouffer echoed her concerns. "The closure has significant ramifications beyond our company, since the plant is part of a larger supply chain that includes hundreds of independent farmers, truckers, distributors and customers, including grocers," he said. "It means the loss of a vital market outlet for farmers and further contributes to the disruption of the nation's pork supply."
With area hog farmers again hurting after a trade deal with China provided a brief glimmer of hope, the business implications were readily apparent. So were health considerations.
While health officials haven't provided specifics, the Courier learned that at least one of the three county COVID-19 deaths was a Tyson worker. Jim Orvis, 65, a University of Northern Iowa graduate, longtime Tyson worker and community volunteer, was sent home prior to his shift by security personnel and told by his doctor to self-isolate. He died while hospitalized.
The Waterloo plant suspension follows Tyson closing its Columbus Junction plant for two weeks after more than 200 COVID-19 cases and two deaths, then halting production in Perry to deep clean after positive cases.
National Beef's Iowa Premium processing plant in Tama shut down temporarily after 177 of its 500 workers tested positive.
Tyson said proactive measures were taken in January while forming a COVID-19 task force. Earlier this month, it invited county officials to tour the Waterloo facility, assuring them about mandated mask-wearing, taking temperatures, social distancing on lunch breaks and that plastic dividers would be put up between work stations.
A spokesperson said it had "relaxed its policy of penalizing workers for absenteeism and eliminated the waiting period for short-term disability.
Yet Black Hawk County health director Nafissa Cisse Egbuonye said, "We have witnessed the difficulty of social distancing in Tyson. It's a problem that I truly believe is very difficult for food production facilities."
Many Tyson employees received medical care at Peoples Community Health Clinic, which has interpreting services for non-English speakers. "Our clinic is seeing tons of COVID-19," a staff member said. Peoples treated "half or more" of the county's total coronavirus cases.
Iowa minorities have been especially hard hit by COVID-19, as has been the case nationwide. Hispanic and Latinos make up about 6.2% of the Iowa population, but account for 17.3% of the positive cases. Blacks are about 4% of the state population, but 9.2% of confirmed cases.
Because low-income workers often live in close quarters with relatives and friends, the outbreak could become exponentially worse, putting a strain on health workers, health infrastructure and the general population.
Amid her stubborn denial to order company officials to temporarily close a plant with more than 100 positive COVID-19 cases, Reynolds belatedly determined testing was a "critical component."
With "contact tracing," she said, "we can get in front of that and hopefully protect the employees and ultimately keep the plants up and going so that we can keep the flow of food going out of Iowa and throughout the nation."
By definition, getting "in front" of exposure and ensuring the least amount of interruption in the food chain, would have meant testing people in a vulnerable and vital industry before the fact, not afterward.
That would have balanced business concerns with keeping more people out of hospitals and alive.
Pending the state's new $26 million TestIowa initiative with an online screening system and drive-through testing sites, Iowa ranked 37th nationally per capita in testing, according to the COVID Tracking Project.
Concerned about COVID-19?
Sign up now to get the most recent coronavirus headlines and other important local and national news sent to your email inbox daily.