Monday's national championship football game between two public universities — Louisiana State and Clemson (S.C.) — helps highlight priorities on state spending.
Forbes reported the 25 most valuable programs in the Football Bowl Subdivision combined to earn an average of $1.5 billion in profits on annual revenues of $2.7 billion between 2016-18. (Football also helps fund less lucrative intercollegiate athletics).
The University of Iowa football program was No. 21 at $44 million in average annual profit.
According to ESPN, the highest paid state employee in 28 states is a football coach, while basketball rules in 12 others.
USA Today's annual coaches salary survey found the average Football Bowl Subdivision coach made $2.67 million this year — a 9% increase over 2018.
The leader of the pack was defending champion Clemson's football coach Dabo Swinney, $9,315,600. In case you thought failed corporate executives had the heftiest "golden parachutes," Swinney would get $50 million if fired without cause (e.g. a losing record).
His assistants share $7,410,000. Clemson football's annual profit was $27 million.
His opponent will be LSU's Ed Orgeron, a former assistant, who was fired in his prior stint as head coach at Mississippi (10-25 from 2005-7).
He now must scrape by in his second year at LSU with a mere $4 million — No. 30 on the Football Bowl Subdivision pay ladder. Should he revert to his Ole Miss ways, he would get exit pay of $7.75 million. It's a safe bet he'll get a raise instead.
His assistants currently share $6,645,000.
LSU's annual football profit was $73 million.
In Iowa, the highest paid state employee is University of Iowa football's Kirk Ferentz, $4.8 million plus $800,000 in bonuses. Ferentz, who has fallen to No. 18 among top-paid coaches, is coming off his third 10-win season, the other prompting new contracts. His buyout is $21,571,250, increasing after a seven-win season.
Ferentz gets a $100,000 bonus if the Hawkeyes make a bowl game (six wins) and $500,000 if they win eight.
His staff of 10 currently shares $4,710,600 and gets an automatic 8% increase for seven or more wins. Phil Parker, defensive coordinator, made $845,729; Chris Doyle, strength and conditioning coach, $832,229; and Brian Ferentz, offensive coordinator, $799,895.
Ferentz' pact — perennially called one of the worst five in the FBS by USA Today — no longer seems so comparatively terrible.
Florida State fired Coach Willie Taggart, No. 15 in pay at $5 million, who got a $17,708,000 million buyout after going 9-12 in nearly two seasons.
Arkansas is a slow learner. It paid Chad Morris, No. 28 at $4 million, a $10 million buyout after going 0-14 in Southeastern Conference games and 4-18 overall. Two years earlier, it fired Coach Bret Bielema, who got $11.9 million to leave.
In Ames, Iowa State's Matt Campbell, who concluded his fourth year and a third straight winning season, makes $3.5 million — an increase from $2.1 million — with a $19.8 million buyout.
As an incentive for him to stay, Campbell (or his new employer) will owe ISU $7 million, decreasing by $1 million in each subsequent season.
His staff makes $4,236,600, including an additional $1 million in Campbell's new contract.
Basketball coaches Fran McCaffrey at Iowa and Steve Prohm at ISU were both listed at $2 million in 2018.
According to the Cedar Rapids Gazette, Iowa's other highly paid state employees among collegiate athletic programs are Lisa Bluder, Iowa women's basketball coach, $1.09 million, Iowa Athletic Director Gary Barta, $986,745; and Bill Fennelly, ISU women's basketball coach, $750,000.
ISU Athletic Director Jamie Pollard was paid $703,000 in 2018.
The Iowa and ISU athletic programs are self-sufficient, not relying on taxpayer dollars.
Among the top-paid, non-sports interlopers are two University of Iowa orthopedic surgeons, Matthew Bollier, $1.2 million, and Andrew Pugely, $1.1 million.
University of Iowa President Bruce Harreld got $590,000 with deferred compensation of $200,000 annually for the next five years when hired in 2015. The latter amount increases to $400,000 this year.
ISU President Wendy Wintersteen, hired in 2017, makes $590,000 with her deferred compensation increasing to $200,000 annually this year.
Gov. Kim Reynolds makes $130,000.
Amazingly, 10 states have top-paid employees not supervising playing with a ball — all geographic outliers: Maine, New Hampshire, Vermont, Massachusetts in the Northeast (university presidents); Alaska (university president) and Hawaii (university surgeon) on the Pacific Rim; North Dakota (school district superintendent) and Montana (university fundraiser), and Delaware (university president).
Obviously, collegiate athletics generate more revenue than classroom activities. But in an era of rising tuition, it would be nice if schools shared more of the spoils with their academic counterparts. Rumor has it that is why colleges exist.
Meet the UNI football recruits
Jace Andregg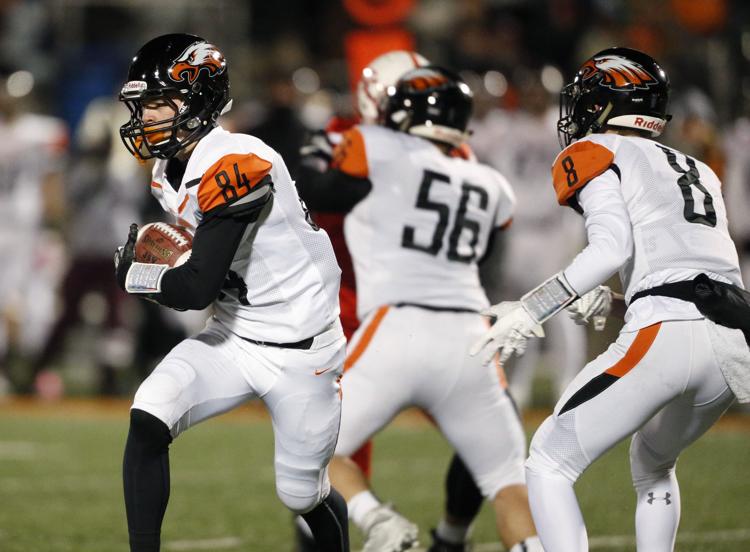 Andregg was a jack-of-all trades for the Spartans who finished 12-1. He rushed 51 times for 250 yards and nine scores, and he caught 58 passes for 688 yards and nine more scores. Andregg led Solon with 108 points, while on defense he recorded 39.5 tackles.
Isaiah Green
St. Cloud, Minn. (St. Cloud Technical)
UNI won out over the likes of Iowa, Northern Illinois and North Dakota State. A season ago, Green had 47 tackles, 10 for loss, while catching two touchdown passes as a tight end.
Cade Moore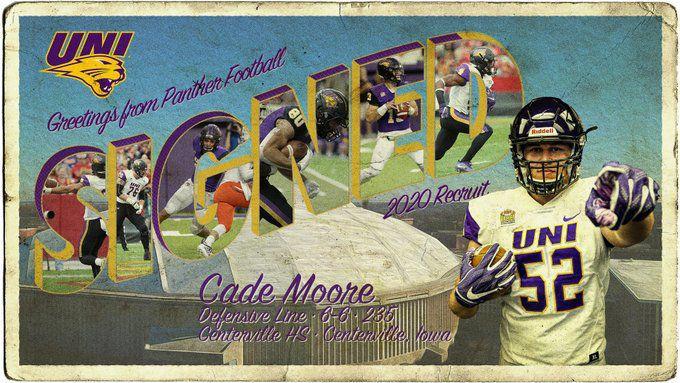 Moore has been described as having a large frame and a big motor. He totaled 29 ½ tackles this year for the Big Red, and has also been recruited as a long snapper. He projects as a defensive end, but could also switch over to play offensive line.
Wes Hine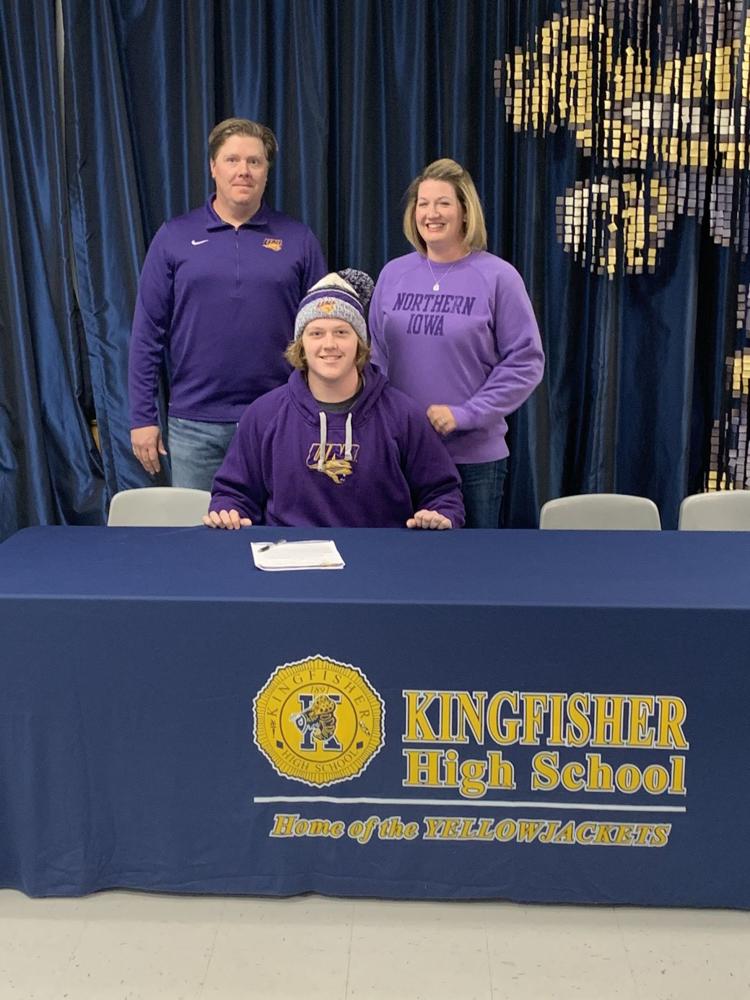 Hine is another linemen projected to play guard in college. He committed to the Panthers back on June 25. He also had a preferred walk-on offer from Texas Tech.  
Cannon Butler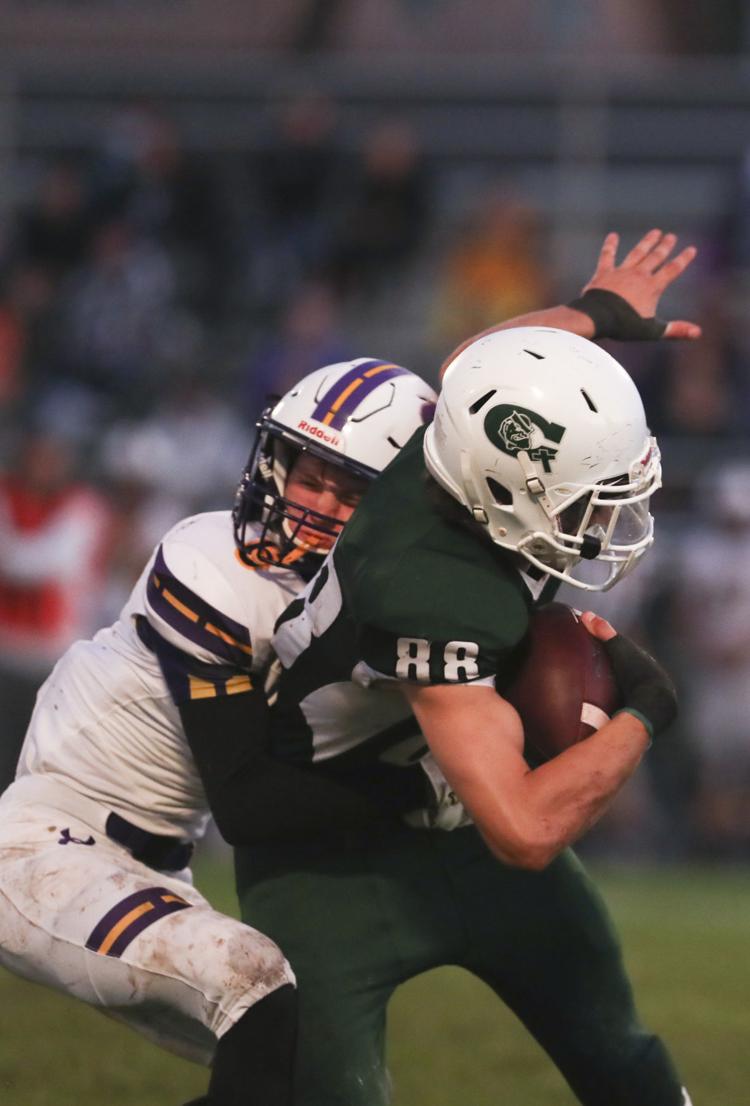 Butler recorded 19 tackles for loss, including four sacks for the Sailors, who finished 8-2. Offensively, he recorded 16 receptions for 257 yards and two scores playing tight end.
Hayden Amos
Amos was one of the primary reasons Carlisle rushed for more than 2,500 yards and 30 touchdowns this past season. Amos also recorded 36 ½ tackles on defense, including seven tackles for loss.
Ben Belken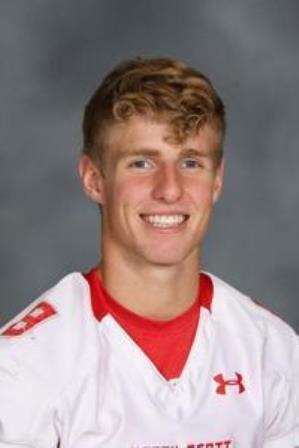 Belken recorded 33 tackles for the Lancers, who finished the season 9-2. He had seven tackles for loss and three sacks. He also caught 10 passes for 134 yards a touchdown.
Tysen Kershaw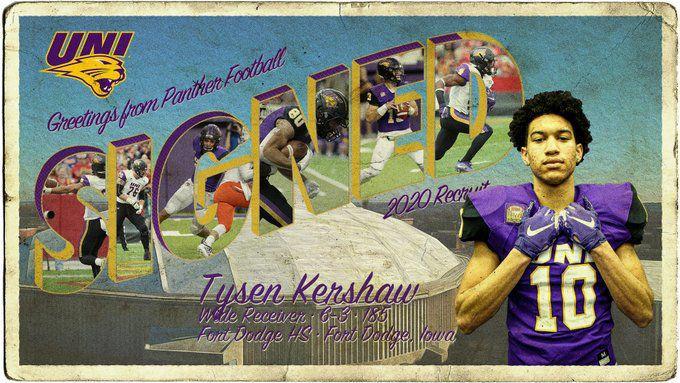 Kershaw became just the second Dodger to become a two-time first-team all-state selection after hauling in 49 passes for 606 yards and eight touchdowns this past season. He is the first Fort Dodge receiver to eclipse the 2,000-yard receiving mark. As a junior, he caught 71 passes for 1,206 yards and 12 scores. Kershaw was originally committed to South Dakota. 
Noah Abbott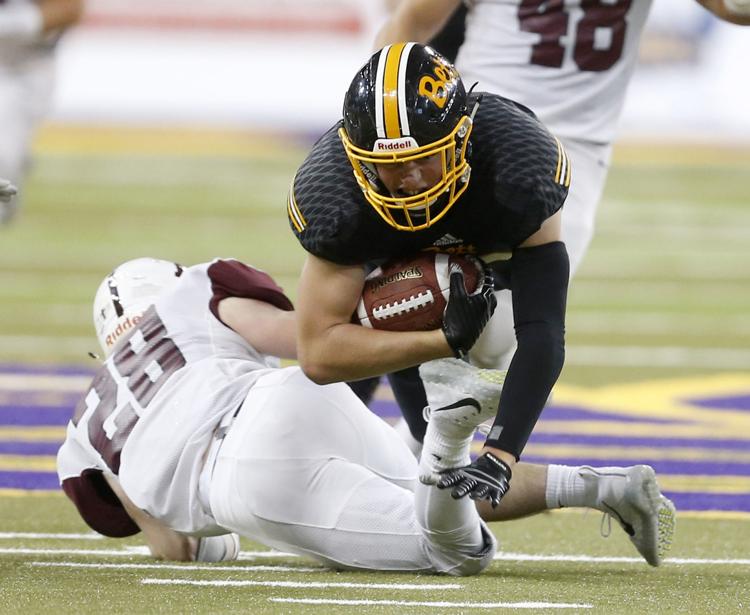 Abbott hauled in 26 passes for 380 yards and four touchdowns, including a 74-yard TD catch for the Bulldogs. He also recorded 21 tackles on defense this season.
Thomas Wilson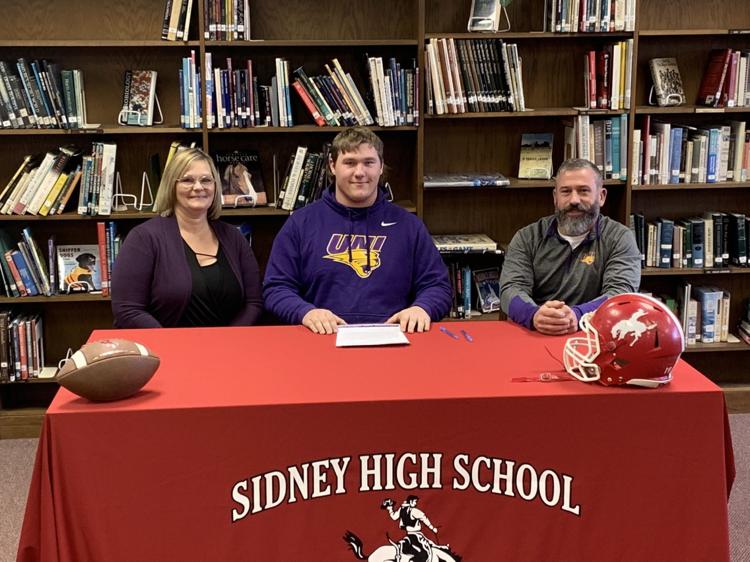 Wilson was a leader for 8-player Sidney. Defensively, he recorded 32 tackles, 15 for loss and two sacks. As a junior he had 51 tackles, including 14 ½ for loss. Wilson committed to UNI in June.
Jaylin Richardson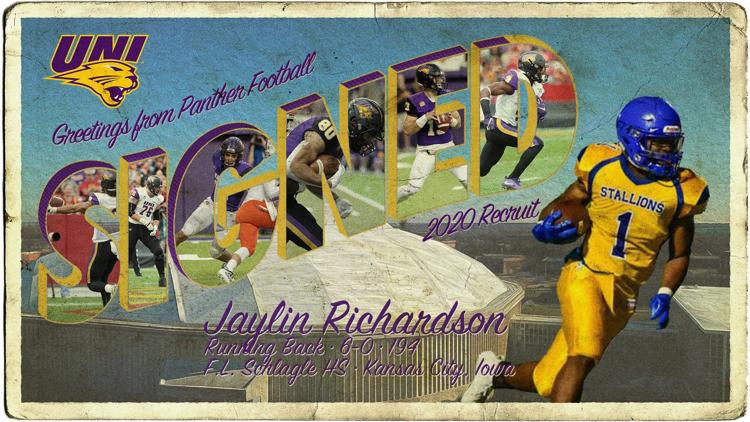 Kansas City, Kan. (FL Schagle)
Originally a Kansas verbal, Richardson will enroll early at UNI and begin attending classes in January. He rushed for better than 5,000 yards in his career at Schagle.