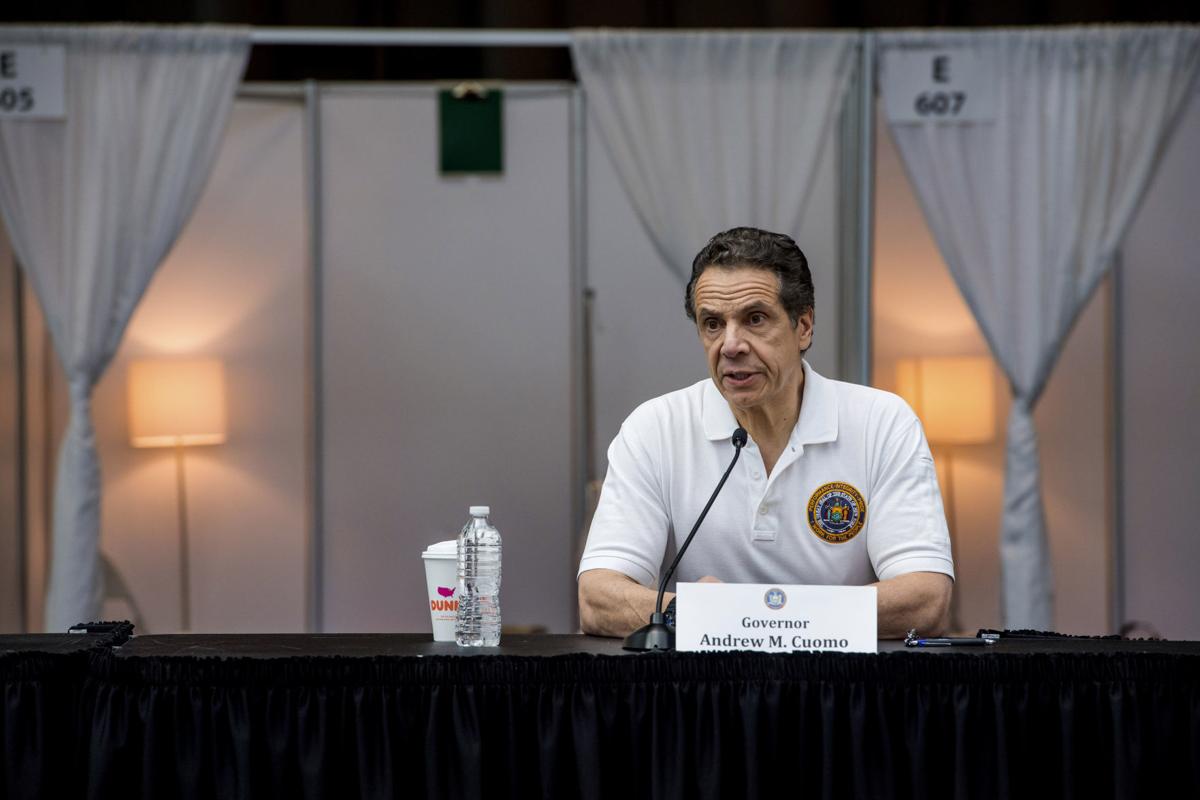 Former Vice President Joe Biden became the Democrats' presumptive nominee after an unprecedented comeback, despite pundits hammered nails in his coffin just six weeks ago.
He may be on a roll, but some Democrats are seeking alternates, particularly in the wake of recent stumbling, rambling and misstatements. Lloyd Constantine, an aide to former N.Y. Gov. Elliott Spitzer, called Biden "a melting ice cube."
New York Gov. Andrew Cuomo has become an attractive alternative while dealing with the COVID-19 crisis.
With Biden on the sidelines, Cuomo has become a man of action, proclaiming at a news conference, "We are not willing to sacrifice 1-2% of New Yorkers. That's not who we are. We will fight to save every life we can. I am not giving up." He was willing to go into Manhattan to yell at those defying his lockdown, "You are wrong."
MSNBC's Rachel Maddow said the country had one president in Washington offering false pronouncements and "a different one for the coronavirus crisis, the guy who's in charge in New York."
Esquire political blogger Charles Pierce called Cuomo "the leader this country needs now."
How serious this movement should be taken may be reflected in a Draft Coumo account on Twitter, which states, "Times have changed & we need Gov. Cuomo to be the nominee." It has around 200 followers.
Canceled primaries and worried superdelegates theoretically could derail Biden. History, though, indicates otherwise. Since Republicans nominated Wendell Wilkie in 1940, no major party candidate has carried its banner without campaigning in primaries.
For his part, Biden was presumably a dead man walking after finishing fourth in the chaotic Iowa caucuses, fifth in the New Hampshire primary, and third in the Nevada caucuses.
Initially seen as the Democrats' best bet to take down President Donald Trump, Biden raised concerns because of frequent gaffes, lukewarm debate performances and a failure to amass the grass-roots support fueling Sen. Bernie Sanders, I-Vt., former South Bend Mayor Pete Buttigieg and Sen. Elizabeth Warren, D-Mass.
Then came South Carolina with its large African-American voting bloc. Biden finally broke through, capturing 61% of the black vote compared with 17% for Sanders.
Subsequently, U.S. Sen. Amy Klobuchar of Minnesota, Buttigieg and businessman Tom Steyer dropped out and endorsed Biden.
On Super Tuesday, Biden won nine of the 12 contests, including Warren's home state of Massachusetts, where she finished third. She dropped out.
Biden won Virginia by 30 points; Texas and Arizona, which were expected to be in Sanders' column because of large Latino populations; and Arkansas, Minnesota, Oklahoma and Tennessee without visiting.
He took every county in Michigan, where Sanders upset Hillary Clinton in 2016, and did the same in Florida, where Sanders' affinity for leftist Latin American governments alienated Cuban and Venezuelan Americans.
Early on, Sanders benefited from a crowded field while rarely achieving more than 25% of the vote — eclipsing 37% just three times. He brought in more first-time voters, but didn't broaden Democratic outreach as promised.
While Sanders' promoted his single-payer, "Medicare-for-All" plan, a Kaiser Family Foundation poll found most Democrats and left-leaning independents preferred building on Obamacare.
His increasingly bombastic tone cost him support among the self-proclaimed "very liberal" in Florida. After winning in Nevada, he had tweeted, "I've got news for the Republican establishment. I've got news for the Democratic establishment. They can't stop us." In California, he mocked opponents as "trembling" and "crying."
He bashed the "corporate media," including left-leaning MSNBC, and the entire health care industry, not just insurance.
Still, Sanders raised $191 million from 10 million donors. Biden can't ignore that, but he immediately pivoted to talks with Warren instead, announcing support for her plan to overhaul the consumer bankruptcy system while proposing public colleges be tuition-free for students from families with incomes up to $125,000.
Biden's resurgence gives Democrats a better chance to retake the White House and Senate, based on gains moderates made in the 2018 midterms. Sanders stood to be a drag on Senate campaigns, notably Montana, where Democratic Gov. Steve Bullock has a good chance to flip that seat.
According to a Morning Consult/Politico survey, Biden falls closest to centrist positions likely to attract independents and moderate Republicans. Respondents found Sanders more extreme than Trump.
Yet Trump generated record turnout in Republican primaries with little competition, and Biden's stumbles aren't reassuring for them.
One outcome has ostensibly been determined. Iowa, New Hampshire and Nevada won't front the election calendar ever again. Demographics will prevail.
Turnouts were overwhelmingly white in Iowa, 91%, and New Hampshire, 89%, while black voters were only 11% of Nevada caucus-goers.
South Carolina reversed that trend, then Super Tuesday further emphasized diversity as Biden prevailed by taking large shares of African-American votes — Alabama, 72%; Virginia, 69%, and Texas, 58%.
Catch the latest in Opinion
Get opinion pieces, letters and editorials sent directly to your inbox weekly!