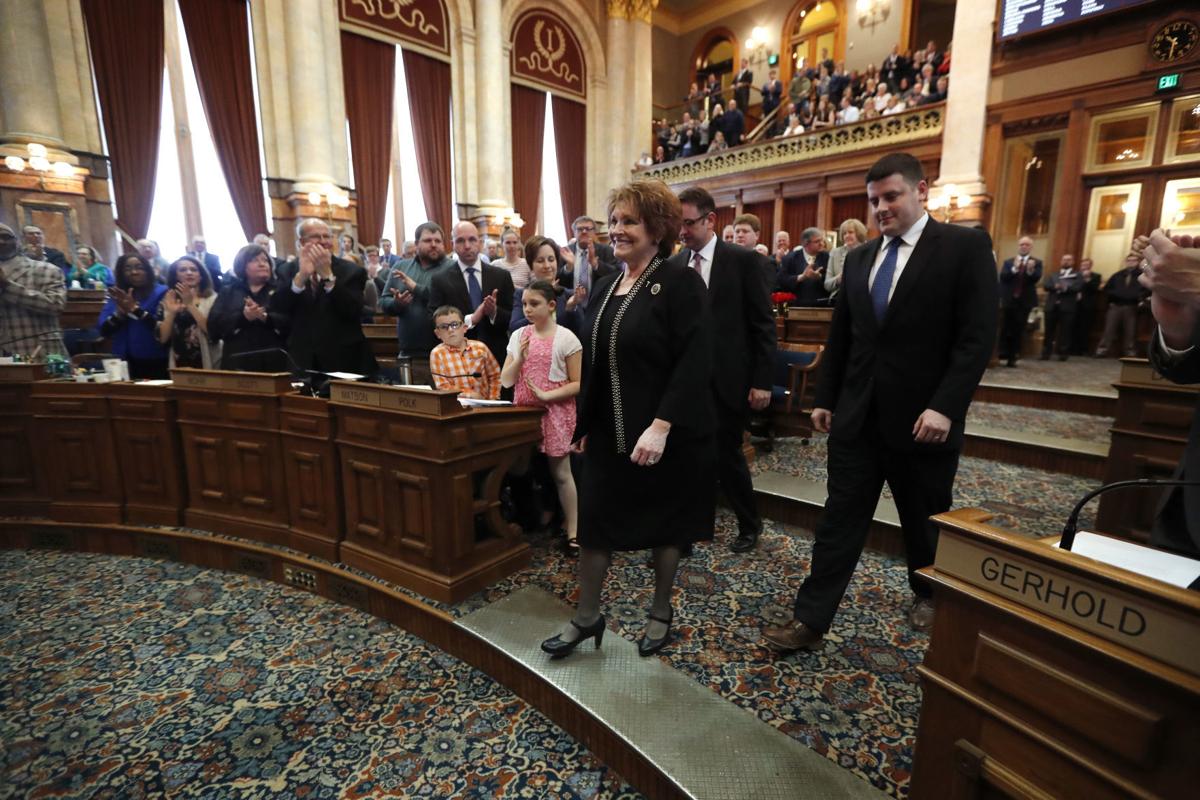 Iowa — along with Kentucky — has the dubious distinction of permanently denying felons the right to vote, unless granted dispensation by the governor.
That could change as the Legislature grapples with reform language in a proposed constitutional amendment in a bill expected to survive the Thursday funnel for pending legislation.
A three-member Senate judiciary subcommittee unanimously approved a measure last week to make most felons automatically eligible to vote after completion of their sentences, but with conditions yet to be determined.
The Sentencing Project, a Washington, D.C.-based advocacy group for criminal justice reform, estimates 52,012 Iowans convicted of a felony are unable to case ballots without their voting rights being restored by the governor.
In November, Florida voters overwhelmingly passing a statewide measure to restore the voting rights of 1.5 million felons who have served their sentences, including parole and probation. Anyone convicted of murder or a sexual offense remains disenfranchised.
That vote followed a national trend with the backing of liberal groups, such as the American Civil Liberties Union and the NAACP, and conservatives like the Koch brothers' Americans for Prosperity.
Since 1997, 23 states have amended laws disenfranchising felons — repealing lifetime bans, allowing those still under community supervision to vote or easing restrictions after sentences were completed.
The Sentencing Project estimates 6 million citizens were ineligible to vote during the midterm elections because of felony convictions. That included 4.7 million not incarcerated who live in the 34 states that ban voting for those on probation, parole or who have completed sentences.
The U.S. has the highest incarceration rate in the world with 22 percent of the prisoners — 737 people behind bars for every 100,000 people. Russia is a second at 618. For comparison's sake, Britain is at 148 and Japan, 62.
Iowa, though, has a provision in the state constitution denying voting rights to anyone committing "infamous crimes."
In a 4-3 decision in 2016, the Iowa Supreme Court reaffirmed that the state constitution "infamous crimes" is determined to be felonies. It previously allowed a politician convicted of a misdemeanor to seek office.
Gov. Kim Reynolds, a Republican, has lifted the ban on 114 people during 2018-19 and, according to her office, another eight may have their rights restored.
Back in 2005, then Gov. Tom Vilsack, a Democrat, issued an executive order to restore voting rights to those who had completed their sentence. His successor, Gov. Chet Culver, also a Democrat, kept that order in place. But Gov. Terry Branstad rescinded it in 2011, soon after he took office.
Reynolds — Branstad's former running mate — announced her support to restore voting rights for convicted felons under certain circumstances during her Condition of the State address in January.
She advocated amending the state constitution for that purpose, a process that couldn't take effect until 2020 at the earliest following approval in a statewide ballot measure. Legal experts maintain the Legislature can do it immediately simply by redefining "infamous crimes."
"The issue is squarely in the General Assembly's hands," University of Iowa law professor Todd Pettys told the Des Moines Register.
The reform initiative gained momentum last fall after a recommendation to restore felons' voting rights by a legislative advisory board consisting of 16 voting and six non-voting members, including four lawmakers. The board was created eight years ago by the Legislature to review current or proposed criminal laws.
Among the issues still to be determined include whether to restore voting rights to individuals who have completed the terms of their sentences, except for restitution, and a definition of crimes that would automatically constitute disenfranchisement.
Reynolds, for one, departs from some Republicans on the restitution issue. "I want to make sure that we're not making it stricter than what we already have," she said.
According to a recent Register poll, 64 percent of Iowans support restoring voting rights to felons who have completed their sentence — 80 percent of Democrats, 66 percent of independents and 50 percent of Republicans.
In a related issue, the Register found that many Iowans have been denied voting privileges after being charged with a felony, but not convicted or receiving a deferred sentence, because of a lack of communication between the office of the Secretary of State, which oversees elections, and court administrators.
Each side blames the other for the problem.
The Legislature needs to weigh in on that spat by outlining a required process. It is patently unfair to those citizens who have found their ballots rejected without cause or even faced the prospect of illegally voting.
In addition, the Legislature should move ahead to restore the rights of felons not convicted of the most heinous crimes, but who have completed the terms of their sentences, save for restitution.
Catch the latest in Opinion
Get opinion pieces, letters and editorials sent directly to your inbox weekly!