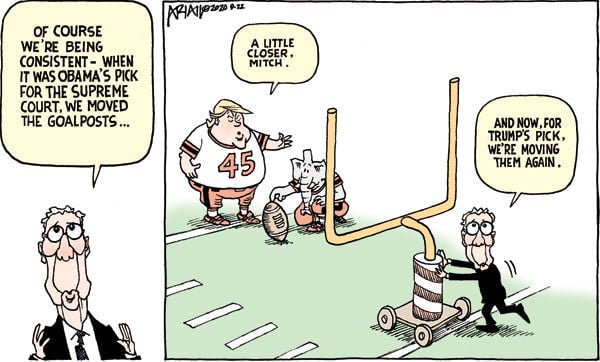 This originally appeared in the Sept. 23 Sioux City Journal.
We believe President Trump should nominate someone to fill the seat of late Supreme Court Justice Ruth Bader Ginsburg and the nomination should get an up or down vote by the full Senate. No need exists for Trump or the Senate to wait for the Nov. 3 election because it's the president's right under the Constitution to fill high court vacancies and the Senate's duty to take up nominations.
We also believed -- and we said so in this space at the time -- the same was true of President Obama following the death of Justice Antonin Scalia.
In 2016, eight months from the presidential election, Obama nominated Merrick Garland, but majority Senate Republicans -- led by Mitch McConnell -- refused to consider the nomination. Why? Because, they said, voters in the next election should decide who gets to fill the seat.
This time, less than two months before the election for president, no such demand was made by majority Senate Republicans -- still led by McConnell. Instead, McConnell vowed, Trump's nominee for a replacement will receive a vote on the Senate floor.
As we said in our March 23, 2016, editorial, we believed the Senate should have performed its "advice and consent" responsibility by giving Garland a full, fair vetting. In the end, individual senators should have explained to Americans why they supported or opposed him. In other words, senators should have done their jobs. In our minds, the same holds true today.
That's a consistent position.
Of course, the spectacle unfolding in the wake of Ginsburg's death on Sept. 18 isn't consistent with what happened in 2016, but it isn't surprising, either. Hypocrisy is never in short supply -- within either party -- in our nation's capital.
If, for example, a Republican occupied the White House when a liberal justice of a split Supreme Court died in a presidential election year in which Democrats controlled the Senate, would the Senate of today hold hearings on any nominee chosen by the president? If, for another example, a Democratic president who enjoyed Democratic control of the Senate wanted to replace a Supreme Court justice less than seven weeks before a presidential election, would Republicans like McConnell today react with anything less than furious indignation?
The answer to both questions is, we believe, "no."
So even though in our view it's proper for them to give Trump's choice due consideration this year, the fact Senate Republicans didn't do the same for Obama's choice four years ago will add fuel to the fire of payback.
And what is a seemingly endless cycle of power politics will continue -- to what we believe is the detriment of our country.
Catch the latest in Opinion
Get opinion pieces, letters and editorials sent directly to your inbox weekly!