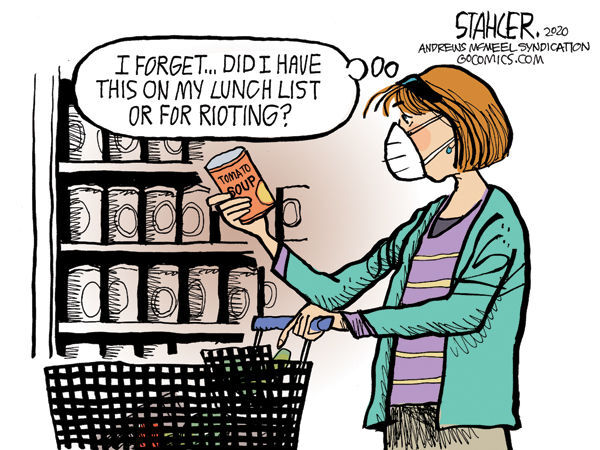 A version of this editorial first appeared in the Quad-City Times.
The terrible violence that has grown out of protests for racial justice in parts of the U.S. has been painful to watch.
Fires have been set, buildings looted. Worst of all, people have lost their lives.
These images have rattled Americans, in many cases leaving them wondering what's happened to our country. Coupled with the devastation that has been wrought by the coronavirus pandemic over the past six months, there is a sense, no matter your political persuasion, that our country is spinning out of control.
President Trump has sought to make the violence in cities a centerpiece of his re-election campaign, warning that with Joe Biden as president this is what the U.S. can expect.
In a speech a week ago, Biden deplored the violence and blamed Trump for stoking its fires. Both candidates visited Kenosha last week.
Certainly, national politicians with the bully pulpit can set a tone for American discourse. But it seems to us that when it comes to the real work of policing America's cities, the presidential election isn't the right place for this debate. The right place to resolve these issues — to really make a difference — isn't in the halls of Congress or the White House; it's closer to home, in city council chambers, courthouses and Statehouses.
The sort of solutions-oriented action that will quell protests and keep streets safe already is taking shape in some places.
Iowa's Legislature passed a bipartisan police reform law this summer.
In Waterloo, recently installed Police Chief Joel Ferguson, who is African American, has explicitly banned chokeholds and other high-risk techniques. While off limits since the 1990s and not included in training techniques, that was never stated in policy guidelines.
In addition, vascular neck and carotid restraint techniques, which cut off blood flow to induce unconsciousness, are now "unauthorized." Officers can't use their weight — including knees to the back and neck — to prevent a detainee from breathing adequately.
Council members Jonathan Grieder and Pat Morrissey have both said they intend to introduce measures to dismantle institutional racism in the community. That includes pushing for an ordinance banning racial profiling and adopting a racial equity and social justice toolkit to review ordinances and city policies for their impacts on minority and low-income communities.
Council members also note Waterloo is the only city in Iowa to adopt a ban-the-box policy designed to give those with criminal records a fair shot at getting a job.
Waverly Mayor Adam Hoffman announced in June he had taken the national "8 Can't Wait" pledge. Those eight principles involve de-escalation, limiting choking maneuvers, intervening when other officers are using unnecessary force, not shooting at moving vehicles, exhausting all other means of responding to an incident before using deadly force and more.
Hoffman, who previously worked in law enforcement, including a stint as a police chief, said the policies were "common sense."
In Iowa City, where there have been sustained protests, council members have said they plan to change the way policing is done. And a new police chief is being selected against this backdrop.
In Minneapolis, where George Floyd's death at the hands of police prompted widespread demonstrations, pro-reform activists and some elected leaders have been working to change the city's charter to reduce traditional police funding.
Some of these are far-reaching proposals and will draw opposition. In some places around the country, police officers are resigning or retiring as a result of the pending changes.
These are issues that local governments will have to deal with, and that voters must weigh when choosing who they want to lead them. But, again, it's something that happens on the local level.
The fact is, there is precious little the federal government has done historically to police America's cities, and that has been the consensus, bipartisan approach for a long time.
In the 1990s, for example, when Democrats in Congress wanted to make it a federal crime to carry a gun in the vicinity of local schools, the Supreme Court rejected the idea as an overreach. The courts have traditionally found this kind of power isn't the province of the federal government but of leaders who are closer to the people.
Conservatives who worry about big government have wanted it that way; so too have liberals, who bring with them memories of the overreach of the 1960s.
The revulsion at the violence and injustice in America's cities is warranted, and local leaders ought to deal with it seriously. But the dangers of Washington, D.C., taking over are clear.
We would prefer that politicians on the national stage use their platform to ease the tensions in America's cities. Let the locals take the lead. We believe they can handle it, and if they don't voters will punish them.
The fact is, the vast majority of the cities in this country are confronting issues of racial justice without the kind of tension we have seen in a handful of places.
Those of us who have watched campaigns over the years know that politicians look for opportunities to appeal to voters by empathizing with them and seeking to identify with their fears, or to leverage them, even if there's hardly anything meaningful they can do about it.
This approach may be helpful to voters who see their world spinning out of control and want reassurance in these troubled times. But if people want to have the most impact on the safety of their streets and how they are policed, there are elections to get involved in. But they aren't the ones we are holding this November. Those elections won't take place until next year.