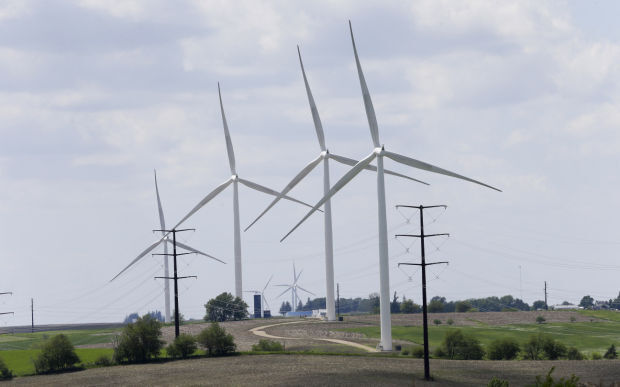 As this week marks American Wind Week across the country, it's worth reflecting on Iowa's incredible wind energy leadership. As the energy program manager at University of Northern Iowa's Center for Energy and Environmental Education and the proud senator for Iowa's 30th District, I have seen firsthand the myriad positive impacts this sector has had on our state. To put it simply, wind energy is good for both our economy and environment, and that's good for Iowa.
Iowa ranks first in the nation for percentage of electricity generated by wind, with 42% of our electricity mix powered by wind. This growing part of our state's energy mix is affordable, reliable, and good for the economy, all while reducing our carbon footprint. In 2019, utilizing Iowa's wind energy resources to generate power helped us to avoid 12.6 million tons of carbon emissions, the equivalent of taking 2.7 million cars off the road. And this was all accomplished while employing 10,000 wind industry workers in good jobs, and paying Iowa farmers for wind turbine land lease agreements that help to supplement their ag income.
Last year Iowa wind farms across the state paid $61 million dollars in tax revenue, money that can help with funding local schools, infrastructure projects, even local hospitals, which we know are suffering dearly right now. This extra revenue source is a great opportunity to raise extra funding for these important local services without raising taxes on regular residents. For communities across the state, this kind of revenue could help schools fund vital safety measures, pay for equipment to help students learn, improve infrastructure for rural broadband, and more. With wind energy and the benefits it offers our communities, the sky is the limit.
Looking to the future, there is a need for educational programs to train our workforce for the changing economic landscape, especially in the wind energy sector. Educational institutions across the state are seeing this need and creating wind tech and related renewable energy training programs. I have proudly been an advocate for renewable energy's benefits for Iowa for years, particularly in my work at UNI. Job training is especially crucial as the demand for wind continues to grow, not only in Iowa but across the nation. In 2019, wind energy was the top choice for renewable power in the country. Wind power generated 39 percent of new utility-scale power additions, including 120,000 jobs and 530 domestic factories nationwide.
Iowa's continued commitment to this growing sector has helped to cement our place as a national leader in the wind energy industry. I'm proud to celebrate Iowa's 11 wind-related manufacturing facilities and the 10,000 Iowans employed directly by wind energy this American Wind Week. I encourage my fellow Iowans to recognize the value of wind energy for our communities and schools.
Eric Giddens is energy program manager at University of Northern Iowa's Center for Energy and Environmental Education and represents District 30 in the Iowa State Senate.
Catch the latest in Opinion
Get opinion pieces, letters and editorials sent directly to your inbox weekly!