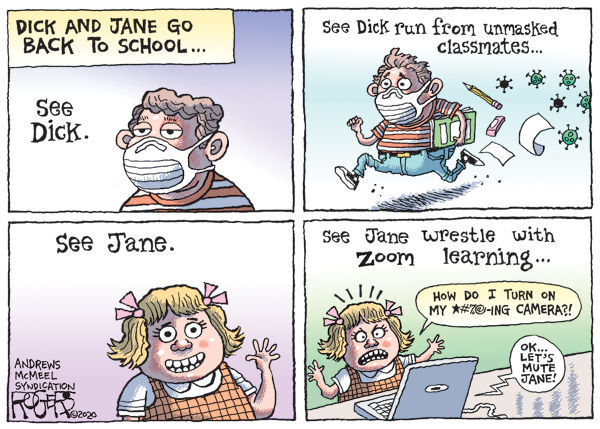 We need one good Catholic. In fact, every school district in the state of Iowa needs one. Someone who goes to Mass every morning, hits confession on Friday, takes Communion on Sunday and kisses the bishop's ring when he comes to the local parish.
This is important because of last week's ruling by a Johnson County District Court Judge that Gov. Kim Reynolds did not overstep her authority in denying the Iowa City Community School District's attempt to mitigate the impact of coronavirus by going to online or virtual learning only. Given that decision, the only hope local school boards have in taking steps to mitigate COVID-19 in their facilities is to go down to the governor's office and beg forbearance from her edict. Best to send someone who knows how to genuflect.
This will surprise some given the legislative action in 2017 when the Republican-controlled Legislature decided, with great fanfare, to lift the restrictions on what actions school boards could take independent of state permission. It was termed as an almost complete repeal of what was known as Dillion's Rule, an 1872 decision by then Supreme Court Justice Forest Dillon that held unless an action taken by a city, county or school district was permitted by the state, it could not be done. This was meant to free up these lesser level governmental units to operate more freely to adjust to local conditions without worrying about state permission. This law, which was known as Home Rule, mirrored to some extent the rights previously granted to cities and counties.
Through the action completed by this last legislative session we are back under Dillon's Rule, only with more restrictions. With the proclamations the governor has issued, with the authority of this statute, her power has expanded to almost dictatorial levels. If one has not seen its impact on schools, you need only look at her ability to selectively close bars and restaurants in some counties but not in others.
In ruling that the Iowa State Education Association and Iowa City School District did not meet the very heavy burden of obtaining a temporary injunction to halt the governor's action, the court did seem mindful of the predicament school districts face, writing "COVID-19 certainly presents the risk of harm to Petitioner's members, staff and students."
So, what is really going on here? Three years ago, the very conservative Legislature hailed the passage of granting home rule to school boards. One legislator even said, "It's time to set the schools free." That legislation was followed this year by more restrictions being put in place. The simple answer: politics.
The Republican base is rural Iowa, and rural conservative Iowans do not want anyone telling them what to do, like wear a face mask. In passing this legislation Republicans deprive school boards of local control, but they also take them off the hook for hard decisions.
Secondly, it goes back to the desire by conservatives to get the economy moving before Nov. 3. It is what our new czar of education, the governor, proclaimed the balancing between living lives and earning a livelihood.
Finally, as the Washington Post observed in reporting on the Iowa courts' decision, it involves the governor's personal ambition. The Post observed, "Many of the president's allies are trying to fulfill his pledge, pressing local school systems, even those in coronavirus hots spots, to reopen, disregarding public health guidance and overruling the wishes of local school boards. Reynolds, a close ally of President Trump's, has forced schools across the state to reopen."
Can you say guess the next secretary of education? Perhaps Iowa's own Kim Reynolds.
All of which leads me to one conclusion. Forget what I wrote about sending a good Catholic to Des Moines to ask the governor for relief. Go instead to Mass twice a day and pray for divine intervention. You'll have a better chance.
Dave Nagle is a Waterloo attorney and former U.S. congressman.
Catch the latest in Opinion
Get opinion pieces, letters and editorials sent directly to your inbox weekly!