"We kept waiting and waiting, and nothing. It's crickets," said Joe Gorton, former union president at University of Northern Iowa. "Nothing but silence."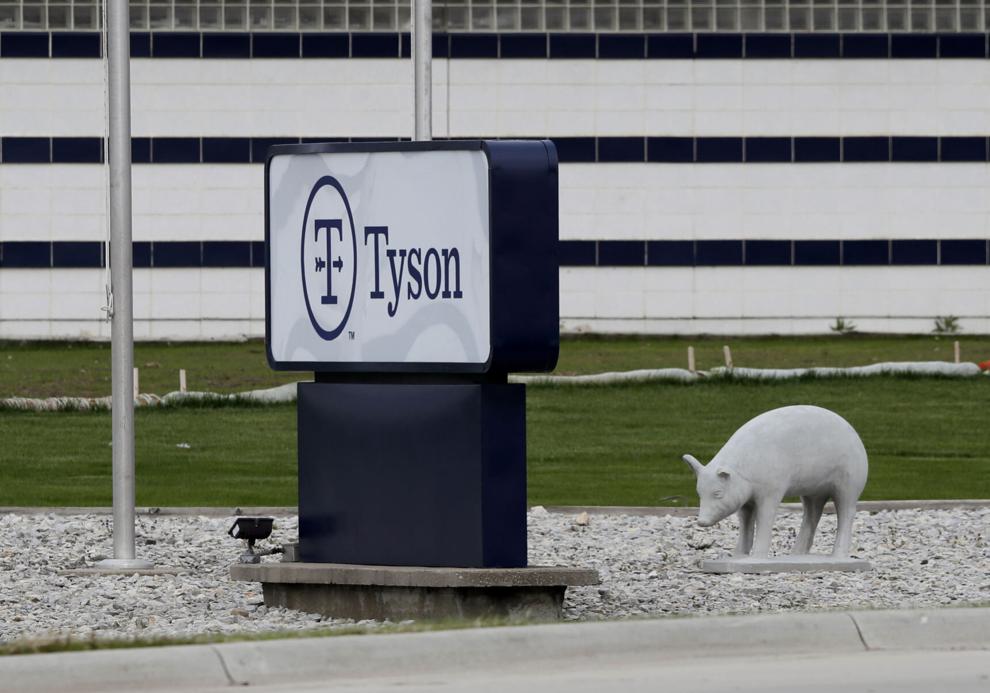 The union, chapter 431 of the United Food and Commercial Workers, is tasked with representing employees at the country's largest pork plant. Unions like UFCW Local 431 are supposed to advocate for employee safety, defend worker rights, negotiate benefits and address employee concerns.
Absent
But several workers, community advocates and long-time unionists told The Courier that UFCW Local 431 was largely absent during the Tyson outbreak.
"I feel like it's a waste of money," one worker, 44, said of his $12 union dues.
"I'm not expecting them to go fight for me if I did something wrong … but the things that they should do, it's like they don't want to do."
The union represents workers in the production and maintenance departments who choose to be members, according to the contract. Its members do not include supervisors, managers, guards, office janitors, nurses, clerical or storeroom employees and others in the plant.
Dozens of phone calls and voicemails over two months to UFCW Local 431 representatives from The Courier went unanswered. Bob Waters, union president, answered the phone Dec. 22 and said he was "in the middle of something" but would be available later that day. He never answered subsequent calls.
The other local official, union recorder Samuel Stokes, said multiple times he would pass interview requests along to Waters. He never agreed to an interview. Stokes has worked at the Tyson plant in Waterloo beginning in 1991.
Waters' salary and other allowances totaled nearly $126,000 between Dec. 1, 2018, and Nov. 30, 2019, according to a report filed with the U.S. Department of Labor. Stokes received nearly $65,000 total per year. Other union officials made salaries that similarly surpassed wages of most plant employees.
The international UFCW did not provide responses to requests from The Courier about local union leadership.
Good and bad
Jane McAlevey, a senior policy fellow at the University of California-Berkeley, is a long-time organizer who wrote several books about unionization. She compared unions with local government — some communities have really good ones and others bad ones.
And just like government, unions can be corrupt. In her recent book, "A Collective Bargain," McAlevey notes that union corruption is rare. The Tyson union is not charged with any form of corruption.
McAlevey's book says corporations prefer corrupt unions because "they are easier to deal with than confronting a democratic union where tens, hundreds, or thousands of workers actually have the power to make real demands." Bad unions can be "convenient punching bags" to counter good unions, her book says.
Recent allegations that managers bet on how many workers would get COVID-19 at the Tyson plant make it clear there was "very, very bad plant management," McAlevey said in an interview.
Tyson fired seven managers involved in the betting pool allegations. The firings came after the company commissioned an independent investigation led by former U.S. Attorney General Eric Holder.
Shift the narrative
But the firings provided the large corporation another opportunity to shift the narrative, said Alejandro Ortiz, a community organizer with American Friends Service Committee Iowa and Iowa Justice For Our Neighbors.
"It's just a game that they play," Ortiz said. "Something bad happens, they go to the community and try to win the community over in one way or another — sometimes they give out free food — and then they get to have the same amount of power that they always have."
Ortiz, who has relatives who work in the meatpacking industry, said the companies often have workplace cultures where people fear retaliation for speaking up. It's a reason he wants to see UFCW Local 431 be more vocal for workers.
"Politicians were stepping up. The community was stepping up. Other unions, like the Teamsters, were stepping up," Gorton said. "And where was the local UFCW? Nowhere to be found. It was really weird."
Community organizers held a spring demonstration outside the Tyson plant, giving thumbs-up to workers and expressing solidarity with them. Gorton and Lisa Muñoz — a local professor and advocate — attended the demonstration. Both said local union representatives came outside briefly.
"They had nothing to say," Gorton said. "In my opinion, they abandoned their responsibility as a union and their moral responsibility as a union."
Gorton said UFCW Local 431 missed a "tremendous opportunity" to organize and gain additional members.
Big concession
The local Tyson union's contract, in effect from Nov. 20, 2016, to Nov. 21, 2021, explicitly says workers are not allowed to strike or withhold production. It gives the company complete control over discipline for employees who do not comply.
Gorton called the provision "a heck of a concession." Iowa law prevents public employees from striking, but the same restrictions do not exist for private unions like UFCW Local 431. The language was negotiated between Tyson officials and union representatives.
McAlevey's book says unions that "sign contracts that are bad for workers" are the types of institutions that "don't engage in broad, democratic decision making that involves transparent and open processes."
The contract does not prevent the union from speaking publicly about plant conditions or negotiating further safety measures from Tyson. The contract guarantees at least one meeting per year between company and union representatives.
"If you think about it, they're probably scared to step on somebody's toes because Tyson is the one that hired them," one Tyson worker, 36, said. "If they were to come out publicly, I would understand as to why they maybe didn't because they were worried about keeping their jobs."
The contract allows union representatives to inspect working conditions during normal working hours. The main office for UFCW Local 431 is in Davenport, and there is a Waterloo location on Burton Avenue. The contract grants the union an office inside the Tyson plant, but it can be revoked by the company at any time.
There is a safety committee outlined in the contract meant to address "all health and safety working conditions within the plant." The nine-person committee is supposed to meet at least once per month, and members are allowed to conduct their own inspections.
Right-to-work state
McAlevey pointed to several factors that may hinder Iowa union effectiveness. First, Iowa is a right-to-work state that doesn't require people to join unions to be employed at unionized workplaces. The other hindrance is understaffing and other struggles at the Occupational Safety and Health Administration, which has both state and federal agents that can investigate safety and health complaints.
A federal complaint was filed against Iowa OSHA in November, with the American Civil Liberties Union of Iowa and other groups claiming the agency failed to do inspections that ensured workplace safety.
Those challenges pair with the historic anti-union stance of meatpacking companies like Tyson. When McAlevey did her doctorate research, she said she heard horror stories from Tyson workers in southern states.
Tyson spokesperson Gary Mickelson said the company has "a long history of collaboration with the UFCW on workplace safety." He said about one-third of Tyson's hourly workers in the U.S. are union members.
Mickelson noted some collaborative efforts between Tyson and UFCW during their "three decades-long partnership." He said incident rates at Tyson and the Waterloo plant have decreased over the past five years from "evolving our approach to health and safety from a compliance-based focus to one that involves commitment from all involved."
Tyson did not answer a question from The Courier about whether the company ever hired union avoidance firms.
"The whole thing is a really bad set-up," McAlevey said in an interview. "You've got a plant inside of an industry that's despicable in a state that's proud about trying to keep unions weak — which means frankly keep workers in a weakened state — which those workers certainly are."
Despite the challenges, some Tyson workers and community members said they feel there is no excuse for local union silence. Gorton said he feels the Iowa labor movement, international UFCW or another agency should investigate UFCW Local 431.
"Workers need some kind of representation. ... Tyson can call themselves a family, but what it comes down to is they're accountable to their shareholders. They are in existence to make a profit," Muñoz said. "Without some kind of representation for labor — unions or otherwise — it's literally each person for themself."
Workers who are unhappy with current union leadership can learn about election rules and run for office, McAlevey said. They can start petitions or complain to international union officials.
"It's a democratic institution, and when we leave it to people who are less responsive, we get less responsive government or less responsive unions," McAlevey said.
Gorton agreed there may be a need for changed leadership locally, but said it can be difficult and is "very unusual."
"It does not happen very often for a lot of reasons," Gorton said. "But in this case, let's keep in mind that a lot of these employees are folks that are immigrants into the United States, so the likelihood that they're going to rise up and challenge their union is very unlikely."
Note: The workers in this story asked to be kept anonymous for fear of retaliation or losing their jobs.
Sydney's memorable stories from 2020
Sydney's most memorable stories from 2020 explore Tyson worker experiences, discrimination complaints, the city's broadband study, a planned grocery store and ballot verification concerns.