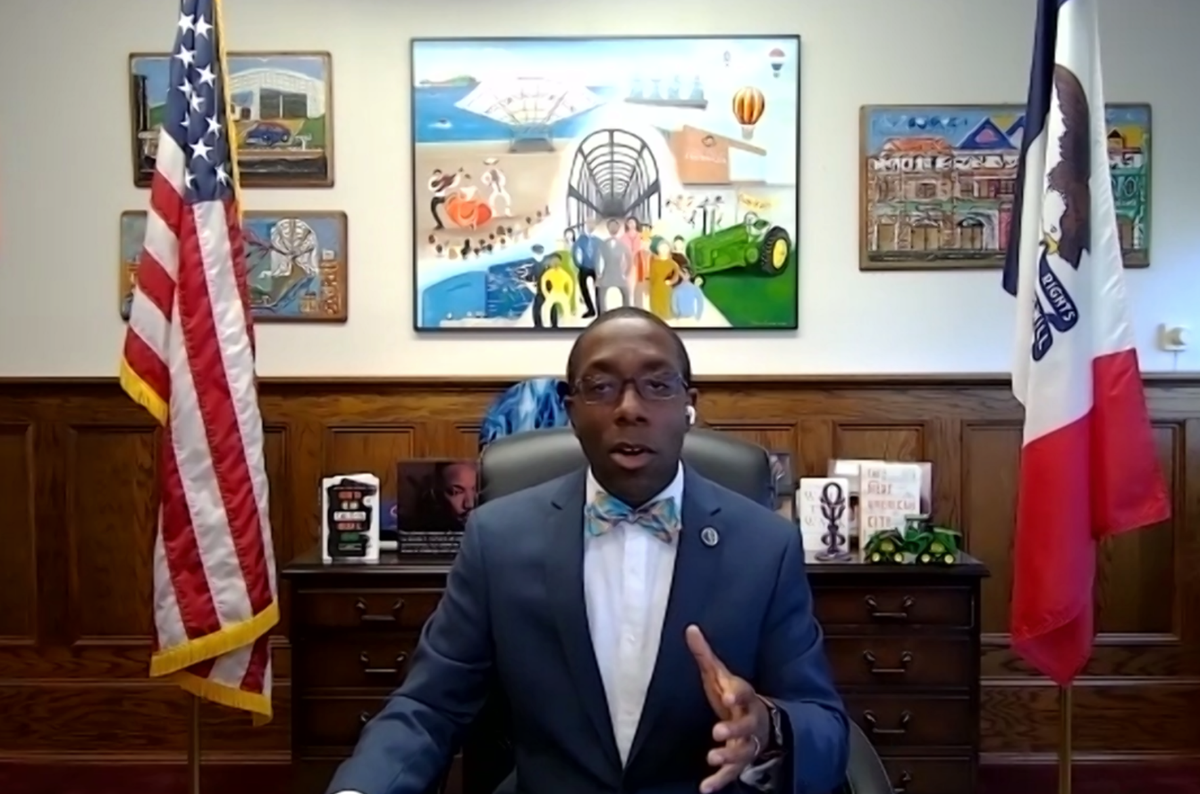 WATERLOO — Mayor Quentin Hart and top city officials highlighted economic development, police reform and the possibility of a city-owned telecommunications utility in a virtual State of the City address Tuesday.
The address focused on initiatives from the fiscal year that ended June 30. Former local journalist Kathy Flynn co-hosted, interviewing Community Development Director Noel Anderson, Public Works Director Randy Bennett and Leisure Services Director Paul Huting. Hart led conversations with other local leaders.
Hart said the city's economic performance hit its second-highest mark on record based on permit values for residential, commercial and industrial construction. Anderson said new permit valuation reached $161 million, surpassing the $100 million goal for the year. The city's highest permit valuation on record was $180 million in 2007, when the Isle Casino Hotel Waterloo broke ground.
"Even in a COVID year, when we saw our businesses pressed and challenged, we had our community move forward," Hart said.
Anderson cited the $15.7 million permit for Lost Island Theme Park, a 90-acre amusement park slated to open in 2022. The $100 million development is located across from the Lost Island water park on Shaulis Road.
The planning director said about $20 million in investments went toward the Five Sullivan Brothers Convention Center and adjacent hotel. The former Ramada Hotel underwent a $4 million face-lift to become a dual-branded Best Western Plus and Executive Residency hotel. Work on the convention center continues and will include remodeling the lobby in the coming year.
The city is continuing a construction training partnership with Hawkeye Community College, which builds new homes on vacant lots while training local students in construction work. The first two homes were chosen to be built on the city's east side.
"Growth in our community is great when it happens, but we can never forget about the neighborhoods that need some support and growth as well," Hart said. "We must see growth in every sector of the community."
Hart said he estimates more than 45 new businesses opened in downtown Waterloo in the past couple of years.
Huting expressed excitement about Riverside Skatepark, a $359,000 project near Joe Straub Memorial Field at Park Road and Fairview Avenue. The new location will be safe from Cedar River flooding that destroyed a previous skate park in September 2016.
Waterloo Police Chief Joel Fitzgerald said the department instituted new policies in response to recent calls for reform. Officers will focus more on neighborhood policing, quality responses to resident calls, implicit bias training and use of force adjustments, among other policies.
"You've seen me step out and expose myself to citizens within the community — without throngs of police officers around me — actively listening and participating in conversations that are difficult," Fitzgerald said. "And that's the expectation, I think, that they want from (the mayor), from me and the public safety in general here in the city of Waterloo."
Andy Van Fleet, partner for tech company Visual Logic with an office in Waterloo, shared his optimism about prospects for a city-owned telecommunications company to provide internet service to residents.
He said the city's telecommunications board is close to implementing the plan, which would allow for 1-10 gigabit internet connectivity to residents and businesses for a lower price than offered by current providers.
"This would mean that you're going to get speeds of 10 to 100 times faster than what we're currently seeing," Van Fleet said.
City Council members voted in February to approve an $84,500 study to explore a city-owned fiber optics system for internet, phone and cable TV options. Other area internet providers include Mediacom Communications and Century Link.
"We know that there is a demand for this, and we know that the citizens of Waterloo deserve better than what we have been providing recently," Van Fleet said.
Hart and philanthropy advocate Sharina Sallis said they are continuing to create pathways for people from historically marginalized groups to succeed in Waterloo. Hart said he is encouraged to see a rise in young Black and minority professionals in key leadership positions.
"It was not that long ago that people were trying to leave," Sallis said. "What's happened is ... people are creating their own spaces, their own avenues — they're not waiting to be tapped to showcase that they are leaders. They are leading and demonstrating in their own gifts and talents."
Be the first to know
Get local news delivered to your inbox!