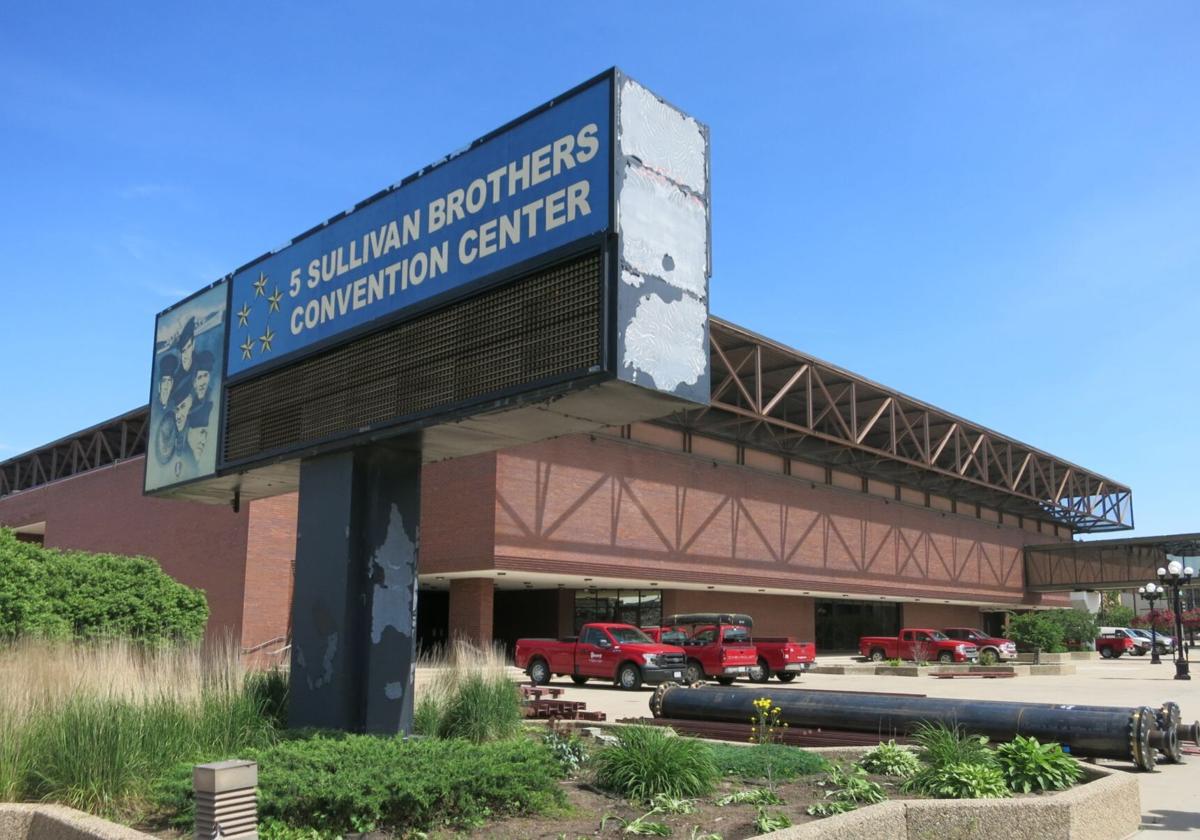 WATERLOO — The Waterloo City Council on Monday will consider $4 million in additional general obligation bonds to fund renovations to the Five Sullivan Brothers Convention Center.
If approved, the money mainly will fund a year-long lobby reconstruction, including the removal of escalators, addition of at least one elevator and an atrium addition for the main entrance on the corner of Commercial and West Fourth streets. The city already used more than $5 million in general obligation bonds in the past couple of years for ceiling, chiller, plumbing and other projects at the center. The bonds will be repaid by property taxes and hotel-motel tax revenue.
Noel Anderson, community planning and development director, said the new bond money might go toward other mechanical improvements. That could include roofing, paneling, restroom renovations and more chiller work.
"We've been trying to make improvements to the convention center that are aesthetic improvements, that are functional improvements, but we have to mix those in with the not-so-exciting infrastructure improvements," Anderson said.
At last Monday's meeting, Chief Financial Officer Michelle Weidner said the city plans to seek charitable funding for future projects if needed. If that doesn't work, she said, the city will work projects into a long-term capital improvements program.
The city chose Cardinal Construction of Waterloo to complete lobby renovations, Anderson said. The company already is working on other renovations.
The project will cost about $5.5 million, Anderson said. The city received bids from four companies that all set their highest bids above $6 million. All companies provided alternate bids at lower rates. Other bidders for the lobby renovation were Henkel Construction Company, Larson Construction Company and Pro Commercial LLC.
Anderson said Cardinal Construction provided a deduction from its original base bid of more than $692,000 for additional footings, and proposed adding piers to the parking area for safety reasons.
The city engineer's original estimate for the lobby renovation was $4.4 million, more money than will be allotted in new bonds. Anderson said the city can use other bond money it received for capital projects in recent years, likely including the $3.7 million the council approved for convention center work in June.
Anderson said the gap between the estimate and actual cost might be due increased costs driven by COVID-19 and the destructive derecho that hit parts of Iowa. He added costs could be higher if contractors must move equipment in and out of the convention center to accommodate events.
The city hopes the renovations attract more visitors and business.
"We see the convention center as a magnet for bringing people to Waterloo," Anderson said.
Monday's meeting will be at 5:30 p.m. in City Hall. Residents can attend in person, on the phone or via video platform Zoom. People interested in attending electronically can email the City Clerk's Office for login information. Residents who want to comment on agenda items should contact the clerk via email.
Sydney Czyzon covers Waterloo and Black Hawk County. You can reach her at Sydney.Czyzon@wcfcourier.com or follow her on Twitter @SydneyCzyzon.
Be the first to know
Get local news delivered to your inbox!