WATERLOO — Tyson Foods on Thursday suspended at least two high-level supervisors and launched an investigation into reports a plant manager organized a betting pool to guess how many workers would get COVID-19 during the early days of the pandemic.
Tyson CEO and President Dean Banks met with Waterloo employees Thursday. First-shift workers were released early Thursday afternoon, but Gary Mickelson, Tyson public relations director, said the plant is not shutting down, and second-shift workers arrived as scheduled.
"We've been through so much as a nation over the past year, and you have worked so hard to help feed the country and the world, and you deserve to be treated with the utmost value and respect for all the hard work you've done," Banks told workers Thursday, as heard in a recorded video provided to The Courier by a Tyson worker. "We have made a tremendous investment to do everything we can to make this a safe place for you to come and work every day."
The bombshell allegations are included in a lawsuit filed by the families of Tyson workers Sedika Buljic, 58; Reberiano Garcia, 60; Jose Ayala Jr., 44; and Isidro Fernandez, age unknown. Buljic, Garcia and Fernandez died in April, and Ayala died May 25 after a six-week hospitalization.
The lawsuit alleges supervisors were told not to acknowledge COVID-19 symptoms and workers were given bonuses for showing up to work every day — possibly encouraging sick people to clock in.
"You don't get paid if you don't show up," a 59-year-old Tyson worker who asked to remain anonymous said Thursday in Waterloo. "That's why a lot of them showed up sick."
Tyson announced it had suspended without pay plant manager Tom Hart — accused of organizing the betting pool — and upper-level manager John Casey, who allegedly called COVID-19 the "glorified flu" and told workers "it's not a big deal" and "everyone is going to get it." One 45-year-old Tyson worker, who asked to remain anonymous for fear of losing his job, said he saw the men escorted out of the plant Thursday.
"It's not funny to make jokes about people's lives — bet on their lives," the 59-year-old worker said. "They don't care. ... They better not get their jobs back. They won't have no respect."
Tyson said it hired law firm Covington & Burling LLP to independently investigate the allegations in the lawsuit. The investigation will be led by former U.S. Attorney General Eric Holder, according to the company statement.
The 45-year-old Tyson worker said he was told by supervisors to not be afraid of COVID-19 and not to get tested for the virus. He said he knows three co-workers who got sick and never returned to work.
"It's unsafe every day. It's a scary moment coming here," he said. "But I got bills to pay, so it's like — you have a choice, but it's either be without a job or get sick."
The worker, who relies on his paycheck to feed his children, said he was provided $500 monthly bonuses for coming to work every day. He said his department was told workers would lose their jobs if they didn't come to work.
The worker described Tyson supervisors as "vengeful" and said they don't allow workers to speak publicly about plant conditions. One worker told a Courier reporter Thursday that they might be "beaten up" or "chased out" for talking to workers.
"I came straight from the prison system to here," the 45-year-old worker said. "Coming from the prison system dealing with COVID inside of prison, to coming out here to a plant that has a high percentage of COVID — it's scary because I got children, and I'm like taking my chances. I got to pay bills."
County Supervisor Chris Schwartz last spring called for the Waterloo meat processing plant to close during a COVID-19 outbreak there. More than 1,000 of Tyson's 2,800 Waterloo workers eventually got COVID-19, leading the company to temporarily stop operations.
"If these allegations are true, it's really disgusting and it takes a very cold heart to make wagers on the lives of your employees," Schwartz said. "We knew that early on Tyson was being a bad actor in terms of the safety of their employees, and so as shocking and horrific as some of this news is, if these allegations are true, it's unfortunately not surprising."
In its statement, Tyson said the lawsuit's allegations do not represent the values of the company.
"We are extremely upset about the accusations involving some of the leadership at our Waterloo plant," the statement said. "We expect every team member at Tyson Foods to operate with the utmost integrity and care in everything we do."
The 45-year-old Tyson worker said he thinks the company needs to shut down the Waterloo plant to clean and handle the allegations. He said the company should pay people during the pause in operations.
"I don't like the fact that they keep things covered up and stuff," he said. "At the end of the day, if somebody has the virus or has COVID, they shouldn't be told to not get tested. They should be told to get tested and come back when everything is done."
While employees were being ordered to work despite an alarming rise in the number of COVID-1…
A 21-year-old Tyson worker, who recently started the job, asked to remain anonymous. He said a few people in his hiring class tested positive for COVID-19. He said supervisors tell people with the virus to leave work, along with others who were near them. They are advised to quarantine for 10 days, he said.
"But I don't know how that actually works," the worker said. "Hopefully I don't get it, though."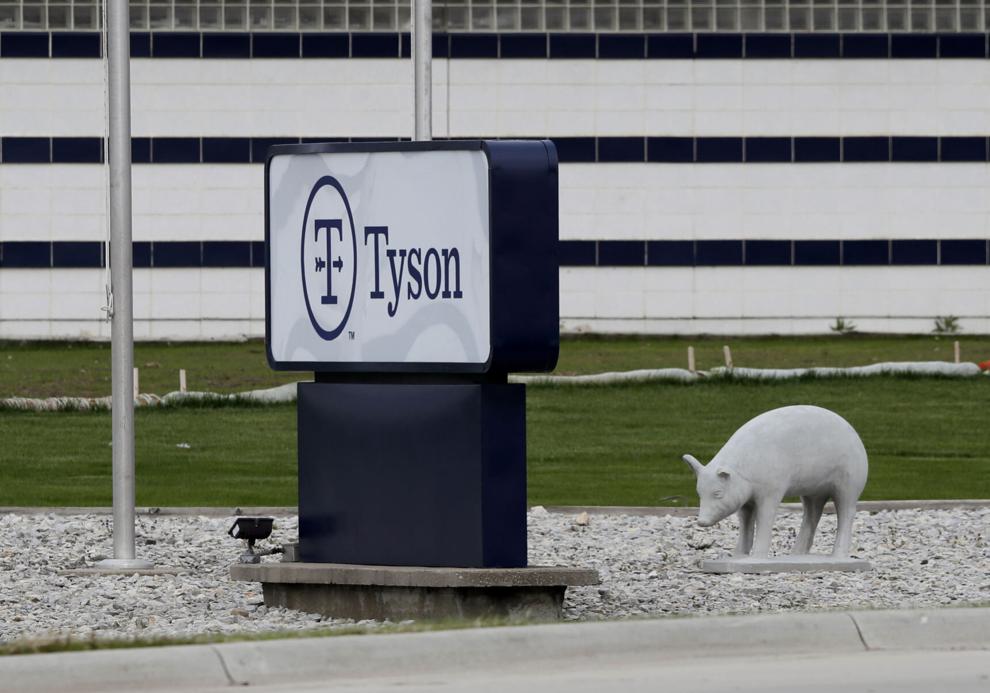 Another Tyson worker, the 59-year-old woman, said the company's statements about improved safety measures is "just a big lie" and called executives "phony." She said there is no social distancing, and she sees people without masks. The woman got COVID-19 in April and knows two others in her department who tested positive.
"I heard it was bad — it was coming back bad," she said. "They try not to talk too loud because they know I'll run my mouth."
The woman said Thursday's meeting with Tyson executives was held outside with little social distancing. She said executives said they would answer questions, but never let employees ask any.
"I go, 'See — this is the social distancing that's in the building.' We don't have it now? We'll all have it now with all of us crowding around," she said. "You know there's going to be somebody sick in the crowd."
In their statements, Banks and other executives referred to workers as part of the "Tyson family."
"They said they we're family, but they're not," the 59-year-old worker said. "They make us work six days a week for over a year. That's not family oriented, that's money oriented."
Samuel Overton, 22, works at the Tyson plant and said he had COVID-19. Sometimes he feels like he still has symptoms.
"I just know that overall when they say if you're sick stay home, they're still taking people's points," Overton said. "It was rough, but I survived it. ... I think being at work is probably the main place anyone would catch it because there's thousands of people from all different walks of life."