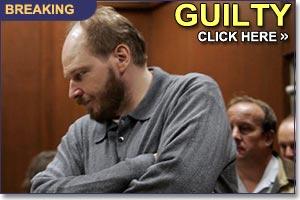 DAVENPORT (AP) - Roger Bentley was found guilty this afternoon of first-degree murder and first-degree kidnapping in the death of 10-year-old Jetseta Gage
The jury reached its verdict after less than three hours of deliberations. Sentencing was set for Feb. 17 at the Johnson County Courthouse in Iowa City. Bentley faces life in prison for the crimes.
A prosecutor told a jury Tuesday that an avalanche of evidence clearly points to Roger Bentley's guilt in the abduction and slaying of Gage.
The jury began deliberating Tuesday morning whether to convict Bentley, 38, in the kidnapping and murder of Gage.
In closing arguments, Johnson County Attorney J. Patrick White said physical evidence and witness statements should lead the jury to only one conclusion.
"An avalanche of evidence has buried Roger Bentley … that he kidnapped and murdered Jetseta Gage," White said.
Bentley is accused of taking Gage from her home March 24 and driving her in his pickup truck to a deserted mobile home outside of Iowa City. White said Bentley sexually assaulted Gage then suffocated her by fastening a plastic bag over her head before hiding her body inside a bathroom cabinet.
A tip from a Bentley acquaintance led police to the trailer the following day, where Bentley was arrested and Gage's body found.
The defense, which rested its case without calling a single witness, urged jurors to look critically at the matching blood and semen samples and scrutinize loopholes in the prosecution case.
Defense attorney Peter Persaud said White failed to explain how Gage was taken from her home, pointed out the absence of evidence showing Gage traveled in Bentley's truck and highlighted inconsistencies in the crime timeline.
Persaud suggested another person was involved in the crime, pointing to hairs taken from Gage's body that did not match Bentley and two cigarette butts found at the scene that were not linked to Bentley.
The defense also tied in a book, "The Necromantic Ritual Book," that was seized from Bentley's residence that was entered into evidence last week. Necromancy is defined as the conjuration of the spirits of the dead for purposes of magically revealing or influencing the future.
Persaud suggested necromancy has loose ties to necrophilia, and that Bentley's role was limited to performing necromantic rituals on the body after death.
"When you look at the evidence in its totality, it's clear there is another person involved," Persaud said.
The evidence phase of the trial ended Friday. The final witness, a state criminologist, testified that Bentley's DNA had been identified on at least three locations on Gage's body. Testimony also indicated that Gage's blood had tested positive in samples taken from blood stains on Bentley's pants, underpants, shirt and fingernails.