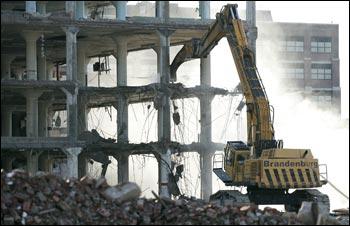 WATERLOO -- Joshua and his trumpet were not in sight this morning, but the walls started tumbling down nonetheless at what was John Deere's Westfield Avenue site.
In a spectacle that may have been almost inconceivable to many in Waterloo a generation ago, the first of several six-story buildings on the old Westfield site started coming down to make way for the future -- the Cedar Valley TechWorks, the ag-industrial product development and business incubator complex to be developed on the old Westfield site.
It's the beginning of the end of the demolition phase, after which building renovation work can begin.
"Not only is it a change in the landscape, but it really is a sign of progress," TechWorks general manager Cary Darrah said. "It really marks the progress, that we're to the point where once the larger buildings come down, the renovation, reconstruction can begin.
"It marks a milestone," Darrah said. "We're on the downhill side of the demolition phase, and we're really gearing up for the redevelopment stage.
The demolition work is expected to be completed by the end of November, Darrah said. While some of the buildings are being demolished others will be redeveloped as part of the TechWorks campus. "We have been meeting for weeks on getting people in place, and we're just starting to get (construction) bids ready to let inside the different areas," Darrah said. "We've got a pretty large team" of 10-12 individuals with experts in architecture, telecommunications, infrastructure and construction.
TechWorks is a plan to create a bio-based agri-industrial product development and exhibition complex on former portions of John Deere's Westfield Avenue site. TechWorks' first tenants may be able to move in as soon as this spring. One frequently mentioned example of a possible tenant has been UNI's Nation Ag-based Lubricants program, currently based in Waverly.
UNI professor and NABL founding director Lou Honary has said NABL is still committed to relocating to TechWorks when facilities are ready.
In February, Deere donated more than $17.4 million in buildings and land at the Westfield site, technical assistance and financial resources to a nonprofit group, Cedar Valley TechWorks Inc., chaired by Joe Vich, CEO of Community National Bank, for the development of the project. The project also includes an extension of Commercial Street through the one-time Westfield site to connect with the interchange of U.S. Highways 63, 218 and University Avenue
In June, TechWorks received a $1.6 million grant of federal Economic Development Administration money. That money was secured as the result of a grant written by the Waterloo-based Iowa Northland Regional Council of Governments, INRCOG executive director Sharon Juon has said.
It's important to clear the unneeded buildings to connect the TechWorks campus with the rest of downtown, Darrah said. It is a few blocks from Young Arena the Waterloo Center for the Arts and its Youth Pavilion addition, as well as the downtown Waterloo Riverfront Renaissance renovation project.
Deere, which retains substantial renovated manufacturing operations west of TechWorks along Westfield, also plans to demolish its old power house on the Westfield site, and plans call for an extension of Commercial Street south and west through the plant site to the interchange of U.S. Highways 218, 63 and University Avenue, providing a thoroughfare to effectively connect TechWorks with downtown and the highways.
The city of Waterloo is a partner in the project, having been the entity receiving a $1.6 million EDA grant. INRCOG has been retained to administer it, Darrah said.
TechWorks was made possible in large part by Deere's massive multi-year $127-million-plus redevelopment of its Westfield site, and East Donald Street Tractor Works, announced 6 1/2 years ago.