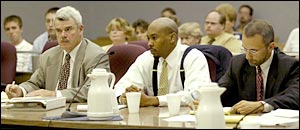 WATERLOO -- A woman who was brutalized in her own home said her attackers sexually assaulted and pummeled her because of an argument over drugs.
"They told me, 'because they sold us bad drugs,'" the woman told jurors Wednesday. Her name is being withheld because she was a sexual assault victim.
Until about two months before the Oct. 16 attack, the woman had been going out with Lamont Horton, a man she said was involved with drug trafficking.
Parts of her memory of the hours-long ordeal at her townhouse have started to come back, she testified. And piecing together those memories have led her to believe David Erroll Willock was one of the three men who broke into to her house that October night.
She knows Willock because he had been going out with one of her friends.
Willock is charged with kidnapping, robbery and burglary in the Oct. 16 crime in Waterloo and the botched kidnapping of Anthony Cole and Cassy Jenkins in Cedar Falls Oct. 26.
Prosecutor Ray Walton said Willock and others were after Horton, Cole and Alonzo Quinn in an effort to get money from them.
He said DNA evidence from a water jug and cellular telephone records tie Willock to the Waterloo attack. Cole identified Willock as one of the kidnappers in the other crime, he said.
Willock, 31 and a part owner of the Press Box nightclub in Iowa City, has pleaded innocent.
Defense attorney John Bishop told the jury Willock's saliva got on the water jug Oct. 5 when he was a guest at the victim's house. He said his client was working at the Press Box on the night of the Waterloo attack.
No eyewitness will place Willock at the scene of the Cedar Falls abduction, Bishop said.
Willock had called the woman twice on the night of Oct. 15 looking for his girlfriend, the woman said. She didn't think much of it and later fell asleep in her room.
Then sometime around midnight, she heard a loud boom. At first she went back to sleep thinking her mirror had fallen off her wall, but then she heard footsteps coming up the stairs toward her bedroom.
"I thought I was having a nightmare," the woman said. "I saw people standing over me with ski masks and guns in their hands."
You have free articles remaining.
They told her not to do anything stupid and began binding her hands in duct tape and taping her mouth shut.
One of the invaders went into a bedroom down the hall and tied up her young son and daughter.
"I could hear their little moans and groans," she said.
Over the next few hours, the attackers ransacked her home and continually asked her where "it" was. She said she had no idea what they were talking about and assumed they were looking for cash.
She was struck repeatedly in the face, pistol whipped and sexually assaulted. She screamed, and they laughed, she said.
They took $800 she had in the home and her jewelry. When they threatened to shoot her children, she volunteered to withdraw $3,000 from an ATM. But they turned that down when one of the invaders pointed out that the ATM wouldn't allow someone to withdraw that much money at one time.
Not appeased by their loot, the intruders made her call Horton in an attempt to get him over to the house.
"They told me they were going to kill us if he didn't get over there," she said. Horton never arrived.
She eventually offered the address of a friend where Quinn might have been found. That friend was Willock's girlfriend at the time.
They eventually put her and her children in the same room, and she could see the tears in children's eyes.
The intruders left, but one returned briefly to ask for directions to the address she had given them.
When it appeared to be clear, the woman freed herself and called police.
The woman told they jury she suspected Willock early on but only told her uncle and didn't mention it to police until much later.
Defense attorneys noted played up the fact one of the attackers asked for directions. If Willock was involved, he would have known how to find the address, they argued.
Quinn was shot to death along with his girlfriend, Rhiannon Olsen, in January. No one has been charged in their deaths. Cole was later arrested for shooting two people outside a Waterloo nightclub in March.
Willock's trial continues today at the Black Hawk County Courthouse and is expected to last in to next week.