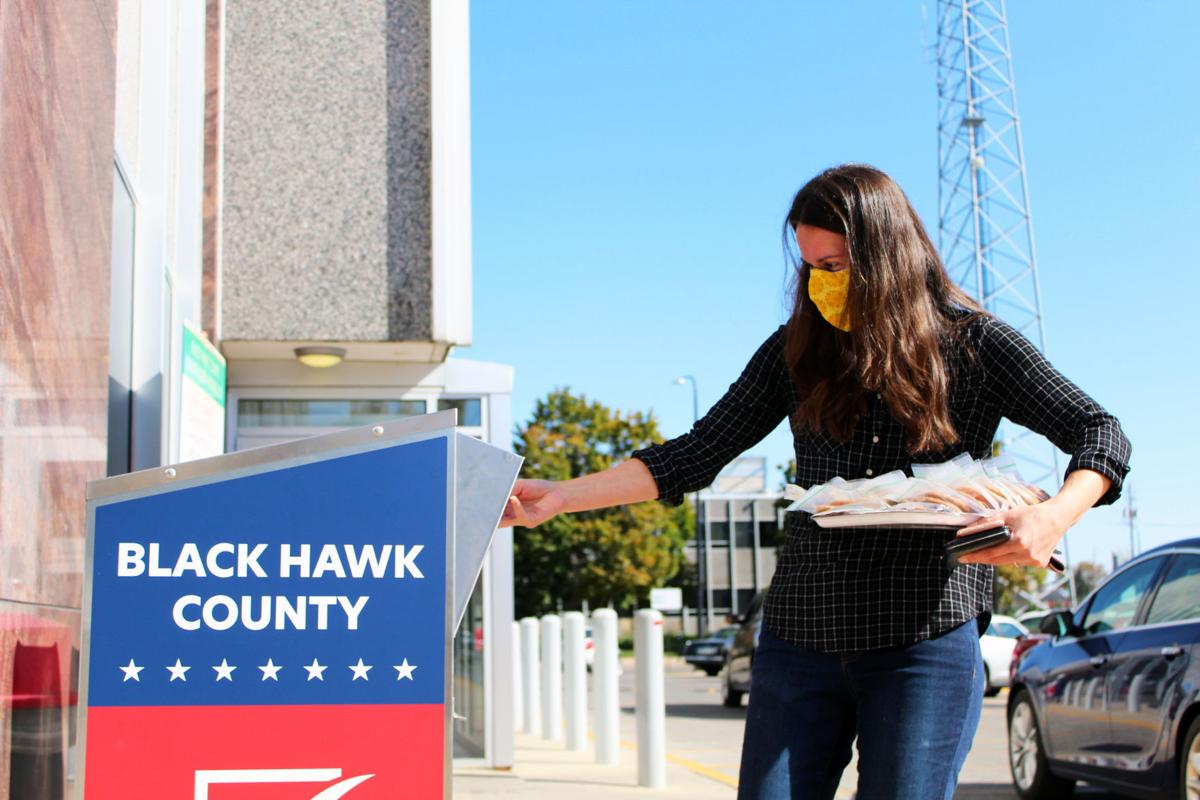 DES MOINES — By all accounts, Iowa's 2020 general election was wildly successful, and that success was driven largely by early voting.
A bill that is rapidly making its way through the Iowa Legislature would constrain, if not outright ban, many of the early voting programs that made the 2020 election in Iowa a record-breaker.
More than 1.7 million Iowans cast a ballot in the 2020 general election, the most in state history. Statewide turnout was 76%, one of the highest rates in the nation. Every county had at least 65% turnout, and 14 surpassed 80%.
Early and absentee voting drove that high turnout: Iowans cast more than 1 million absentee ballots, another state record and nearly 60% of total ballots.
With the COVID-19 pandemic raging, voters took advantage of myriad early voting opportunities. State and county election officials mailed absentee ballot request forms to every eligible voter. The secretary of state allowed county officials to send out absentee ballots earlier than usual: 40 days before the election instead of the normal 29. County auditors established drop boxes where voters could turn in absentee ballots.
The result was a huge turnout with no reported cases of election fraud.
But under the legislation introduced by Republican state lawmakers, absentee ballots could not be mailed out until 18 days before the election, and early voting could not start until 18 days before the election. That would make Iowa's early voting timeframe among the shortest in the country.
County auditors could not send absentee ballot request forms to voters, even when requested by voters.
Each county could have only one drop box for absentee ballots, and the drop box would be required to be placed near the county auditor's office.
County auditors would be required to take more steps to open a satellite early voting location.
And only each individual voter, with few exceptions, would be allowed to return his or her completed absentee ballot to the auditor's office.
In other words, everything that helped boost Iowa's record turnout in 2020 would be limited or eliminated.
"What we've seen in this bill and in bills across the country are efforts to limit early voting hours or days, or limit how people can vote by mail, including drop boxes," said Eliza Sweren-Becker, voting rights and elections counsel for the Brennan Center for Justice, a bipartisan law and public policy institute at New York University Law School. "This is consistent with the kind of policies that are being advanced across the country to put stumbling blocks in the way of voters who are trying to cast their ballot."
The proposals are moving through the Legislature at breakneck speed. They were first made public Tuesday. Fewer than 24 hours later they were passed out of subcommittees in both the Senate and House, and 24 hours after that they were passed out of full committees in both chambers.
The bills could be debated on the floor of both chambers this week and signed into law by next weekend, just more than a week after they were introduced.
There is much to consider in the wide-ranging proposal.
Under current law, Iowans can receive an absentee ballot or vote early in person 29 days before Election Day. The law previously allowed 40 days before the Republican-led Legislature in 2017 reduced it to 29.
If the new proposal passes and absentee ballots cannot be mailed out until 18 days before the election, Iowa would tie Washington for the shortest such timeframe in the country, according to the nonpartisan National Conference of State Legislatures.
If Iowa's early voting period is reduced to 18 days, the state would be just under the national average of 19 days, according to NCSL. Across the country, early voting windows range from more than 40 days to just five.
The bill also reduces by 50 days — from 120 days before the election to 70 — the earliest date a voter can request an absentee ballot.
Critics of the plan say it creates a timeframe that is too short to ensure a successful process.
The Republican state lawmakers who are shepherding the proposal through the Statehouse — Sen. Roby Smith of Davenport and Rep. Bobby Kaufmann of Wilton — say the shorter period is an attempt to prevent voters from casting an early vote they later regret, and to reduce the length of campaigns for voters who have grown weary of excessive phone calls, text messages and mail literature from candidates' get-out-the-vote operations.
"One of the most significant things I heard on the campaign trail is the election season is a lot longer than it should be," Kaufmann said during a hearing on the proposal. "(The legislation would) fulfill the will of the people to shorten our election cycle."
Critics say there is no guarantee it will reduce campaigning — in fact, they argue it could have the opposite effect by making voters wait longer to cast an early ballot — and that regardless, a state law should not change to accommodate voters who are annoyed by campaigns at the expense of voters who wish to participate in elections by casting a ballot through the mail.
"Shortening the absentee voting period after so many people took advantage of early voting last year just doesn't make any sense," said Sweren-Becker, from the nonpartisan Brennan Center. "Condensing that process into a shorter time period makes it harder for voters and makes it harder for elections administrators. There's just no good reason to do that."
The proposed ban on elections officials sending absentee ballot request forms would be a stark contrast from current law. Not only is it permitted when voters request a form, during the 2020 elections state and county election officials mailed ballot request forms to all eligible voters. The goal was to limit the amount of people voting in-person on Election Day to help make voting safer during the COVID-19 pandemic.
"As the commissioner of elections, I feel (county auditors) should be allowed to distribute the necessary forms to voters to allow them to exercise their right to vote," Cerro Gordo County Auditor Adam Wedmore said.
Auditors in more populous counties expressed concern about making it more difficult to establish satellite early voting locations. No longer would auditors be able to add locations at their discretion; they would be required to submit a petition with 100 signatures for each satellite location.
"When you start talking about much larger counties, those (satellite early voting locations) are very critical pieces to their election management," said Ryan Dokter, Sioux County auditor and current president of the Iowa State Association of County Auditors, which opposes the legislation. "Not being able to plan ahead for satellites, and being under the pressure of a shortened absentee window of 18 days creates that potential to create errors, because there's just so much more people coming to your building all at once versus a little more spread out."
The bill also would ban so-called ballot harvesting: the process of voters submitting completed absentee ballots to campaigns or other political organizations who then deliver those ballots to county auditors. Under the legislation, only the voter — or an immediate family member, caretaker, or election official assisting a disabled voter — can submit a completed ballot to the county auditor.
"I do not back off ballot harvesting and letting random strangers handle your ballot," Kaufmann said during the hearing. "Putting (a completed ballot) into the hands of a complete stranger is unacceptable, and I stand by that."
The bill also contains heightened penalties for county election officials who violate state election laws.
Those penalties are a direct response to county auditors who in 2020 sent absentee ballot request forms to voters with some information already completed, which was in violation of a recently passed state law. Donald Trump's presidential campaign successfully challenged the request forms, causing tens of thousands of Iowa voters to have to complete a second form.
"A handful of auditors did not follow the law, to the detriment of Iowa voters," Smith said during a legislative hearing. "The days of ignoring laws that are passed in this Capitol are over in the state of Iowa."
The legislation makes failure to follow state election laws a Class D felony, with sentences up to five years and fines from $1,025 to $10,245.
"Vindictive," said Linn County Auditor Joel Miller, one of the auditors who sent out partially completed absentee ballot request forms in 2020 and is considering a run for secretary of state. "An affront to every county auditor in the state with a passion for creativity, election integrity and increasing voter turnout."
Jared McNett of the Mason City Globe Gazette, Tom Barton of the Quad City Times, and Gage Miskimen of The Gazette in Cedar Rapids contributed.