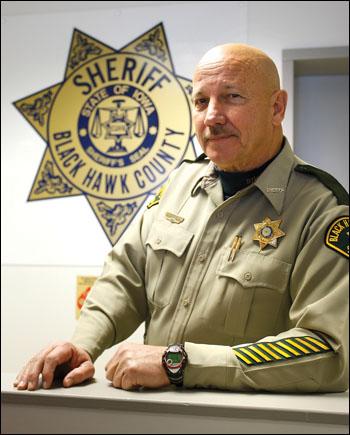 WATERLOO - After almost four decades in law enforcement and five terms leading the Black Hawk County Sheriff's Office, Michael Kubik is turning in his star.
Kubik, of Evansdale, declined to run for re-election, and his term expires Wednesday.
"It's hard for me to walk out of here, because we came a long way," Kubik said, looking around the bare walls after packing up his office.
"I'm going to miss the people. But the work, the calls at two in the morning? Nah," Kubik said shaking his head.
Kubik, who turns 62 next week, had the option of retiring last term. He chose to continue because he liked it.
"The fire was still there," he said.
Then he started thinking about how he needs to spend more time with family. His wife deserves it, he said, and he wants to spend more time with his granddaughter.
The achievements and changes under Kubik's watch include the construction of the new jail in 1995. What had been a 30-bed facility above the county courthouse became a 272-bed fortress.
Consultants during the jail expansion doubted the facility would meet maximum capacity in 20 years.
Criminals, and the officers who caught them, proved them wrong.
"We filled it in 10 years," Kubik said.
Also during his administration, cooperation between local law enforcement agencies has improved, Kubik noted. They no longer regard their jurisdictions as personal territory.
At least once a month, chiefs of area departments get together for a meeting, as do investigators.
"You solve a whole lot more crime," Kubik said.
For all the cases that were solved, Kubik said he still thinks about two that remain open.
One is the March 1968 slaying of 57-year-old Dale Redman of La Porte City. Redman apparently surprised burglars at his creamery and was shot eight times in the head.
The other is the August 1995 death of Angela Buck, 37. Her body was found in a ditch near a creek on North Pilot Grove Road with a gunshot wound to the chest.
Kubik said investigators haven't given up on bringing the perpetrators to justice.
An Evansdale native, Kubik was drafted into the Army after high school and served in Vietnam.
Once back in the States, he worked at Chamberlain Manufacturing, which made munitions for the military.
Friends in the sheriff's office encouraged him to try out for the force under then-Sheriff Robert Aldrich, and Kubik started in 1970.
In those days, reports of crimes were written on simple 3-by-5 index cards, and jailers wore jeans and other civilian clothes.
"The inmates looked better than we did in the courtroom," Kubik said.
By 1988, Sheriff Wendell Christensen, who replaced Aldrich, was retiring.
Kubik said word got around that those planning to run for the office didn't have a police background.
"I'm not knocking those people, but they knew nothing of law enforcement, and no one else wanted the headache," Kubik said.
Kubik, a 41-year-old patrol sergeant at the time, and Lt. Bill Miller got together and decided to throw their hats in the ring.
In the primary, Miller was one of the Republican candidates, and Kubik was with the Democrats. There were four others in the race.
Both lawmen won their parties' nominations and advanced to the general election.
Observers told Kubik not to take it personally if he didn't win. Republicans always won the sheriff's race.
But when the final votes were counted, Kubik became the first Democrat to be elected sheriff of Black Hawk County.
With retirement, Kubik said he plans to take off the first three months.
He hasn't ruled out going back to work, but it won't be in law enforcement, and it won't be full time, he said.
Tony Thompson, 38, a deputy for the past 15 years, won the November election to become the next county sheriff.
Be the first to know
Get local news delivered to your inbox!