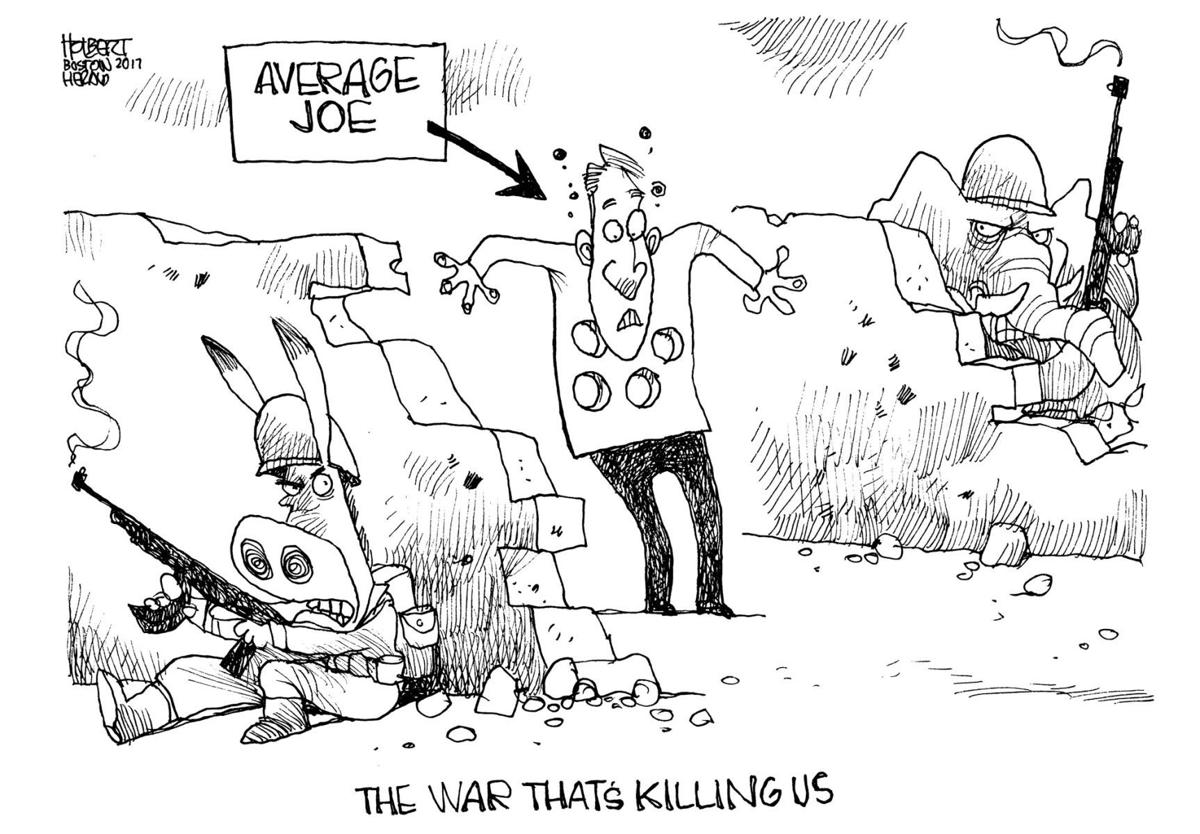 Never did I imagine George Orwell's 1949 published novel, "1984," would become Amazon's bestseller 68 years later.
Orwell's "1984" depicts living suppressed under a totalitarian regime, similar to Iowa's GOP-dominated Legislature controlling Iowa's 3.1 million citizens. Iowa's governor, 29 Republican senators and 59 Republican representatives have taken on the role of Big Brother, the villain of Orwell's historic novel.
GOP candidates were mild-mannered while campaigning last fall and espoused Republican Gov. Terry Branstad's "Smaller-Smarter" mantra. However, once elected, Republicans have become puppets to Senate Majority Leader Bill Dix, R-Shell Rock, with his "kick in the door of government" policy (Jan. 9, 2017) where state control now supersedes local control.
Evidence is replete the GOP's 2017 legislation evolved directly from the Koch brother's Americans for Prosperity, Bob Vander Plaats' The Family Leader, Network of Iowa Christian Home Educators, Iowa Farm Bureau and American Legislative Exchange Council.
Iowa's 87th General Assembly can't end soon enough, as succinctly expressed by the Des Moines Register's March 12 editorial, "the Iowa Legislature has inflicted more damage on this state than anyone would have previously thought possible."
Iowa's GOP-controlled Legislature has undermined collective bargaining for 183,000 Iowans, expanded gun access to toddlers and authorized a shoot-first mentality, defunded Planned Parenthood despite 77 percent of Iowans supporting funding for non-abortion services, restricted asbestos-related liability lawsuits, curtailed home defect lawsuit statute-of-repose, limited livestock nuisance lawsuits by affected neighbors and legalized fireworks over the objection of law enforcement, veterans and medical professionals.
Big Brother's governance proposals include:
1. Limiting worker compensation benefits, despite testimony from John Burton, a Republican economist and worker compensation expert, that there is no need to change Iowa's current law.
2. Voter ID bill (HF 516); unnecessary (10 improper votes out of 1.6 million cast; 0.00000625 percent), expensive ($200,000) and discriminatory against minorities, elderly and disabled.
3. Barring cities and counties from enacting locally approved minimum wage increases (HF 295) and trying to dissolve the Des Moines Water Works (HF 316) implies state control is in vogue and local control is taboo.
4. Repealing Iowa's nickel deposit on beverage containers; evidence GOP legislators are dancing (i.e., voting) with the ones (i.e. grocery and convenience stores) who brought them (i.e., political contributions) to the ball.
5. $240 million school choice voucher initiative, spearheaded by Walt Rogers, R-Cedar Falls, would take money away from public schools and be given to nonpublic schools; a slap to the face of Iowa's 35,000 public school educators.
Suffice it is to say many Iowans got hoodwinked by the Republicans' 2016 "Smaller-Smarter" election theme.
Kathie Obradovich's March 5 Des Moines Register editorial is a good bromide for disheartened Iowans: "Ultimately, we must hold responsible our elected officials for the legislation they approve. If they're representing someone other than the people in their district, voters should give them the opportunity to find work elsewhere."
If you prefer state over local control and policies that discriminate, continue supporting legislators who voted similarly.
Inform all future candidates you will only support them if they put "we the people" before their party and special interest groups and where local control is preferred.
The pain being inflicted by Big Brother isn't over; the last day of the 87th General Assembly is scheduled for April 18.
Steve Corbin is an emeritus professor of marketing at the University of Northern Iowa.