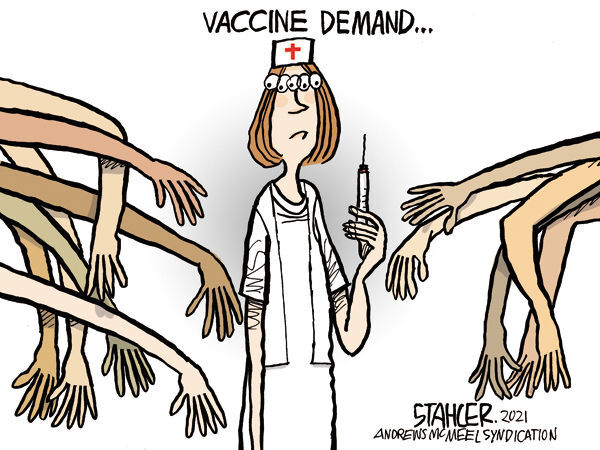 This editorial originally appeared in the Des Moines Register on Friday.
It was 1977 when the Iowa Legislature passed a bill requiring immunizations for schoolchildren. House File 163 helped ensure our youngest residents were protected against diseases including tetanus, pertussis and rubella.
The legislation was sponsored by Rep. Greg Cusack, a Democrat who served in the Iowa House from 1973 to 1981.
An editorial writer caught up with him this month at his current home in Oregon. He barely remembers the bill mandating vaccines for children in school.
That's likely because it was not controversial. It passed 85 to 6 in the Iowa House. (Young Rep. Terry Branstad, R-Lake Mills, voted for it.) Not a single member of the Iowa Senate voted against it. Republican Gov. Robert Ray signed it into law.
What Cusack does remember was a controversial amendment he introduced to his bill.
He had gone home for the weekend during the session and got talking to his neighbor, a chiropractic student. The man convinced him a "conscience clause" should be added, which would clear the way for school vaccine exemptions on moral, ethical or pretty much any grounds.
The chiropractor "was a very persuasive and sincere young man," Cusack said. "I didn't know beans."
When he returned to the Statehouse the next week and introduced the conscience clause, he was immediately "razzed" and laughed at by both Republican and Democratic colleagues. A moral exemption to vaccines? They asked him what the heck he was thinking.
"This was a classic example of a young lawmaker, me, not knowing what I was doing," he said of his 34-year-old self. Cusack does, however, value the fact that lawmakers listened to those with differing views — something he laments doesn't happen much today.
In the end, the conscience clause was dead. Exemptions were allowed for medical and narrow religious reasons.
Lawmakers of both political parties understood that vaccines are effective at protecting health and that exemptions to them should be very limited. They had also seen firsthand the devastation caused by polio and the great success of a vaccine.
"We lawmakers respected facts back then," Cusack said.
Some members of today's GOP-controlled Iowa Legislature seem intent on ignoring facts and clearing the way for people to avoid vaccinations.
Enter Senate File 193, which was recently advanced through subcommittee by Sens. Jim Carlin of Sioux City and Mark Costello of Imogene. It is jam-packed with wacky ideas that jeopardize public health, ideas that Carlin, in an unusual move, prompted a vaccine opponent to articulate at great length during a public hearing.
The legislation would broaden the state's already broad religious exemption for school vaccines and expand it to include Iowans with "conscientiously held beliefs." In other words, even more Iowa parents could cite bogus reasons to avoid immunizing kids.
It would completely reverse current law by allowing exemptions during emergencies and epidemics.
The bill would forbid Iowa employers from requiring employees to be vaccinated. This is the epitome of big government micromanaging private operations — courtesy of the political party that claims to oppose such intrusiveness.
It would require medical providers to get patients' informed consent before their vaccination information could be reported to the state's immunization registry. Patients could revoke their consent and have their information removed from the registry if they choose.
Where did this bizarre idea come from?
Carlin said he has concerns about whether businesses such as airlines could use information in the registry to refuse passengers who haven't received a COVID-19 vaccine.
What is he talking about?
The state vaccine registry is accessible only to medical providers and patients themselves. It is an important tool to understand vaccination uptake in communities, particularly in the event of a disease outbreak.
The registry is also where pharmacists and others report first and second doses of COVID-19 vaccinations so the state (and ultimately the Centers for Disease Control and Prevention) know how many shots have been administered.
This is not the time to make the state's central vaccine reporting database less reliable.
However, this is a good time for lawmakers to listen to medical professionals, including Dr. Caitlin Pedati, the highest-profile doctor in Gov. Kim Reynolds' administration.
She had plenty to say during that same Senate subcommittee meeting on Senate File 193.
"Vaccines are very important, they're safe, they're critical lifesaving tools, and I think there's good data to show that when you increase things like exemptions, people do take advantage of them and it creates pockets of under-vaccinated or unvaccinated populations, which can lead to the spread of infectious disease like measles."
Translation: You lawmakers are pursuing bad ideas.
Once upon a time, Iowa lawmakers respected science. They understood that the threat of communicable diseases is real and vaccines save lives. They dismissed the fringe.
How far this governing body has fallen.