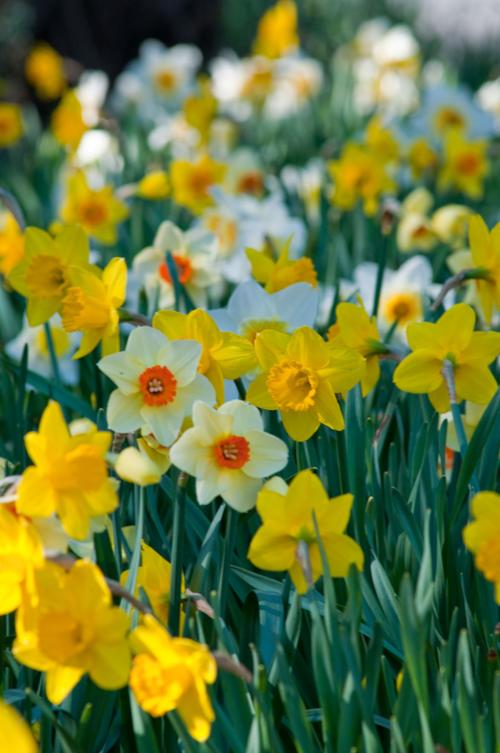 Last fall, a grizzled old squirrel stretched out on a high branch in my maple tree, its frowzy tail twitching back and forth and plump, black walnut-filled tummy plopping over either side of the limb.
He squinted down with beady eyes and mouth watering as I augered holes in the ground, stuffed in spring-flowering bulbs and backfilled with soil. I imagined him mapping out these meaty treasures in his tiny mind, with X's marking the spots where I'd planted.
Hours later, as I expected, there were several mounds of dirt in the flower bed. The squirrel had ventured down the tree and into the garden on a bulb raid, excavated a few of the holes and left disappointed. One or two bulbs were half exposed, and the squirrel had left behind a hard, green-shelled and smelly black walnut. 
I had foiled the Old One by planting daffodil bulbs.
Squirrels, voles, mice, deer and other critters love tulips and crocuses, but I don't enjoy serving a bulb buffet. Rather than avoid planting bulbs altogether — what is a spring garden without them? — I've changed my game plan. I'm planting more daffodils than tulips, and tossing in allium, fritillaria, snowdrops, chionodoxa (glory-of-the-snow), blue squill and leucojum aestivum (white snowflakes).
"Plant daffodils. Choose any variety, small- or large-flowering, yellow, white, orange, peachy pink or bi-colors. Deer and rodents won't eat them. The same is true for white snowdrops and snowflakes," says third-generation bulbsman Tim Schipper, president of Colorbends, a Connecticut-based flower bulb wholesaler.
He considers daffodils, snowdrops and snowflakes to be deer- and rodent-proof. "All three of these bulbs contain lycorine, a bitter alkaloid that's toxic when eaten. Animals know to steer clear of them."
Other bulbs like alliums and glory-of-the-snow taste awful to rodents, so they'll steer clear. Don't think you can be tricky by planting tulips inside a ring of daffodils, Schipper says. Rodents have claws for a reason, and will avoid the daffys while digging and dining on delicious tulips.
For areas where deer are troublesome, Schipper suggests planting allium, winter aconite (also known as winter wolf's bane), blue squill, camassia, fritillaria (snake's head and crown imperial), starflower and glory-in-the-snow.
He says there's another bonus to planting bulbs that taste bad: They tend to naturalize very well.
Planting tulips anyway? Clean up after yourself — the brown skins that peel off the bulbs, bulb sacks, etc. I'll place a layer of old screen over a recently planted bed, anchored on four corners by bricks, to discourage digging. Some people scatter dog hair over the beds as a repellent.