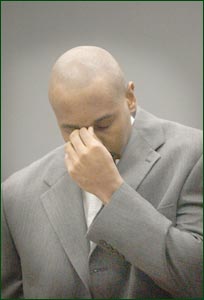 WATERLOO - David Erroll Willock stood tall and strong as the court attendant read the jury's verdict Friday afternoon.
Guilty as charged. One count each of first- and second-degree kidnapping and two counts each of first-degree robbery and burglary.
It wasn't until the last juror stepped out of the courtroom that Willock began to wipe the tears from his eyes.
"God's in control; the truth will eventually come out," his mother told him as sheriff's deputies clasped metal chains to his ankles and led him to jail.
Sentencing will be at a later date, but that will merely be a formality. The most serious charge, first-degree kidnapping, carries a mandatory life sentence without parole.
Prosecutors said Willock, of Iowa City, and others wearing ski masks and brandishing handguns broke into a Waterloo woman's townhouse Oct. 16, bound her with duct tape and tried to get her to lure her former boyfriend, Lamont Horton, to the home.
She was beaten, raped and sodomized with a broomstick.
Ten days later, authorities said, Willock and other men bound Anthony Cole and Cassy Jenkins in duct tape in Cedar Falls and forced them into cars before their plan fell apart when Cole escaped.
Authorities said the cases wouldn't have been possible without the victims coming forward.
"The young woman who was assaulted in her home … really showed a lot of courage," said Assistant County Attorney Ray Walton.
"Cassy Jenkins was important and instrumental in the case and showed a lot of poise on the stand," he said.
Defense attorney John Bishop said he is weighing his options to possibly challenge the trial and its outcome.
Walton argued that Willock and his accomplices were looking to get money from Cole, Horton and Alonzo Quinn because they appeared to be successful.
The Waterloo victim testified that her attackers told her the assault was because they had been sold bad drugs. Witnesses said Cole, Horton and Quinn had been involved in drug trafficking.
Willock, who worked at a clothing store and a nightclub in the Iowa City area, denied any involvement in the crimes. He said he was working at the bar early into the morning when the Oct. 16 crime occurred. He said he spent the night with a female friend at the time of the Oct. 26 abduction.
The 11-woman, one-man jury sat through nine days of proceedings and testimony. They started deliberating at 9 a.m. Friday and announced they had a decision shortly before 4 p.m.
But the matter is far from over.
One of the men who prosecutors say helped Willock Oct. 26 - Luther Cordell Hammett Jr. - has yet to go to trial.
And the other men who had a hand in both crimes have yet to be brought to justice.
Walton said police are still looking for information on similar crimes in the area.
Although he didn't mention any by name, Rhiannon Olsen was tied up with duct tape by intruders who ransacked her home in early October.
Olsen was the girlfriend of Quinn - one of the three men Walton said Willock and others were hunting. Quinn and Olsen were found shot to death in his Waterloo home in January. Olsen was nine months' pregnant with Quinn's child at the time.
No one has been arrested in connection with their slayings.