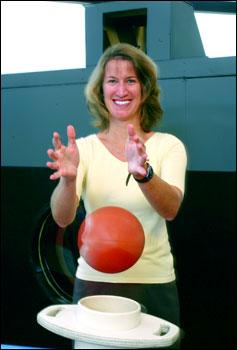 Fourteenth in a series of profiles of 20 under 40 winners.
WATERLOO - Attorney Heather Prendergast keeps a file of thank-you cards from her clients that she pulls out and reads on particularly difficult days.
"The fact that they're writing the note and thanking you for helping them, that is the best deal," she said.
Helping people is what it's all about for the 37-year-old partner in the downtown law firm Roberts, Stevens & Prendergast.
"I freely admit that when I went to law school, I went for all the wrong reasons," she said, citing the popularity of the "LA Law" TV series at the time.
But something happened during her first year at Western New England College School of Law: "It dawned on me that I could actually help people solve problems."
Upon graduating, she took a job as a prosecutor in the Champaign (Ill.) County state's attorney office.
"I started prosecuting and I did truly love what I was doing," said Prendergast, "but I don't know that I was solving anybody's problems."
She achieved that clarity of purpose after moving to Waterloo and opening her own law practice in October 2005.
"It became clear to me, I am really solving people's problems," she said.
Prendergast met her husband, Shan, while attending law school and they were married following her graduation in 1995. His job with John Deere brought them to Champaign-Urbana, where she had grown up, and then to Missouri, where she worked as an insurance company attorney.
In November 2000, his job brought them to Waterloo, and Prendergast, who missed being in the courtroom, was hired as a prosecutor with the Black Hawk County attorney's office. The next year their son, Luke, was born. Shan's family farms near Fort Dodge, so they decided to stay in the Cedar Valley and are now building a house in Denver.
"We like everything this community has to offer," said Prendergast. "I like the ability to get involved in a community of this size."
She was hired as a defense attorney for the Beecher law firm in April 2004. Since then, her work has been divided between family and juvenile law and criminal defense.
"I wanted to see if there was more I could do, both with my career and in the community," said Prendergast. She began serving on the boards of the Waterloo Convention and Visitors Bureau and the Girl Scouts Conestoga Council.
A year later, she started her own practice, lured by the prospect of more control over her schedule. Prendergast's office was upstairs from the Roberts and Stevens firm, which gave her some of their work. She was made a partner in June 2006.
Marlene Johnson, Prendergast's legal assistant, offers high praise for her boss.
"She always has a very happy, uplifting attitude about everything," she said. "Her energy level, it brings out the best in me. I think we bring out the best in each other.
"She is just a very high-quality person," added Johnson. "Her degree of integrity and honesty, if everybody had that this world would be a great place."