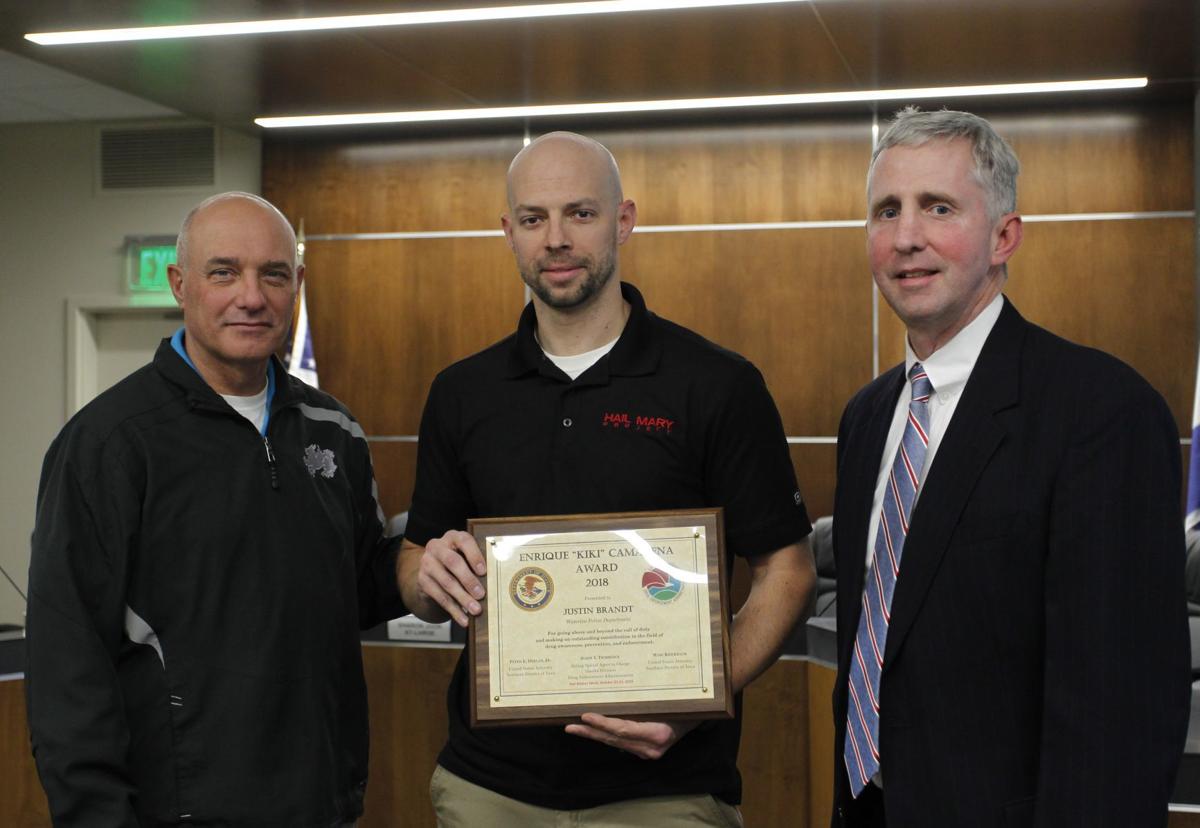 WATERLOO — A Waterloo police officer's drive to help at-risk youth has landed national recognition.
On Friday, U.S. Attorney Peter Deegan, the top prosecutor for Iowa's Northern District, bestowed the U.S. Department of Justice's 2018 Enrique Camarena Award to Officer Justin Brandt during a brief ceremony in Waterloo City Council chambers.
"The substance of what he's doing is certainly the type of thing that our community needs to take crime prevention to the next level," Deegan said. "The passion with which Justin spoke about his work was the thing that was most impressive and left the biggest impression upon me."
Brandt, who has been with the Waterloo Police Department for more than nine years, put together the Hail Mary Project, a program geared toward providing social support and alternatives for young people through sports.
Brandt grew up in Waterloo and graduated from West High School in 2002 and studied police science before joining the Army where he served in the infantry. Following his military service, he joined the Waterloo Police Department in 2009.
He said his interest in law enforcement came from watching the DARE officers — now called school resource officers — while in school.
"Those positive interactions with those guys, just how approachable they were in the school setting, that set the tone. I wanted to emulate that," Brandt said. "Having that platform to help the helpless is really where it came from."
The Hail Mary Project launched in February after years of brainstorming and planning. Brandt said he came up with the idea while encountering youths who were getting in trouble while he was working third-shift patrol.
WATERLOO — Police Chief Dan Trelka hopes a program developed in Sioux City can help stem gun…
"It was getting to the point where something is going on, and we didn't know how to address it," Brandt said.
He asked the teens what it would take to keep them out of trouble.
"The common narrative is there is nothing to do here. Not that it's an excuse, but at least we get where they are coming from. So we had something to work with," Brandt said.
The national award is named after Enrique "Kiki" Camarena, a Drug Enforcement Administration agent who was kidnapped, tortured and murdered in Mexico in 1985 while working undercover. It is granted to officers around the nation each year in conjunction with the Red Ribbon Week drug prevention campaign.