MASON CITY — A Waterloo man has died following a crash between a pickup truck and a semi truck on Highway 122 in Mason City Wednesday morning.
According to Lt. Brett Hollander of the Mason City Police Department, a call for the collision came in around 5:39 a.m.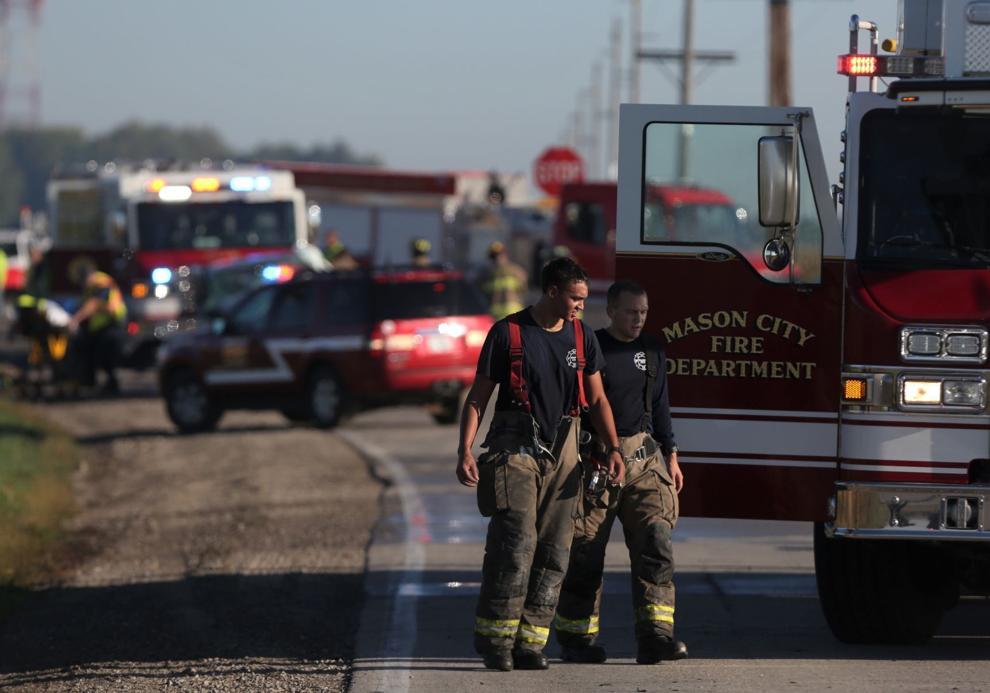 A Chevrolet Silverado driven by Matt Hoveland, 57, of Osage, was heading westbound on Highway 122 into Mason City as a southbound Freightliner driven by Amar Pinjo, 52, of Waterloo, crossed the highway at California Avenue without stopping.
A fog comparable to "pea soup" was present at the time, which may have been a contributing factor of the accident, although that hasn't been determined, Hollander said.
First responders found the Freightliner truck and trailer on its side in the corn field southwest of the intersection and the pickup near the intersection, according to police. The semi was engulfed in flames and the Mason City Fire Department had difficulty extinguishing it because of its location in the field.
The fire department was able to remove Hoveland from his vehicle and he was transported to MercyOne North Iowa, where he was treated for his injuries and released.
Pinjo was ejected from the semi after it left the roadway and was pronounced dead at the scene.
Both drivers were the only occupants of their vehicles.
Assisting the Mason City Police Department at the scene were the Mason City Police Department, the Cerro Gordo County Sheriff's Office, the Iowa State Patrol, Mason City Operations and Maintenance, the Iowa Department of Transportation Motor Vehicle Enforcement and the Iowa Department of Transportation Maintenance Division.
The crash remains under investigation.
WATCH NOW: Courier fire videos
Former church fire, Waverly, Iowa, Dec. 19, 2016
VIDEO: House Fire, Gable St., Waterloo, Iowa 120319
Apartment fire, Jefferson St., Feb. 19, 2016
Duplex Fire, Western Ave., Feb. 9. 2016
Fire, Beaver Ridge Trail, Cedar Falls, Iowa Feb. 5, 2018
Garage/house fire, Seneca Ave., Waterloo, Iowa Dec. 11, 2017
House Fire, W. Second St., Waterloo, Iowa, Oct. 20, 2016
House fire, Marion St., Evansdale, Iowa June 6, 2018
House fire, W. 2nd St., Waterloo, Iowa July 7, 2017