WATERLOO – It's said necessity is the mother of invention.
After years trial and error, Jayne Slaughter has finally found a hair product that works for her biracial great-granddaughters' hair. The 4- and 5-year-old's hair texture posed a challenge for the family who struggled to find a product that wasn't full of unnecessary chemicals and actually worked.
Finding no budget-friendly products that fit the bill, Jayne's husband, Dennis Slaughter, took matters into his own hands, formulating what he now calls DR's Hair Goo.
"There's really no other way to describe it. It's not gel. It's not mousse. It's not cream," he said.
The couple, who are white, play a large part in the lives of great-granddaughters Demi, 4, and Eva, 5. Having raised five daughters of their own, two of whom became hair stylists, they weren't familiar with the hair texture of their new charges. They knew one thing: They wanted to keep the girls' hair natural and healthy.
"We didn't want to change their hair into something it is not. It was important to us to keep it natural," Jayne said.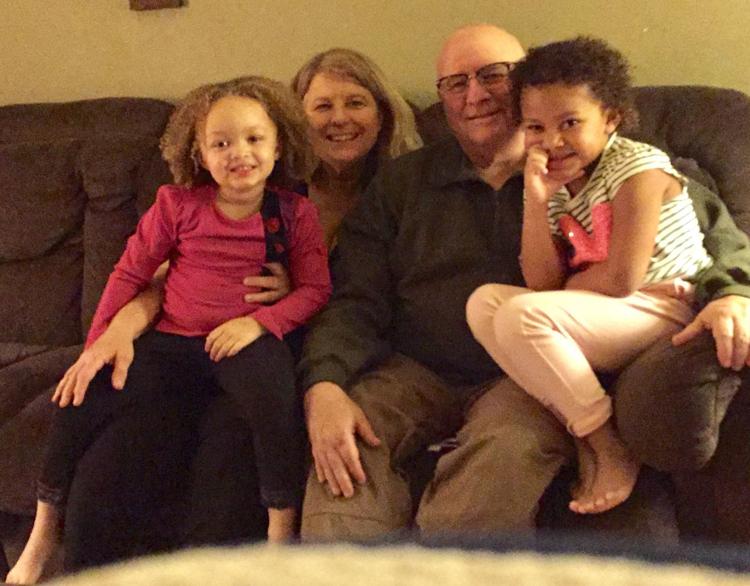 Dennis is a retired superintendent at Schoitz Engineering in Waterloo. He was a tool and die maker for 44 years, designing and creating products that didn't exist.
"You're only limited by your own determination, drive and imagination. If I could make a better product for their hair, I will," he said.
Dennis said he got it right on his first batch.
"The math on my first formula is what worked. I nailed it on the first try, and from there I've just been tweaking it. ... My wife kind of laughed at me and then said, 'Wow, this actually works.'"
You have free articles remaining.
Once or twice a week he cooks the emulsion on his stove top with a double broiler and pours it into jars, "and it sets up just like pudding. This is where the magic happens."
"The worst part of it is I have to stand there and stir for five minutes," he said. "I don't know why I do it, but I did it the first time and now I'm superstitious, so I have to do it every time. Five minutes doesn't seem like a long time until you're standing there with a spoon."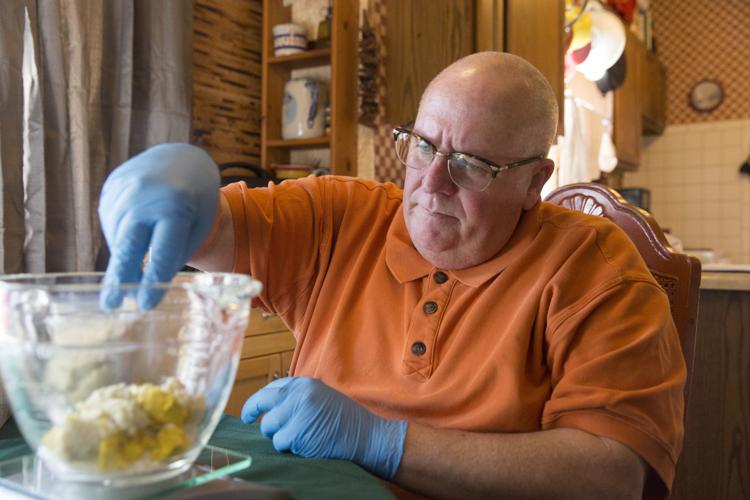 The quality of ingredients is important to Dennis, who said store-bought products often contain antifreeze and petroleum products like propylene glycol or glycerin that can damage hair.
"I'm using the real deal ingredients, and that's what makes it rich and luxurious. I've got quite a recipe."
From West African raw shea butter and a food-grade germicide, to orange, tea tree and carrot oils, Dennis said his products are 100% plant-based, non-GMO and nut and petroleum free.
"I read labels for food, and we try to be healthy, so now I've been paying attention to hair product, and it really makes you think about what you're putting in and on your body," Jayne said.
The couple have giving away samples of DR's Hair Goo to gain feedback. A neighbor, salon owner and other family members already want more.
"If it's something viable or something I do just for family, I don't know yet," Slaughter said. "I don't want to actually have to turn it into a job; my God, I'm retired. But you never know. It might take off, and I might have to work one or two days to keep up."
Slaughter also has been dabbling with lip balm, face and hand cream, and is exploring shampoo options.
"It makes my hair look good and it's not tangly," Eva said. "Grandpa, do you think you can make body wash?" she asked after suggesting strawberry lip gloss.
The couple are taking requests by email to see if there is enough demand to sell the products locally. For more information, email gjayneslaughter@gmail.com.