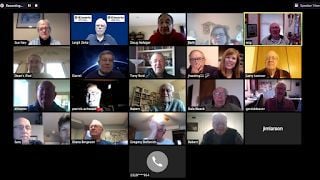 CEDAR FALLS — Gathering regularly to network and eat a meal together is a hallmark of service clubs.
So when restrictions on groups were put in place due to the coronavirus pandemic, Cedar Valley clubs had to adapt.
Some have managed to continue meeting with the help of video conferencing apps like Zoom. Coming together through the online venue has meant letting go of the meal aspect. And, of course, there are always some challenges when technology is introduced.
"Our average age is 62," said Leigh Zeitz, one of the 38 members in the Kiwanis Rough Risers club. But the University of Northern Iowa professor of instructional technology helped the Cedar Falls group get online starting with its April 15 morning meeting. He and a number of other members did a practice session the afternoon before.
"That made it so the real thing went well," said Zeitz. After an extended hiatus from meeting, though, it wasn't only computer issues the members needed to talk about.
"The first couple of times, it was just connecting," he noted. "We hadn't seen each other for over a month."
Now more than 20 Kiwanis members join the weekly online meeting, which sometimes includes a speaker. On Tuesday, the Rough Risers are going to take the next step: an online interclub meeting. They will join the Dobytown Kiwanis club in Kearney, Neb., via Zoom.
The Cedar Falls Exchange Club first met online about a month ago, as well, said president Dennis Kehoe. He noted that, since most service clubs skew older, his also includes "those who wouldn't be adept at today's technology."
Still, "it's gone OK. It's like anything else, the more you use it the more comfortable you get with it." Typically, the 28-member club sees 12 to 14 of its 18 regular attendees at weekly noon hour online gatherings, a rate of about 75%.
"We still try to conduct the meeting in a similar fashion," said Kehoe, noting they start with a prayer and the pledge of allegiance. "Basically, the only difference is there's probably more conversation on how you're feeling and what you're doing to cope at this time."
The Waterloo Rotary Club is getting anywhere from 35 to 50 of its 60-65 regular participants at weekly online noon meetings.
"I've been pleasantly surprised, we've had quite a few people join in," said Annie Vander Werff, the club's president-elect. "It's been fun to still come together in a different way."
The club's pianist has been able to play over Zoom as everyone joins in a patriotic song. Each week's program includes a speaker.
And the technology isn't getting in the way of at least some of the older members participating. For example, a 94-year-old Rotarian joins the meeting every week.
In the absence of having lunch together, Zoom's room application allows for smaller groupings of everyone involved in the video conference. "At the beginning of our meetings, we're all put into different rooms so we can have that table conversation before the meeting starts," said Vander Werff.
The club has also managed to adapt when it comes to another important aspect of service organizations: supporting community causes. Since part of membership dues cover the cost of weekly meals, the club's board decided to divide up those dollars and donate them to a series of community nonprofits.
"That's about $1,000 a week that when we're not meeting we're able to contribute," said Vander Werff.
The other clubs won't be able to do some of their regular fundraisers at community events that have been cancelled, but they're also finding ways to donate money or volunteer.
"Since this has happened, we've donated money to the food bank (and) we kind of worked with Operation Threshold," said Kehoe, of the Cedar Falls Exchange Club's efforts. "We're still helping people out one way or another."
The Kiwanis club raises about half of its approximately $26,000 in annual donations for local organizations through kettle corn sales at festivals that won't be happening this year. So, at its Wednesday meeting, members were looking to the possibility of fall events that could replace those. Both the Kiwanis and Exchange clubs have established projects later in the year that they are planning on going forward with.
Along with lunch money donations, the Waterloo Rotary Club received a $1,000 grant from its district for COVID-19 related donations. It contributed $500 each to the MercyOne and the Allen Hospital foundations, both matched with another $500 of club funds.
Overall, the group expects to donate $9,000 through the grant and lunch donations, noted Vander Werff. "I guess us going virtual has been good for the community," she said.



PHOTOS: Can drive for front line workers
Concerned about COVID-19?
Sign up now to get the most recent coronavirus headlines and other important local and national news sent to your email inbox daily.